If you've been reading this blog for the past few months, you've no doubt seen a lot of writing about the Global Invent It Challenge, our annual contest that invites kids and young adults from ages 5 to 21 to think about a real world problem and find a solution for it. This year, our challenge was specifically to identify a real world health problem and come up with a way to make it better. Hundreds of kids took us up on the challenge and boy are we glad they did. The problems they identified and the solutions they proposed are ingenious and many of them have a good chance of being put to use in real-world situations.
To meet our individual and team winners head over to the official Invent It winners page.  There you will find the original entries submitted by these forward-thinking young people. You'll meet the team responsible for the development of the "Massage Rope", the winner of the ePals Choice Award, find out more about 6-year-old Lillian's invention "The Blanket Friend", and find out how Allie, a young inventor we profiled earlier this year did with her invention the "Frost Stopper Warning System."
Oh, and while you are there, don't forget to sign up to be notified when the 2017 Invent It Challenge Begins. Next year could be your child's year to identify and solve a real world problem.
Subscribe to Muse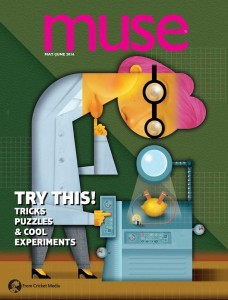 Want to inspire your kids to think creatively, develop new inventions, and generally think outside the box? Subscribe to our award-winning MUSE magazine, the science and arts magazine for kids that's spot on with the facts and off the wall with the jokes. Kids who can't help wondering whether video games really kill their brain cells, or what a gentleman ladybug is called, will find the answers here, in articles written by award-winning authors and accompanied by high-quality illustration and photography.