An engaging letter exchange experience that builds your child's confidence as a reader and writer!
What Is Family & Friends?

Family & Friends fosters your child's love for reading and writing by leveraging their natural desire for caring relationships. By motivating your child to share their curiosity and interests with a loved one, Family & Friends is the perfect way to help them grow into confident and expressive readers and writers.
Getting Your Child Excited about Reading and Writing!
New, engaging digital magazine content to read each month
Freedom to choose what and when they want to read
Authentic support from someone who cares about them
Easy-to-follow prompts that make letter writing easy and enjoyable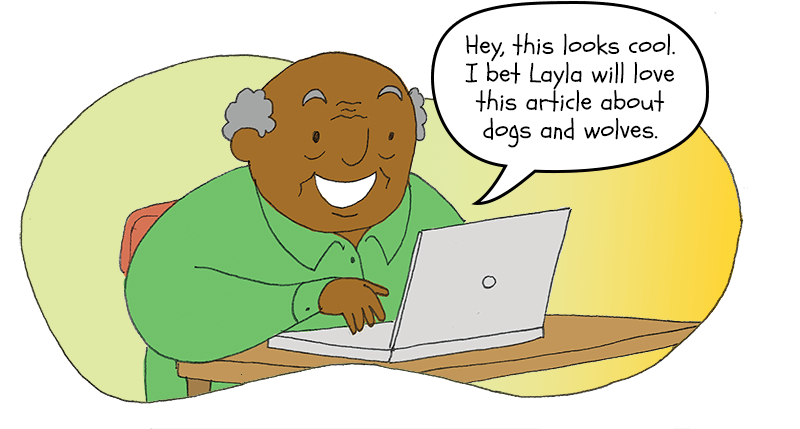 Easy-to-use,

online platform
for engaging reading experiences.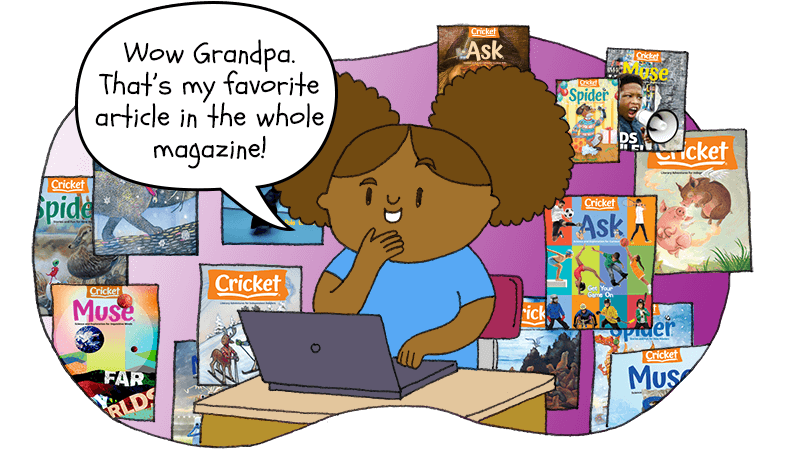 New articles and stories
to choose from

every
month!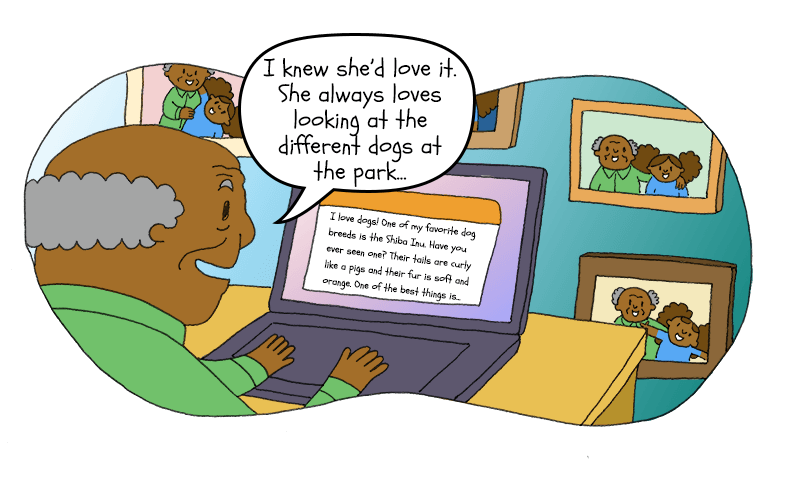 A
caring relationship
supports
your child's natural curiosities.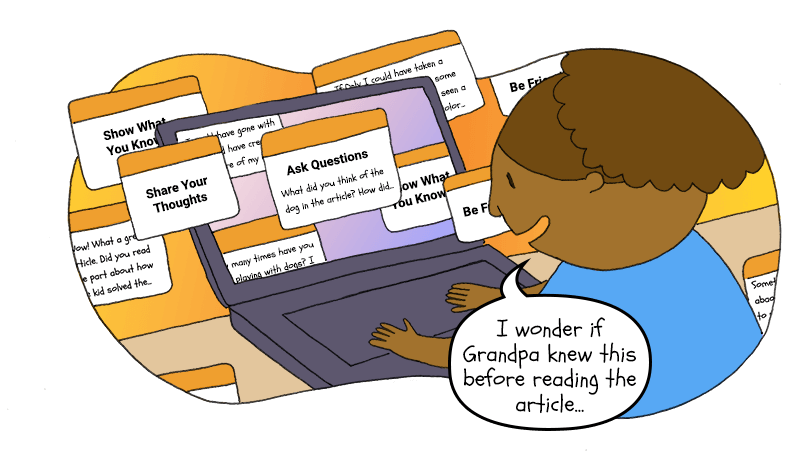 Fun,
on-screen prompts

make letter-writing enjoyable.
1.
Decide which magazine pack is best aligned to your child's reading level.
New digital magazine delivered monthly for your child and their pen pal to read
Wide variety of content types capture your child's interest and motivate engagement
Digital magazines alternate between literary (fiction) and discovery (non-fiction)
2.
Identify the adult family member or friend you want to connect with your child.
Hi, [potential pen pal for my child]!
Are you interested in being [my child]'s digital pen pal? There's a brand-new program (CricketTogether: Family & Friends) that connects kids with a caring adult in their life for correspondence around digital magazine stories and articles. It all works through a kid-friendly website that's safe and secure. The platform provides letter writing tips and prompts as well as a new digital magazine monthly to give you fun topics to write about with each other.
My child would like YOU to be their pen pal! Not only do I think this program would help keep my child engaged in reading and writing over the next four months, most importantly, it would give them another way to stay connected and to communicate with you.
I will complete the registration and cover the cost as long as you give me the green light that you're willing to participate! You can find out more at cricketmedia.com/family.
Let me know if you're interested as soon as possible! Registration for the summer session closes on May 31st. Participation in this session would enable you two to read digital magazines and correspond on the platform from June–September 30.
Thanks for considering supporting us in this way!
Take this great opportunity to grow your child's self-confidence as a reader and writer this summer. Introductory pricing is only $20 for the entire summer program!
3.
Register your child for the 2nd Session Summer 2021 Family & Friends Program (by May 31st)!
The 1st session (May–August) has already begun, but you can now register for the 2nd session!

2nd Session Registration Deadline:
Act Fast, Registration closes in:
3.
Register your child for the Family & Friends Program!
Registration for our summer sessions of CricketTogether: Family & Friends is closed. If you are interested in being notified when the next registration period opens, please provide your contact information below.
Frequently Asked Questions