Inspire Children-in-Need and Excite Your Employees
Learn how eMentoring overcomes time, cost, and distance barriers to enable mentoring that companies, employees, and children love. 
Mentoring has proven itself to be one of the most valuable and effective development opportunities available in any environment—academic, professional, and even personal. 
This eBook discusses: 
The benefits and limitations of face-to-face mentoring
How the confluence of mentoring and technology (eMentoring) overcomes many of these challenges to achieve a far greater reach.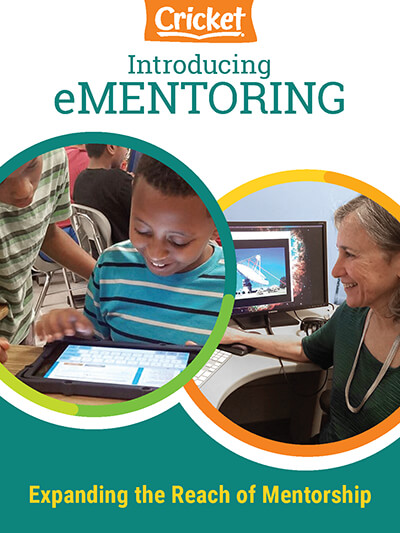 Get to Know CricketTogether
A safe, innovative eMentoring platform delivering a life-changing experience for children, employees, and companies. CricketTogether is a meaningful eMentoring Program that:
Excites kids in under-resourced communities about learning
Empowers teachers with compelling subject matter, powerful writing tools, and virtual access to supportive role models
Enables employee participation from any location, at any time, in only 2 to 3 hours per month
Is easy to administrate and use—the platform does the work
Provides a safe and secure online environment for connecting eMentors and students