Halloween's around the corner, and Cricket Media invites all bats and ghouls to celebrate the spooky-ooky season with some delightful tricks and treats!
We invite you to sample some of the terrific stories in this month's issues including "The Halloween Parade Problem" (Ladybug), "Won't You Be My Frankenstein" (Spider) and the spine-tingling quiz, "Which Monster Are You?" (Cricket).  And don't forget to send some Halloween cheer with a wide assortment of whimsically-illustrated Cricket greeting cards and printables!
Ladybug
What's your favorite part of October? Picking the roundest pumpkins and crispest apples with your family? Making creative costumes? Trick-or-treating and partying with your friends? Or enjoying delicious holiday sweets? Enjoy all of this festive fun and meet some real-life creepy-crawlies in October's issue of LADYBUG, featuring these stories and poems:
Five Little Bandits by Buffy Silverman, art by Tom Leonard
Mem and Grandpa at the Farm Stand by Margi Rossetti, art by Taeeun Yoo
Pumpkin Pal, art by Jeff Crowther
The More We Get Together, art by Laura Zannoni
Pill Bugs by Patricia Toht, art by Fiammetta Dogi
Rock-and-Roll Mazy, art by Remy Simard
Manny's Animals by Julia Durango, art by Mark Hicks
Look Up! by Karen G. Jordan, art by Kristina Swarner
The Halloween Parade Problem by Maggie Murphy, art by Jennifer Zivoin
Go, Go Robot! By Charlotte Gunnufson, art by Hector Borlasca
Cupcake by Beverly McLoughland, art by Colleen Madden
Regular features include: Max and Kate, I Spy, Molly & Emmett, Muddle & Thud, and a fun robot puppet craft!
Spider
Leaves are turning orange and brown, days are getting cooler, and nights are getting longer. It's the perfect time of year to curl up with a good spooky story. In this issue of SPIDER, you'll meet hair-raising haunts, goofy ghosts, and… a witch shopping for groceries? Read a monster love poem, get lost in a Halloween maze, make shadow puppets, put on a mystery play, and even learn how to play Midnight Mummy Bowling. This month's tricks and treats include:
Scary Shadows by Nathan Ariss
Won't You Be My Frankenstein? By Neal Levin, art by Mark Rogalski
Simone the Private Fly: The Monstrous Slumber Party by Cassandra Rose, art by Alejandro O'Kif
Midnight Mummy Bowling by Evelyn O'Connell, art by Hector Borlasca
Samson by Kristian Johansen, art by Brian White
Shadow Play by Robert Clark, art by Dominic Catalano
The Witch Who Couldn't Order In by Andrea L. Mack, art by Lars Leetaru
Goblin Magic by Kemuel DeMoville, art by Christina Ellis
And a Halloween matching game called Old Ogre
Regular Features include: Doodlebug & Dandelion, Spider's Mailbox, Spider's Corner, Ophelia's Last Word, Buggy Bulletin, Mind-Buggler, Spider and the Gang, and The Fun-Zone
Cricket
It's almost Halloween, when monsters roam the streets and the witching hour lasts all night long, and you're tired of hearing the same old ghost stories. But have you ever heard a kappa story? Or a thunderbird story? How about a story featuring jiang shi, the Chinese zombies? Encounter a whole host of new monsters in this issue of CRICKET, including the terrifying Vanishers. Journey to a medieval castle, join Roman twins Statius and Caeso for the next chapter of their adventures, and read an interview with the man behind the mask of many of your favorite movie monsters. And don't forget to take our quiz to figure out which lesser-known monster you are. You may just find your next Halloween costume! Spine-tingling stories, poems, and activities include:
Scarecrows by Justin Werfel, art by Pep Boatella
Life of a Leaf by Buffy Silverman, art by Shelly Hehenberger
The Man in the Monster Suit by Shelley Walden
Which Monster Are You? by Ginger Garret, art by Julie Paschkis
Vanquishing the Hungry Chinese Zombies by Claudine Gueh, art by Stephanie Brown
Kyngdom by Cricket Chatterboxers
Hope on High by Lindsay Koch, art by Bethanne Anderson
Autumn by Allison Stevick, art by Bethanne Anderson
Vanishers by Josh Allen, art by Sara Corbett
All for a Lizard by Nell Wright, art by Agnese Baruzzi
Regular features include: The Letterbox, Cricket Country, Ugly Bird's Crossbird Puzzle, Cricket League, Cricket and Ladybug, and Old Cricket Says.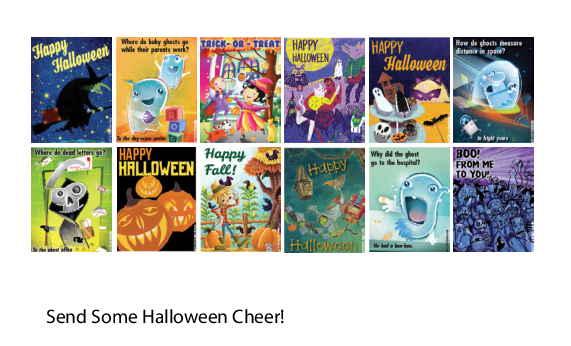 Halloween Printables
Send Halloween Cheer with an assortment of Cricket greeting cards and printables.

Large sized Halloween Cards
Small sized Halloween Cards
You've Been Boo'd Letter