For years now, Cricket Media and Neusoft have collaborated to produce high-quality children's educational content and learning experiences. The partnership is cemented in the Chinese principles of respect, cooperation, and honesty, and augmented by American ideals of critical thinking, open communication, and advanced digital capabilities.
In 2017, Neusoft and Cricket Media worked together to create NeuABC, a program that provides immersive English language learning to children in China. Now, with the advent of NeuLingo, we're offering the inverse: authentic Chinese language instruction to North American students. We are building an international collaborative learning experience that crosses cultures, borders, and time zones.

English learning for Chinese youth
Our high quality children's educational content will help students master the English language. Through online video classrooms, students have one-on-one live lessons and study with NeuABC teachers, which provides targeted and personal language learning services for Chinese children and parents.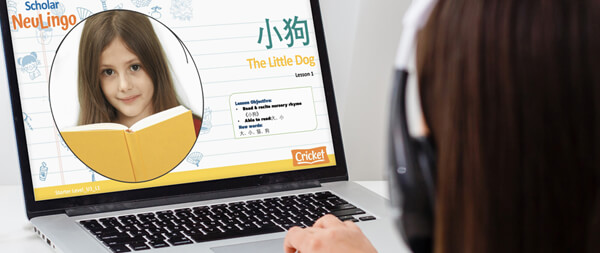 Learn Mandarin and explore Chinese culture
In accordance with an in-depth study of novice and heritage learners' learning characteristics and teaching needs, our joint U.S./China education team has developed three different levels of Mandarin courses. Our teaching system helps students gain the confidence to speak Mandarin and to achieve the learning objectives of daily communication, clear and accurate expression, and even writing short essays.