For nearly 50 years, Cricket has been charming millions of children and parents who subscribe to one or more of our 9 award-winning magazines for kids of every age and interest – from art and literature to science and history. Our family of magazines, created by internationally recognized writers and illustrators who deliver the highest-quality stories, poems and non-fiction articles, has won more awards than any other children's publisher.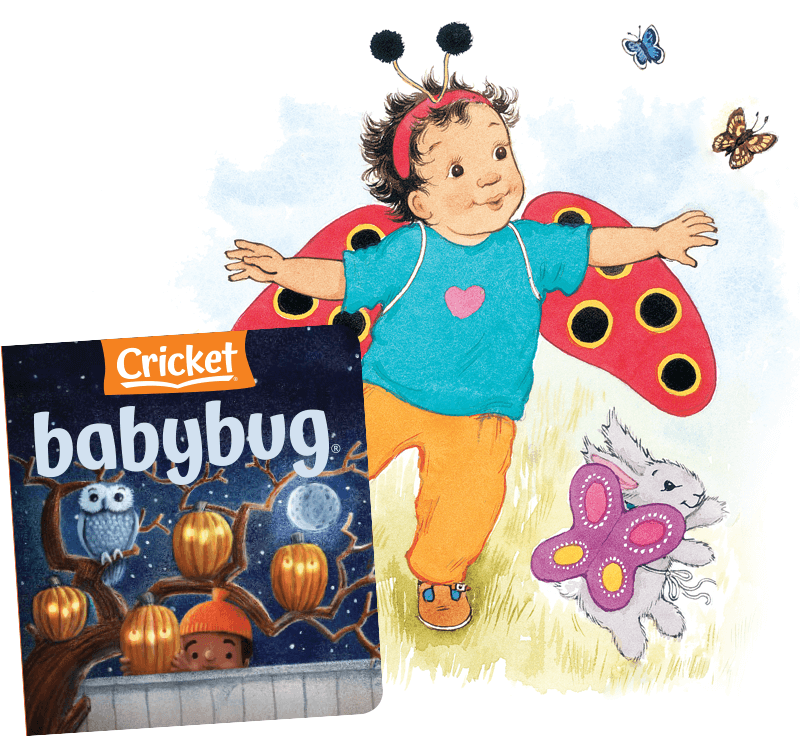 BABYBUG® Magazine Inspire a love of reading from an early age with our selection of award-winning magazines for the youngest children. Early reading with babies, toddlers, and preschoolers has been proven to spark language development and creativity. With rich vocabulary, enchanting artwork, and interactive fingerplays, games, and crafts, Cricket's ad-free magazines are perfect for reading out loud together. Introduce babies and toddlers to the magic of reading with sturdy BABYBUG, specially designed for little hands.
Preschoolers and kindergartners age 3, 4, 5 or 6 can embark on a journey of discovery with CLICK or take a voyage to the land of make-believe with LADYBUG.
LADYBUG® Magazine
A child's love of reading starts early and no one fosters it better than LADYBUG, the magazine that features beautiful poetry, engaging illustrations, and enchanting stories for kids from 3 to 6 years old. Dedicated to charming preschoolers and their parents, LADYBUG is filled with beautiful illustrations from award-winning artists and crammed with captivating stories that are meant to be read aloud and are just the right length for a cozy cuddle.
CLICK® Magazine
Packed with fascinating information on topics that preschoolers love, CLICK is the science magazine for kids that explains how the world works, one fascinating topic at a time. If your children are curious about the world – from dinosaurs to space, nature to technology – CLICK is here to answer their questions using language and photographs that engage young minds and encourages a lifelong love of learning.
CLICK® Magazine in Chinese
Our award-winning CLICK magazine will soon be available in Chinese. Your children can satisfy their curiosity about the world – from dinosaurs to space, nature to technology – and gain valuable Chinese language skills!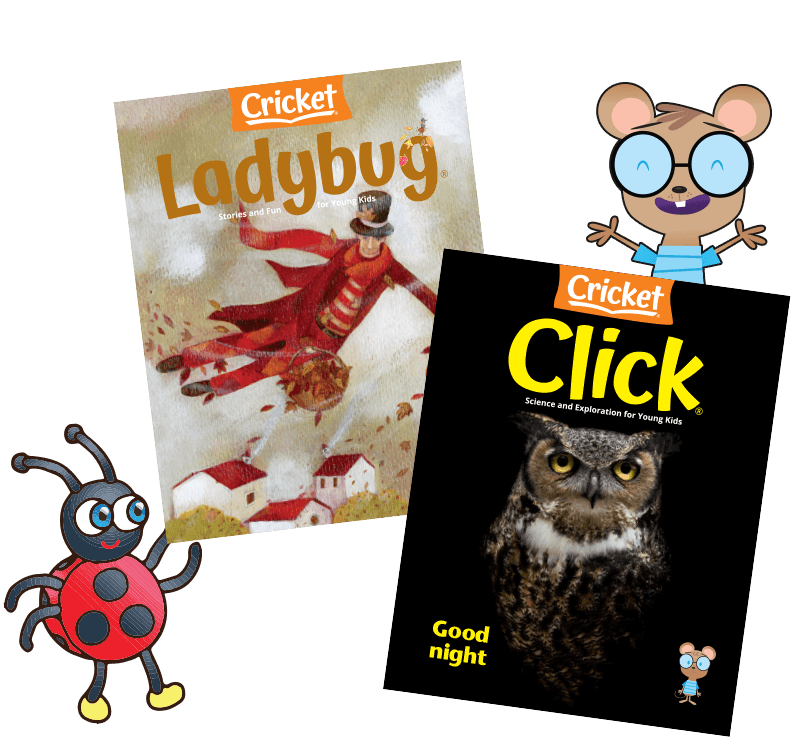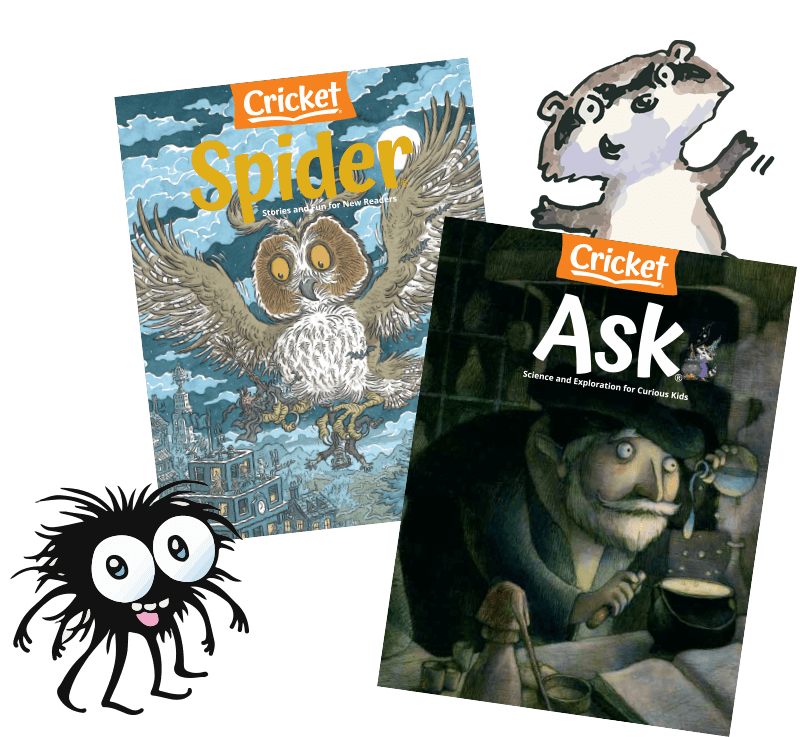 SPIDER and ASK magazines are made specially for that magical time when children become excited about reading on their own. Parents and teachers of kids ages 6, 7, 8 or 9 know that newly independent readers need the highest-quality material to feed their developing minds. CRICKET Media's award-winning, ad-free magazines feature unique stories, fascinating articles, breathtaking artwork, and kid-friendly writing that makes serious learning fun.
SPIDER® Magazine
Written for that magical age when children first get excited about reading on their own, SPIDER magazine will reinforce a child's love of reading by providing amazing stories and beautiful illustrations designed to keep young readers engaged. Pages filled with fantasy and adventure stories by celebrated authors, folk tales, non-fiction, poems, activities, and illustrations by famous children's artists make SPIDER magazine for kids the perfect choice for newly independent readers.
ASK® Magazine
Ignite your child's interest in science, history, and the arts with ASK, the magazine for kids with curious minds. Winner of the Parent's Choice Gold Award for the past four years in a row, ASK explores topics ranging from shipwrecks to the solar system and the hows and whys of laughter through a lens of STEM, history, and art. Designed to foster children's emerging interest in the world around them and build a lifelong love of learning, ASK is the leader in science magazines for kids.
Challenge curious young minds ages 9 to 14 with Cricket Media's collection of magazines. Whether your child is a future president, a promising poet, an aspiring engineer, or an up-and-coming explorer, these award-winning, ad-free publications are made for kids who will change the world one day.
CRICKET® Magazine
CRICKET Magazine, our flagship publication, is the world leader in providing the highest-quality fiction and nonfiction to children ages 9 to 14. Since its premiere in 1973, CRICKET has delighted and entertained generations of kids with contemporary stories and classic literature from the world's best writers, paired with illustrations so beautiful they take your breath away. Having won more awards than any other children's magazine, CRICKET delivers storytelling to young readers in its purest form.
COBBLESTONE™ Magazine
COBBLESTONE, the American history magazine for kids ages 9 to 14 knows that history doesn't have to be dull and dry. It can be vibrant and alive – and so much fun. That's why every page of COBBLESTONE is a living, breathing guide to how Americans lived, worked, played, and died from the 1600s to today. Filled with fascinating true stories from all decades of our country's history, augmented with dramatic photographs and beautiful illustrations, COBBLESTONE is designed to take kids on a journey through history while it excites their imaginations and brings the past to life!
FACES™ Magazine
FACES magazine takes young readers to places as far as the other side of the world and as close as the next state to get an honest and unbiased view of how children in other places live.  Whether you are planning a trip or just want to learn about faraway places, FACES will give you the information you need to feel like a local. From common customs to rules of the road, unusual foods to animals found in the region, games to housing, FACES uses breathtaking photography and authentic local voices to bring the entire world right to your mailbox.
MUSE® Magazine
MUSE magazine is the arts and science magazine for kids from 9 to 14 that's spot on with the facts, but off-kilter with the jokes. Kids who want to know how to keep robots from taking over the world or whether animals can think will find the answers here, in articles written by award-winning authors and accompanied by high-quality illustration and photography. MUSE magazine makes a perfect gift for readers who are outgrowing ASK magazine or are interested in science, history, and the arts. Explore the world in a fun (and funny!) way with MUSE.