Warning: This blog is a little corny.
I'm having one of those moments where I wish I was a kid in today's times. Growing up, Halloween was a one-day event: a parade at school, trick-or-treating at night, and then a month week of candy as we switched gears, put the costumes away, and started counting down the days until Thanksgiving break. It's no wonder our generation was a little (ahem) husky. These days, lots of local farms have started extending the fun of Halloween with fall festivals where kids can wear their costumes at each visit and enjoy haunted hayrides, scary slides, pumpkin picking, and corn mazes.
I couldn't be more jealous that my kids get to do things like corn mazes. I had never heard of such things growing up and didn't visit my first corn maze until my daughter was already three, which really (ahem) shucks! So many wasted years. If you haven't had the joy of experiencing a corn maze, find your nearest child and go. Go now. In fact, leave the kid behind and just go!
Now, I am fully aware* that behaving like an adult means one should NOT run full force through the corn maze, throwing corn stalks in the air and shrieking, "This is it, this is the end, we are never getting out!!!" at the top of your lungs!" So I am reduced to living vicariously through my kids, who suffer from short attention span and grew bored with solving the maze quickly. To keep the experience new and interesting, I came up with a few ways to make making it through a little more exciting. Lend me your (ahem) ears, and I will enlighten you:
Create a BINGO list for the kids to follow once they've solved every possible route. Have them find scarecrows, birds, watering cans, wheelbarrows, plows, bugs, and other items that might turn up in a corn field as you walk the paths. They might not find them all, but the one who find the most, wins!
Give your kids a compass and have them record their twists and turns to get out. Follow their directions. The most accurate use of a compass, wins!
Observe items on your own trek and create a scavenger hunt of things you know are in the fields. This differs from a BINGO game because the kids have to find all of the items (since you know they are there). Here, the first one who finishes, wins!
Have a full zombie costume on under your day clothes. (ahem) Stalk your kids as they walk through, jumping out and grabbing them at random intervals. You win! What? Was that too much? You mean I shouldn't have done that?
If you'd like to find a maze near you, try this website: Corn Maze America
And if your child (or let's be honest, you) wants to know more about how corn mazes are made, check out the free article "Lost in a Corn Maze" by Laurie Wallmark from SPIDER Magazine. Not only will you discover how they design these amazing things, you'll also see pictures of some of the coolest corn mazes around.
Lost in a Corn Maze
by Laurie Wallmark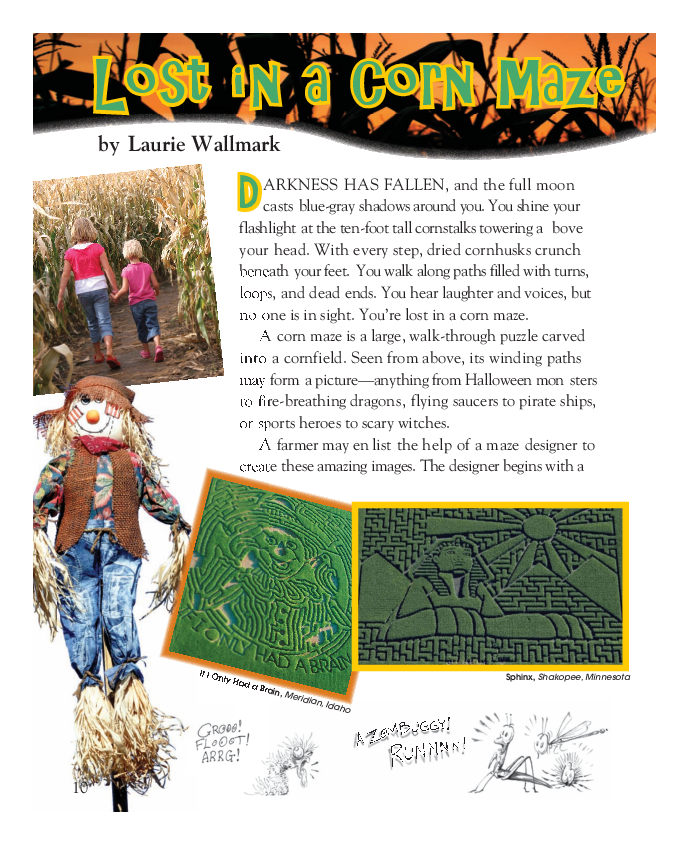 We hope your family's trip to your local corn maze is a-maze-ing. And for more a-maze-ing articles like the one below, be sure to subscribe to SPIDER.
*Cricket Media Mama wants to clarify that becoming "fully aware" only occurred after being told multiple times by the corn maze staff. "This is not a field of screams, Ms. Media-Mama!"