This month's issue of ASK is all about bookmaking, and I can't help but be excited about this because I love books. I love them so much that I learned to make them by hand, from start to finish. I could write a story and illustrate it, make the paper the story will be printed on, make plates and letterpress to print my words and images on my paper, and then I could bind it all together.
While I was studying graphic design in college, I never even knew these things were possible. Shortly after I graduated, I found myself between design jobs and came across an ad for a program in Interdisciplinary Book and Paper Arts. I did not know what it meant, but I was intrigued. I met the director, and he showed me the studios for papermaking, letterpress printing, and bookbinding. I was blown away. Over the years, I had collected tons of visual books like Calvin & Hobbes, Far Side, and Non Sequitur, and the thought of creating my own was really appealing to me. I wanted in. I applied immediately, and was extremely lucky to get accepted. To flip my own experience with books – from reading them to conceptually and physically creating them – was very exciting.
Learning to make paper was the most unique aspect for me. It is a very wet process. Like panning for gold but with lots of water. I learned to make paper with different plant fibers, to sculpt with it, and to make pulp paintings. My favorite thing to do with paper was to make basic, cotton-abaca sheets, that were optimal for drawing and printing. Using these crisp, toothy, deckled-edge sheets in books was to me the very definition of a handmade book.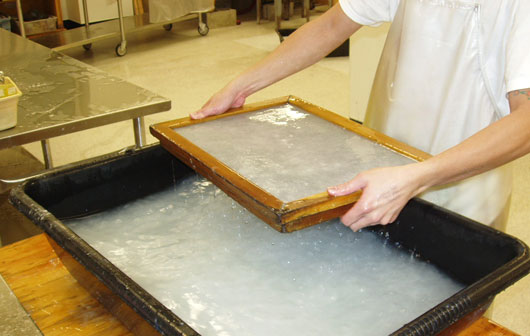 Letterpress printing was quite challenging. I did not have the patience and finesse with the machine and all its intricacies to master it with uniform consistency. As much as I appreciated setting individual type, I much preferred the speed – and irony – of using the computer to lay out entire pages with the fonts and art of my choosing and then making plates for printing. Though letterpress was not my strength, it was still extremely useful for my books, and I could never deny the joy of cranking that lever and seeing my own fully inked image on paper.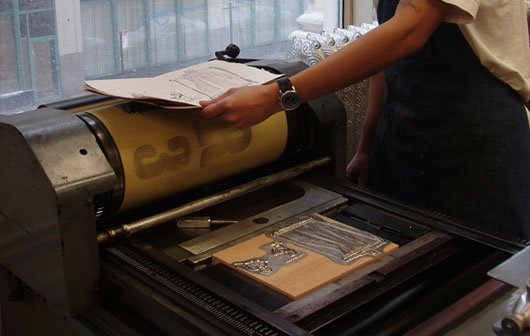 Bookbinding was definitely my favorite part of the bookmaking process. Some dormant section of my psyche must have awoken from handling the weird and scary tools and pieces of bookbinding equipment, from bone folders and awls to screw presses and guillotines. I picked up the folding, sewing, trimming, and pasting pretty quickly and even took a part-time job for the Paper Source, pasting up hundreds of covers for their albums and journals. Integrating these skills into making my own story come to life in a physical book is the icing on the cake.
I used quality materials like goatskin leather, quarter-sawn oak, and waxed linen thread to bind books that would endure for lifetimes. To do this with paper I made and printed on with my own story and art has been such a phenomenal pleasure. I finished the Book and Paper program a dozen years ago. I got married and still made books, but with each new child we have, the less time and space there is to do this. Making books requires specialized facilities, and though I have some of the smaller equipment and supplies to craft my own process, I haven't quite the time anymore. Making kids and making them as high quality as possible seem to be the new pursuits.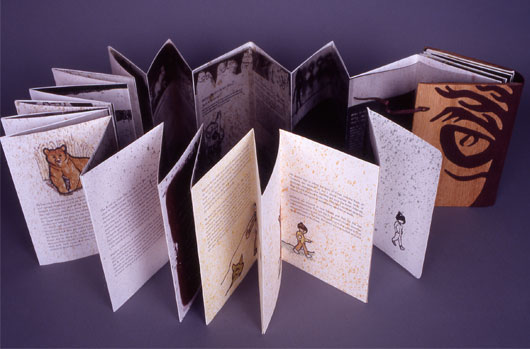 As a designer for Cricket Media, I am blessed to do work that is quite similar to making books. It is fantastic to help create and market the best kids' magazines on the planet. And my book (and magazine) experience flips again as I acquire and share with my kids the amazing stories and illustrations found in Cricket Media magazines, trusting that they too will one day will make their own great stories. As for me, I know I'll get back to making my books soon…
~~~more info on interdisciplinary book and paper arts at:
http://www.colum.edu/academics/fine-and-performing-arts/art-and-art-history/program-detail/interdisciplinary-book-and-paper-mfa.html