The urge to create is in each one of us. Our individual need to express ourselves is a vital part of who we are. The poet Walt Whitman once wrote that we are all born with the desire to "sound our barbaric yawps over the roofs of the world."
Since the beginning of time, women have expressed themselves through art, literature, song, dance, and theatre. For many years the beauty of their artistic messages went unnoticed. Nearly two thousand poems by Emily Dickinson went unpublished until after her death.
Here are four women whose creations continue to leave their artistic marks on us.
Georgia O'Keeffe
1887-1986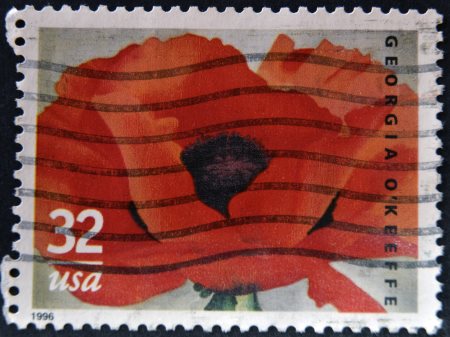 Georgia O'Keeffe was an artist born in Sun Prairie, Wisconsin, November 15, 1887. Her full name was Georgia Totto O'Keeffe. She painted in oils and watercolors. Her large paintings are full of sensual flowers and landscapes of the southwest. She lived a very long life and died in Sante Fe, New Mexico at the age of 98. Georgia O'Keeffe is known as the Mother of American Modernism.
Georgia O'Keeffe
Like the baby's sky
that lives beyond
the gentle touch of truth,
her pastels rise softer
than a daylight dream.
Her golden eyes
belong to the stars
of another world
where shade and shape and hue
of yellow, purple, blue
unfurl like calla lilies
in a field of lilac.
In warm, blending tones
of sleeping summer babies,
she wakes our eyes
to new worlds
full of color,
motion, and light.
©Charles Ghigna
Emily Dickinson
1830-1886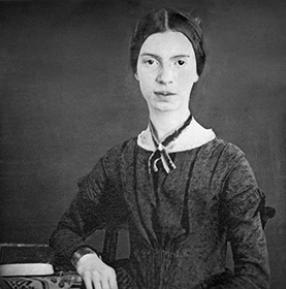 Emily Elizabeth Dickinson was a poet born in Amherst, Massachusetts, December 10, 1830. After college she moved back home and lived much of her life as a recluse, rarely leaving her house. It was not until after her death that her younger sister, Lavinia, discovered Emily's nearly two thousand poems hidden away in her room. Dickinson's complete works were not published until seventy years after her death, yet she is now considered to be one of America's most popular poets.
Emily Dickinson
Stanza upon stanza,
her elegant extravaganza
of poem upon unpublished poem
came to life upon her death,
gave birth and endless breath
to old worlds made new.
©Charles Ghigna
Sarah Vaughan
1924 – 1990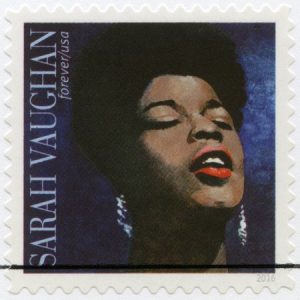 Sarah Vaughan was a blues singer born in Newark, New Jersey, March 27, 1924. She began taking piano lessons at age seven and organ at age eight. By age twelve, she was playing and singing in her church choir. She won a vocal contest at the Apollo Theater when she was sixteen and began singing professionally when she was eighteen. She was one of the greatest female scat singers of Bebop jazz. Her later recordings featured many popular songs. Her nickname was "The Divine One."
Sarah Vaughan
An infant speaks,
a young girl sighs,
an old man laughs
to hide his cries.
When she sang
her sultry song,
clear blue skies
from now on.
How gentle is the rain
that falls softly on the meadow.
Birds high up in the trees
serenade the flowers with their melodies.
See there beyond the hills
the bright colors of the rainbow,
some magic from above
made this day for us just to fall in love.
©Charles Ghigna
Bette Davis
1908-1989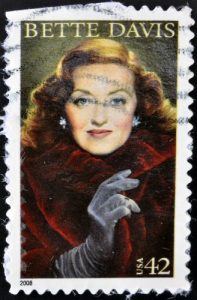 Ruth Elizabeth "Bette" Davis was an actor born in Lowell, Massachusetts, April 5, 1908. She appeared in plays on Broadway and starred in more than one hundred movies. She became the first female president of the Academy of Motion Picture Arts and Sciences, and is often regarded as one of the greatest actors in the history of Hollywood.
Bette Davis
The deep timbre of her
husky voice
played upon the drums
of our ears,
set us all on edge,
made us sit up in our seats
like obedient puppies
waiting for her command.
Her magnetic eyes
held us in her spell,
cast us into new worlds
and made us all believe in magic.
©Charles Ghigna
Charles Ghigna – Father Goose® lives in a treehouse in the middle of Alabama. He served as poet-in-residence and chair of creative writing at the Alabama School of Fine Arts, and as a nationally syndicated feature writer for Tribune Media Services. He is the author of more than 100 award-winning books for children and adults from Random House, Disney, Hyperion, Scholastic, Simon & Schuster, Time Inc., Abrams, Charlesbridge, Capstone, Orca and other publishers. His poems appear in hundreds of magazines from The New Yorker and Harper's to Cricket and Highlights. For more information, please visit his website at FatherGoose.com