Did you know that July is National Ice Cream Month? It's certainly one of the hottest months of the year– and the perfect time for a frozen sweet treat! In fact, we're celebrating all month long with the July/August issue of ASK Magazine, which is all about– you guessed it– ice cream! Here are some of our most creative ideas for ways to celebrate this auspicious holiday!
Make Your Own Ice Cream!
You knew this one was coming. Generations of kids have enjoyed making ice cream in a bag, but this simple method for at-home ice cream is a classic for a reason. Just don't make the mistake that one of our unnamed Cricket family members made and leave the smaller baggie unzipped. You definitely don't want salt getting into your ice cream– unless it's salted caramel!
What you'll need:
1 big (gallon-sized) plastic freezer bag, plus a spare in case of leaks
1 medium (quart-sized) plastic freezer bag
Dish cloth or small towel
About 3 cups ice
1/2 cup salt
Sink or plastic basin
1/2 cup milk (or non-dairy substitute)
1/2 cup heavy whipping cream (or non-dairy substitute)
2 tablespoons sugar
1/2 teaspoon vanilla, 1 tablespoon chocolate syrup, or BOTH!
What to do:
In a bowl, mix the milk, cream, sugar, and vanilla or chocolate.
Put the mixture into the medium plastic freezer bag. Press the air out of the top and seal tightly.
Put half the ice into the large freezer bag. (Do this and the next several steps over the sink or plastic basin, in case of spills)
Then, put in the sealed small bag with the cream, so it sits on the ice.
Add the rest of the ice and the salt. Seal the large bag tightly, and squish it around so that the ice is all around the smaller bag.
Wrap a cloth around the icy bag (it will get very cold!). Gently shake and squish it together for 5 to 10 minutes. You should feel the cream mixture starting to get solid.
When it feels done, carefully remove the smaller bag. Open it up and enjoy your ice cream! For firmer ice cream, put the bag in the freezer an hour after shaking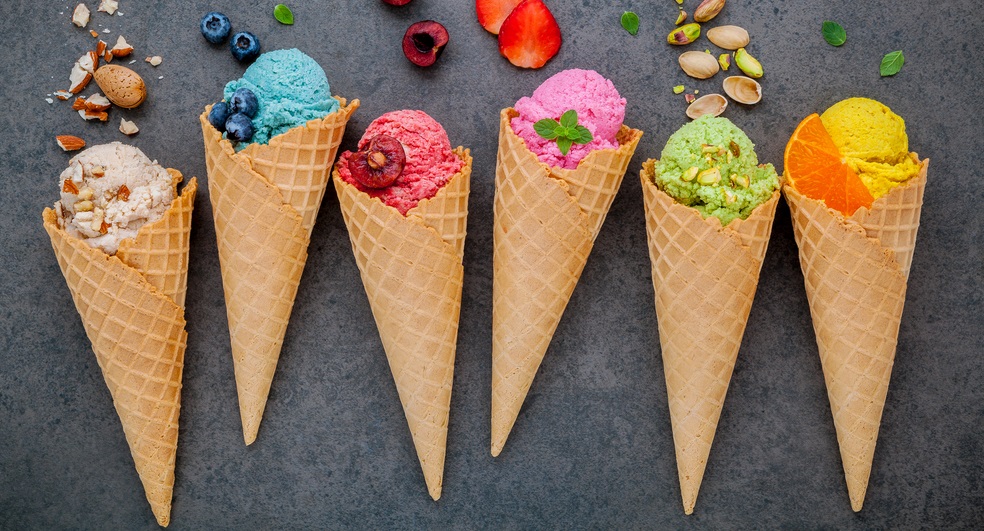 Meet an Ice Cream Scientist
Did you know that ice cream scientists even exist? Neither did Dr. Maya Warren until she was in college. Now, she's a food chemist who specializes in designing new flavors of ice cream. Find out the answers to some of the most commonly-asked ice cream questions, learn about the strangest ice cream flavor she's ever created, and discover which flavor she wouldn't try again. If you know any aspiring scientists who happen to have a passion for ice cream, this interview from ASK Magazine will certainly inspire them to learn more about STEM careers! Make sure the whole family gets a chance to discuss which flavors of ice cream they'd dream up!

Learn About Ice Cream Around the World!
It may be National Ice Cream Month here in the USA, but that doesn't mean that ice cream is just for Americans! In fact, people all over the world love to eat frozen treats– but some of them may be a little different from what you're used to. For example, guess which country likes to serve ice cream sundaes that look like spaghetti with tomato sauce? It's not Italy! Find out about international takes on ice cream from akutaq, a mixture of animal fat, snow, and berries that's served in Alaska, to stylish rolled ice cream treats from Thailand, in this article.
While you're exploring the world of ice cream, why not try your hand at a recipe for Kulfi, a kind of Indian ice cream treat?
What you'll need: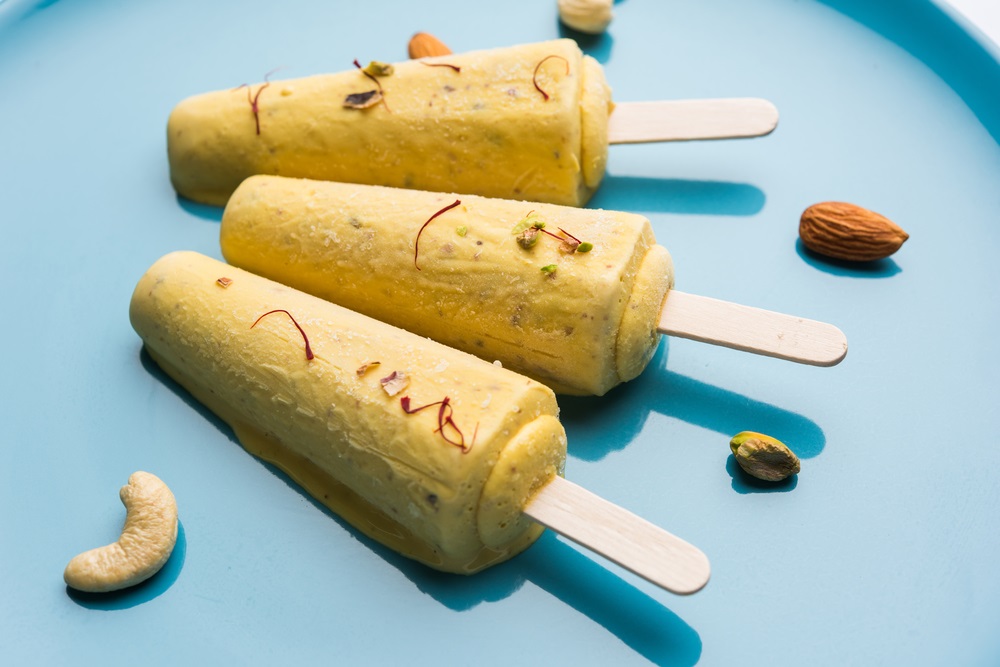 1 cup sweetened condensed milk
1/2 cup cream
1/2 cup milk
1 teaspoon ground cardamom
1/4 cup chopped pistachios (optional)
4-6 small paper cups and popsicle sticks
Wax paper or plastic wrap
Note: For a non-dairy version, substitute 1/2 cup of soy/dairy/rice milk, 2 mashed bananas, and 2 tablespoons sugar
What to do:
In a large bowl, stir together condensed milk, cream, and milk.
Add cardamom and nuts (if desired). Stir until well mixed.
Pour the mixture into small paper cups. Cover with wax paper or plastic wrap and secure with rubber bands. Insert sticks through the wrap.
Put in freezer for around 6 hours
Enjoy your kulfi!

Create an Ice Cream Invention
Ice cream may be one of the most delightful inventions in human history, but how can we make it even better? Get out some paper and colored pencils and dream up an ideal ice cream invention. A portable soft serve machine that you can pack in a lunchbox, an automatic ice-cream scoop, a melting-resistant ice cream bowl? The sky is the limit!
In fact, one of the winners of this year's Invent It Challenge, 6-year-old Ace M., created a special ice cream saver designed to prevent freezer burn. Check out this winning invention for the youngest age group, as well as the rest of the winners! This year's challenge was to create an invention that makes food available to everyone, everywhere.

Play an Ice Cream Game
Want to build a sundae but don't have any ice cream in the house? Try this fun game from the takeout pages of SPIDER Magazine. Simply print and cut out the cards. Then, roll a die to take turns and see who can assemble the most three-part sundaes! (Remember, you must have a bowl, ice cream, AND toppings to create a sundae!) But watch out– your ice cream could melt, or your friend might sneak a bite, setting you back in the game!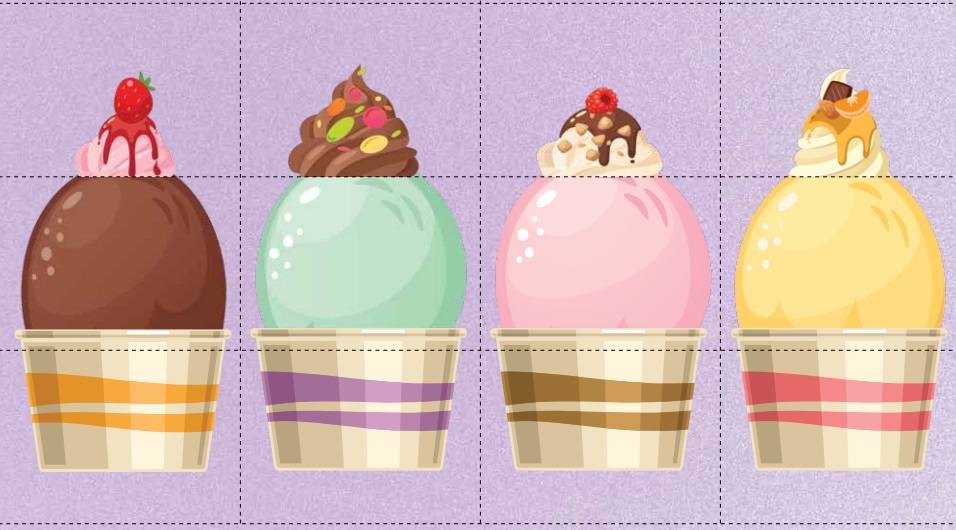 How will you celebrate National Ice Cream Month? Are you planning to try any of these activities? Take photos and send them to us on Facebook, Twitter, or Instagram!