by Suzanne Dix
To the delight of all school librarians across the country, April is a special month that raises awareness and celebrates the connection of school librarian and student. Established in 1985 by the American Association of School Librarians (AASL), thirty-one years later school librarians, media specialists and teacher-librarians take the month (or even just one day of the month) to get reinvigorated and inspired by their fellow colleagues, grateful authors, and other wonderful supporters of school libraries.
School librarians shape lives
Know and love your child's school librarian?  This is a wonderful month to tweet, post, and share your thoughts! AASL has a presence on Twitter and Facebook and school librarians would love to know how much you appreciate them! Talk to your child about why they love visiting their school library or ask them to complete this prompt:  "_____ is my library hero because _______________."  Or watch together this year's national spokesperson Megan McDonald, former children's librarian and popular author of the Judy Moody series, in her video message. Summing it up in four words, she says "school librarians shape lives." It is just this sort of message that school librarians love to hear!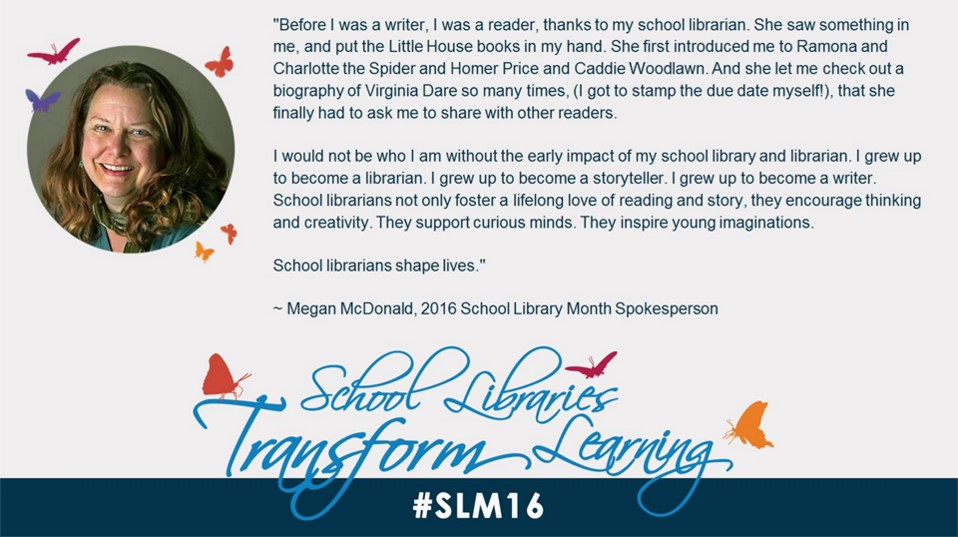 Many other authors have generously taken the time to share kind words about the impact their school librarian and library had on their childhood. You can view all these messages throughout the month of April on Twitter (@aasl) and Facebook (American Association of School Libraries).
The theme this year is "School Libraries Transform Learning" which coincides with the American Library Association's new mission to spread the word that Libraries Transform. Many activities are planned throughout the month, including free webinars and a "Calendar of Celebration" which offers suggestions for contests and programs within school libraries.  AASL is hosting a Padlet for school librarians to share their passion for their work and the many ways they are transforming learning in their library. AASL also has many free web graphics available for social media banners, email signatures, and websites, as well as downloadable and printable posters. Feel free to get inspired and join in on the fun!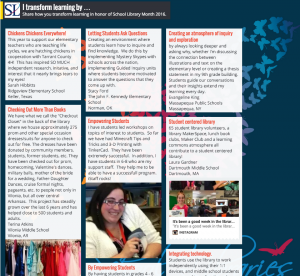 Suzanne Dix (@suzannedix) was a middle and high school French and Spanish teacher in MA with a Master in Education from the University of Massachusetts and a Master in Library and Information Science from the University of Rhode Island.  She lives in Cincinnati with her husband and 2 rescue dogs and works as the middle and upper school librarian at an independent school.