Last year around this time, I posted a blog about holiday shopping, or more accurately, holiday overspending. In it, I repeated some good advice that I got and still abide by:
When it comes to gifts, try the rule of four for your kids: one gift they want, one gift they need, one gift they wear, and one gift they read. This allows you to buy them useful, practical gifts that should have a longer shelf life, while still giving them something they want and helping you to maintain a budget.
This year, I'm trying even harder to subscribe to this rule with one exception – and I'll get to that in a second. My reason for really sticking to the rule of four is that at the beginning of 2016, I established a budget. My kids are at an age where I feel it is really important to demonstrate responsible financial behavior. Modeling this behavior isn't always easy, but it does give me the ability to blow off a request for the green Hatchimal by saying "Oh, we don't have the money for that, it's not in the budget."
Sticking to the budget is especially difficult at this time of year. But actually it is more important than ever to keep to a budget at Christmas. If I cry "sorry, that's not in the budget" all year long and then overload the Christmas tree, the kids will get a clear signal that no matter how tight your money is, it's okay to blow a budget when it comes to holiday gifts. Staying consistent and modeling fiduciary discipline is an important lesson you can give your kids. (See, this is me adulting. Not only do I sound responsible, I use big words like "fiduciary" to do so!)
So when planning your budget work with the rule of four. But my exception to the rule is to shop experience gifts. Look for a class, a camp, a one-time adventure. Consider something for the season like ice-skating or snowboarding. A cooking class or a language class the whole family might enjoy. Art, glass blowing, 3-D modeling, crafting or dancing. Take a zip line adventure, play laser tag or paintball, or make that last gift a family vacation to someplace meaningful to the kids. Memories, skills, and knowledge will last way longer than any green Hatchimals will.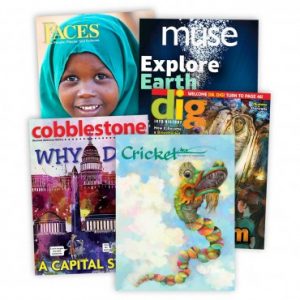 Editor's Note: A gift of Cricket Media children's magazines won't bust your budget and fits perfectly in the rule of four. We'll let you decide which of the four categories it matches.
Cricket Media Mama booked a trip to Harry Potter world for Christmas because she's all about the experience gifts. Now, she just has to figure out what to give her husband and kids since she'll be gone.