Earlier this year, my daughter participated in her school's fourth annual Trashion show, where students were invited to create some sort of wearable ensemble made from reclaimed and/or recyclable materials to promote recycling and sustainable lifestyles.  Students who participated in the school's annual event were not only able to showcase their creative talents, but were challenged to find creative uses for the many things we regularly throw away, while exposing them to just how much waste comes through our daily lives.
The students' outfits were judged in four categories: appearance, creativity, functionality and use of materials. This year's wearable creations were innovative, interesting and fun and just like in year's past, did not disappoint.
Take a look at a few of the entries and see if you can figure out what materials they used…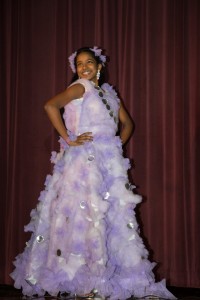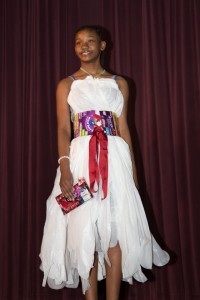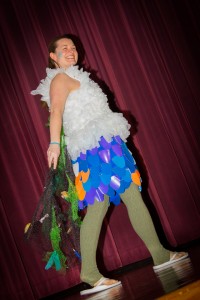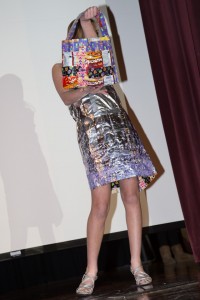 (Answers at the end of the post!)
Fun Ways to Celebrate Earth Day 2016
While putting on a school-wide Trashion show to promote awareness of waste and pollution is quite an undertaking, there are simpler ways to celebrate Earth Day and foster a generation of mindful consumers and creators who can change the way the world sees waste in your own home.
Visit our Earth Day Pinterest board, pinned with lots of activities and crafts related to Earth Day. Here are a few that caught my eye:
Finding ways to celebrate Earth Day is important – even if you aren't the crafty type. Take advantage of this day to learn about how we can all  do our part to ensure Mother Earth continues to prosper for years and years to come.
Materials used:
Image 1: First Place Winner:  Lavender ball gown made from pillow stuffing, dryer sheets and milk bottle seals.
Image 2: Dress made from white recycled garbage bags. Belt made with cereal boxes and an old gift ribbon.
Image 3: Top made with grocery bags. Skirt made with plastic from detergent bottles.
Image 4: Dress and purse made with used Juice Boxes
Image 5: Dress made with pages from old books
Image 6: Dress made with reused plastic grocery bags & newspaper.