The 2016 Spark!Lab Invent It Challenge is finally off and running. This year, kids ages 5 to 21 need to identify a real-world health problem and come up with a solution to the problem. Each entry must follow the seven step invention process spelled out by our partner, the Smithsonian's Spark!Lab . For the next 7 weeks or so, we are going to be highlighting each step in the Spark!Lab's seven-step process with the goal of helping parents help their children make the most of this learning opportunity and achieve optimum results.
Think It!
Taking the first step in solving any problem—from the big problems like curing a disease to the small problems like figuring out the best way to help people to remember to take their medicine—involves the same "a-ha moment". This is the moment when the inventor realizes that there is a problem out there that needs to be solved.
Reaching this a-ha moment can be the most challenging part of the entire invention process. You know that expression, "even the longest journey begins with the first step"? Well, this is that big first step and it can be a daunting one. In the hope of helping you help your child take this first big step, this blog will aim to get his or her creative juices flowing. Your child may want to take notes in their very own Spark!Lab Inventor's Notebook as he/she thinks about health problems to solve!
Talk
This may sound obvious, but often young inventors want to look only within their own experience for a problem to solve when a problem crying out for a solution is just a conversation away. Encourage your child to talk to friends, relatives, even his or her doctors about what problems they've encountered in their lives or careers. These conversations may spark a great idea. Remember to have your child write down his or her ideas as they have them. Otherwise an amazing idea may be forgotten during the course of a great conversation.
Read
From biographies of great inventors to blogs that proclaim "5 ways to Cultivate Inspiration and Ideas" there is no shortage of reading materials about inventors and the invention process. The website "A Mighty Girl" has a listing of 13 great books about inventions, including my current favorite book about the inventing process, "The Most Wonderful Thing." Read it with the young inventor in your life.  It might help jump-start the invention process, but even if it doesn't, I bet you'll enjoy the book.
Do
This would be like a mini-internship. Have your child follow around either a health professional or someone with a health problem for a few hours. Let your child see what challenges come up during this time. Chances are, your child will get some sort of inspiration from this type of experience that will lead to a germ of an idea that will eventually lead to something they can get excited about.
Still stumped for the perfect idea? Watch the Invent It Challenge Inspiration Video with your child. Discuss the health issues you see and determine what issue interests your child the most. This will give you a great starting point for your child's investigation.
With that giant first step behind them, your young inventor will be ready to tackle Step 2: Exploration.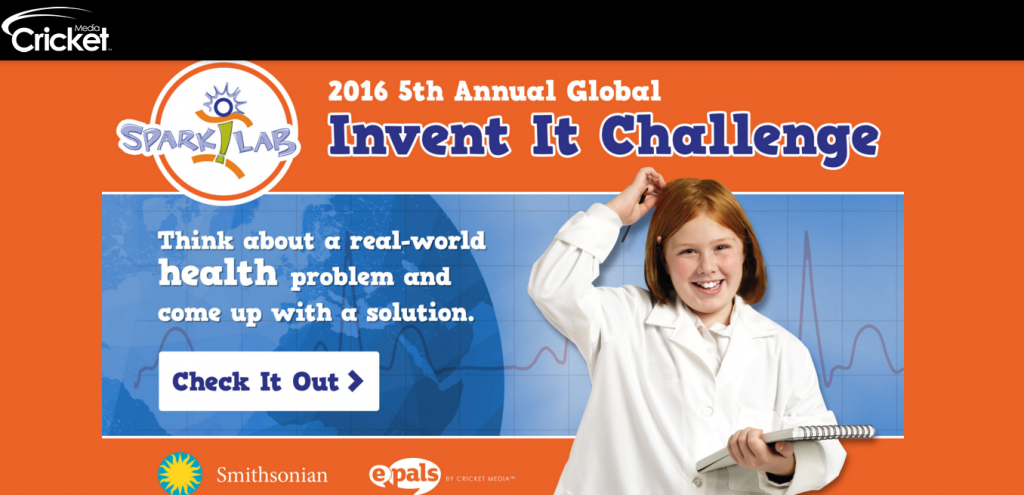 Stay tuned right here for more insight, tips, and special guests designed to help your child throughout the entire Invent It Challenge process.