By Lisa Clancy, MSLS
In honor of National Library Week, we're having a month-long celebration of the people who make our libraries run, who help us find the books we need, and who always know how to research topics for reports and term papers. In this 3-part series, we asked librarian extraordinaire Lisa Clancy to answer a few questions about what it is like to be a librarian in the age of the internet. Take it away Lisa…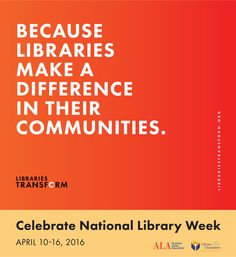 Question 1: Are libraries still relevant?
When I tell people I'm a librarian, I'm likely to hear a response along the lines of "They still make those?" "Books are still a thing?" "What about the internet?"
I'm here to tell you that yes, there are still librarians in the world, and in a way, we're needed more now than ever.
So let's break this down:
Do you remember the library of your childhood? It was probably dark and had a lot of wood. It might've been in the basement of your township building, or in an old school. You either loved the librarian because she let you take out as many books as you wanted, or you hated her because she only let you check out books that were set aside for your grade. You had to find the books you wanted somewhere between the picture books and the doorstopper novels your parents read. Whoever brought you to the library found what they wanted and were ready to leave long before you were. It was never a place to linger.
I'm here to tell you that times have changed. The library of your childhood (well, okay, mine as described above) is a thing of the past. Public libraries suffered along with everyone else in the late 00's, and had to reshape themselves to remain relevant (really, perceived-as-relevant) to their communities. Some of them actually became community centers where townships couldn't afford both services. Some of them became libraries of the future—with less books and more computers. But many of them, most of them that are still around today, became more than libraries. They became intrinsic.
Whether it's the new mother who feels alone and a little desperate before she discovers the welcoming community of other new mothers in a baby storytime, or the frustrated office worker who abandoned the corporate life and started her own business only to discover she couldn't afford all of the space and wi-fi and ink a home office needs, or the teacher who is looking to supplement summer income with a second career but needs the exam for his online school to be proctored, the library has room for all of them.
Yes, we help you find your next great read. We still have bookclubs, and summer reading lists, and a subscription to that one magazine you love but can't afford. We also have sensory storytimes for children with special needs, tai chi classes to get your energy going in the right direction, free meet-and-greet with authors who have already been down that road you sometimes dream about when you think you might write a novel. We have free programs on everything from coffee tasting to understanding your credit report to discussing current events to hosting a docent from the nearest museum discussing their latest exhibit, to the high school photography club showing you how to (finally) take a good picture with your cellphone.
I'm not even scratching the surface. Libraries have 3-d printing labs where you can see what all the fuss is about. They have quiet spaces and study rooms and comfy chairs. Mine has a fireplace. (Yes, a fireplace. In a house of paper.) They have Legos, dvds, travel guides, pre-loaded Nooks or Kindles, and free passes to local museums and zoos. Some libraries lend sewing machines and yard tools. Ours lends American Girl dolls with an accessory backpack and a journal where the borrowers record what they did with the dolls before passing them along to the next lucky child.
We just had a free program with the man who created the Genghis Kahn exhibit that is currently touring the country. It was so fascinating patrons still come up to me to exclaim about it. We recently had a program with a local, young woman who will be rowing in the Olympics this summer. Our Stars Wars live-action program was so huge that it was featured on the local news and we set an attendance record. Our biggest problem these days? Our parking lot is too small. This is a happy problem.
If you're proficient with your device, we have magazines you can download and keep forever, all the bestsellers you could want for that cross-country flight, historic documents from rare collections, and the ability to see the actual ship's log that recorded your great-grandmother's summer-before-her-wedding trip with her girlfriends to Hawaii via steamer.
And if you're not proficient with your device? We can show you how to become proficient. And then get you Skyping with your best friend from high school who moved across country, or your favorite crew coach in his retirement home where the visiting librarian there showed him how to Skype.
We can teach you to knit. We can set you up in front of the Puffin cam so you can see them hatch off the coast of Maine. And we can request a book for you from a library in another state.
We can do all of this for you, because we're yours. With the exception of printing and the tai chi, everything I just described is free. And I've done all of this for patrons in the last 12 months. Why? Because I'm a librarian. I connect you with resources and programs and services and opportunities that you are entitled to, simply because you live where you live.
My library is pretty cool. (I know this because a librarian at another library told me that when she retires, she plans to come to my library every day to hang out and read the paper!) But if you don't live in suburban Philadelphia, I urge you to find your local library. It is your local library. You help pay for it, you might as well look in on your investment. If you haven't been there in a while, I promise you it will look quite different. It may be a bit louder. It may be a bit brighter. But it's got the same mission: to inform, educate, entertain, and connect.
Lisa Clancy, MSLS, is the Adult Services and Reference Librarian at the William Jeanes Memorial Library in Lafayette Hill, PA. She received her B.A. from Haverford College, a Certificate of Publishing from New York University, and her Master of Science of Library Science from Clarion University. She worked in a bookstore in high school and college. After a career as an editor connecting writers to readers, she's now working the other side of the equation. She still has every library card she ever owned. She has a list of desert island books, including a few for kindling. Yes, she does have a cat, wear glasses, and own a lot of cardigans. No, she is not a superhero. Yet.