We love igniting imaginations and cultivating the love of reading through the 11 children's magazines we publish, but did you know we also make it easier for families to create story time traditions with loved ones anywhere, anytime through our Story Bug app?
This week, we released a free new edition of Story Bug, a cool interactive app that gives children the ability to read digital editions of books together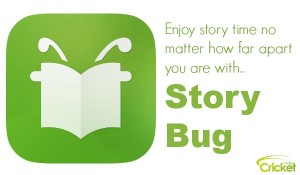 with family and/or loved ones over a video call.
Library of Congress Rare Children's Books
As a part of this release, we've collaborated with the Library of Congress to make four rare 19th and early 20th century children's books available in the Story Bug library.
The Slant Book, created by the American humorist and illustrator Peter Newell, is a rhymed, fully-illustrated novelty book.  The text, illustrations and the book itself were produced on a slant, and it follows the sequence of disasters caused by gleefully-naughty Bobby in his run-away baby carriage.
The Rocket Book, created by the American humorist and illustrator Peter Newell, is a rhymed nonsense tale of a rocket fired by naughty Fritz in the basement of his apartment building, and the story follows the rocket's raucous flight through a series of slapstick situations.
Gobolinks or Shadow Pictures for Young and Old, created by Ruth McEnery Stuart and Albert Bigelow Paine, is a collection of shadow images of goblins, elves and other "eccentric creatures" that were produced by placing ink blots between sheets of folded paper.  Each image is accompanied by limerick-style verses.
The Song of Sixpence Picture Book contains "The Song of Sixpence," the well-known nursery rhyme, "Princess Belle Etoile," a fairy tale and "An Alphabet of Old Friends," a collection of alphabetically–arranged nursery rhymes. It was illustrated in full color by Walter Crane, a leading British picture book illustrator of his day.
How does Story Bug app work?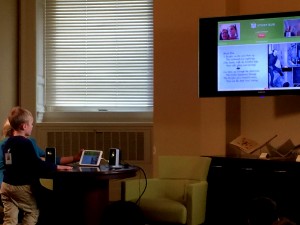 Currently available for iPhone and iPad users only, the Story Bug app lets users see and hear each other while viewing the books. They also share controls for turning pages and interacting with the content. So when a page is turned on one device, the page simultaneously turns for the user of the other device. In addition, a digital "shadow hand" shows where each person is pointing, so grown-ups can challenge their young readers to point to illustrations on the page or sound out specific words. In addition to enabling real-time story time, the App also allows users to record themselves reading for later viewing.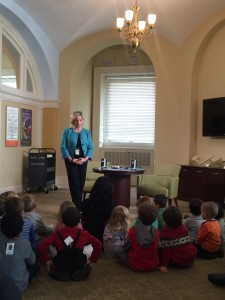 To celebrate this release, we invited local children to gather at the Library of Congress Young Reader Center for a special story time, featuring a reading of the Rocket Book using Story Bug.
Download the Story Bug app and let us know what you think!