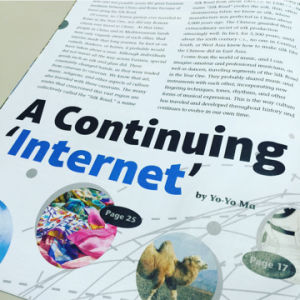 Have you heard of the "Silk Road," the collective name for the many routes that crisscrossed the vast Eurasian landmass between China and Rome more than two thousand years ago? World famous cellist Yo-Yo Ma has.  In fact, he was so inspired by the exchange of ideas and traditions that occurred along the historical Silk Road throughout the centuries, he established "Silkroad," an organization dedicated to advancing global understanding and connecting the world through the arts.
Travel the Silk Road with Yo-Yo Ma
This month, Dig Into History, our award-winning magazine exploring ancient history and archaeology is traveling the Silk Road with Yo-Yo Ma and his Silkroad organization. While Mr. Ma tours the globe with his eclectic, multicultural ensemble presenting an unexpected hybrid of exotic and familiar musical traditions celebrating how music can cross boundaries and connect the world, our "Year One Along the Silk Road" issue will trace the similarities and dissimilarities between the two empires and examine the rich tapestry of traditions from around the world that make up our many-layered contemporary identities.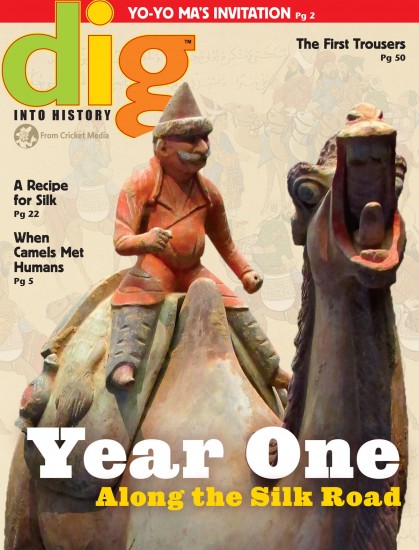 We hope you'll get out to see the Silkroad Ensemble at your local venue. But before you go, be sure to read (and share) the "Year One Along the Silk Road" issue of Dig into History to explore the endless creativity and innovations that occur when cultures meet.
About DIG Into History Magazine
If you've got a nine-to fourteen-year-old, get to know DIG Magazine! This Parent's Choice Gold Award Winner digs into history, archaeological finds, ancient civilizations, and more to uncover the secrets that are buried right under your feet! DIG instills an appreciation for the scientists who explore the ancient world and sparks excitement about world history and human development through engaging stories and articles, hands-on projects, fun games, and loads more, all created by the world's best children's authors and illustrators.