August 28th marks the 53rd anniversary of the March on Washington. This momentous event involved more than 200,000 protesters participating in a political rally that resulted in key gains in the struggle for civil rights. It is where Martin Luther King Jr. delivered his famous "I have a Dream" speech and it is an iconic moment in American history.
Have you ever wondered if, given the chance, you would have stepped forward and joined the March? Personally, I often wonder if I would have participated in the March on Washington. As a younger woman, I participated in a lot of protests, marches, and other peaceful demonstrations to stand up for my beliefs. So my first carefree reaction is "Of course I would! I would have fully supported the Civil Rights Movement and would have been willing to walk for days in order to foster equality."
But the realistic mom part of me counters with, "I don't know, that seems like a lot of work. It was really crowded. Probably quite hard to get around. And going downtown to a crowded DC in the middle of August? That's just a mistake."
Setting a Good Example
I guess that's why I'm so very impressed with those who do pack up and get out there, especially those with kids in tow. As a parent, I recognize how imperative it is to set a good example. I want my kids to understand that they are lucky to live in a country where they are allowed to stand up for what they believe in. Although we take it for granted, it's a rare and relatively modern right in this world. It is not a right that should be taken for granted.
As my kids grow, I look forward to them developing their own passions and beliefs.  As they do, I hope it will reinvigorate my motivation for joining democracy in action and result in my whole family getting out and marching for a cause we believe in. I'm thinking we could start with a small protest that will help teach the kids the importance of standing up for their beliefs and reinforce that we can't leave after 15 minutes because they are hot and their feet hurt! And I hope these small protests will position my kids to stand up for their rights and the rights of all their fellow citizens for their entire lives.
As August 28th approaches, I invite you to share the two stories below about the March on Washington with your family. The first is a fictional account of attending the March. The second is a more factual article written in language your kids will be able to understand. Together they will help give you all a background into this historic event and may even spur you to get out and march yourselves the next time the opportunity presents itself. After all, one never knows what the magnitude or impact of a movement will be in the future. It would be amazing to read about a history changing demonstration in textbooks someday and be able to say "I was there."
For Jobs and Freedom
by Eric Arnesen
Cobblestone Magazine
February 2015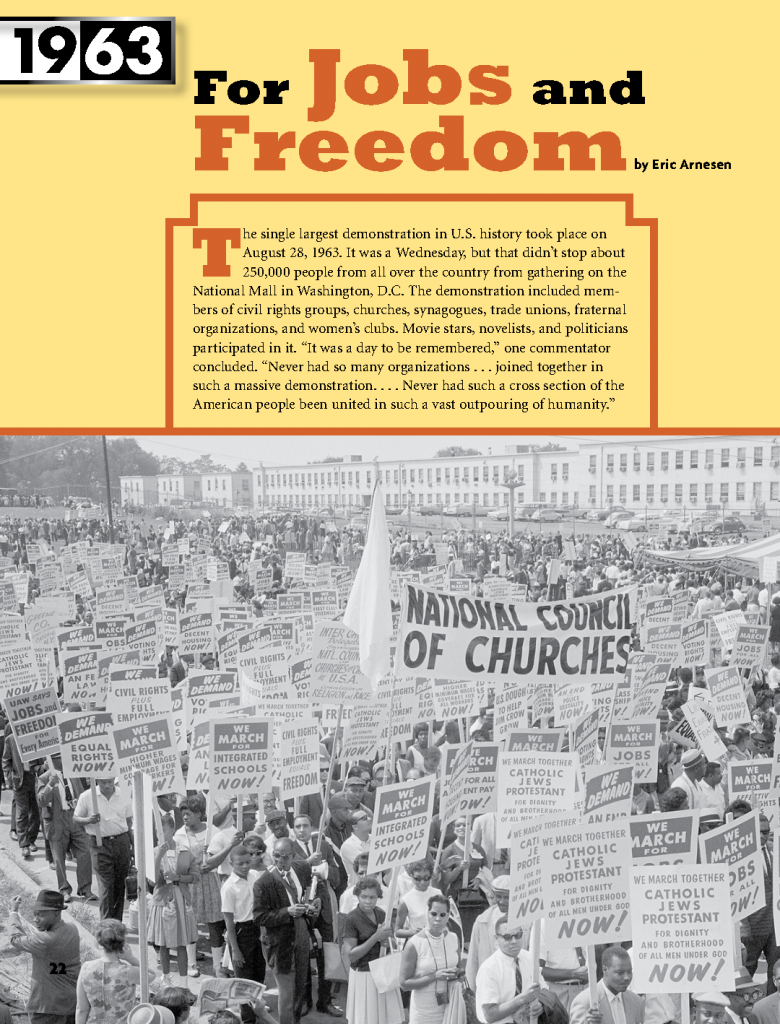 Dreams of Freedom
by Laurie Wallmark
art by Oliver Dominquez
Spider Magazine
February 2015