By Denise Yellen Ganot
It is that time of year again. Summer is drawing to a close and kids and adults alike are starting to think about heading back to school. At this time of year, change is imminent and unavoidable. As children move up to the next grade they are bound to encounter new friends, new teachers, new routines, and new expectations. Often, the newness of it all begets feelings of nervousness for kids and parents alike.
For parents of rising Kindergarteners, this can be a particularly stressful time. Perhaps your child has never had a full day program before. Or perhaps your child has not been to an "academic" preschool.
Will your child be ready? Will s/he be able to handle being a Kindergartener? As a former Kindergarten teacher, my answer to you is: yes. Definitely YES.
No doubt your child is more ready than you think and even more ready than you hope. But to help you achieve the same level of confidence in your child's readiness that I, as a teacher, already have, I would like to share with you three things your child's teacher wishes you knew. Hopefully, if you go in knowing these little tidbits, you will be able to relax, enjoy the transition, and help your child experience kindergarten to the fullest.
1. In Kindergarten we play. We play a lot. Though Kindergarten is a wonderful time to expose children to the world of reading and writing, it is not the sole purpose of Kindergarten. As Kindergarten teachers, we think about what skills kids need to become lifelong learners and members of a community. How do we help them form habits they will have for life? Some would argue that these social skills that your child will develop are more important at this age than academics. Kids need to learn to navigate their way in a community: a group of friends, a classroom, a playground, or even a family. Play is key to children's developing minds as they explore and discover the world around them. Through dramatic play (also known as "pretend"), children make sense of their world. They explore concepts (like love and death), emotions (anger, sadness, grief, etc), and roles they see around them (such as doctors, teachers, parents, siblings, 'bad guys' and even animals).
Mr. Fred Rogers, a popular public children's television icon and expert in the 70's and 80's, said it best: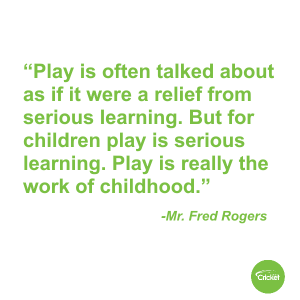 "Play is often talked about as if it were a relief from serious learning. But for children play is serious learning. Play is really the work of childhood."
2. Academics are important in kindergarten, but not the most important. In other words, do not worry when if your child is not reading fluently and independently or writing essays. They will get there when they are ready. Of course, if your child is reading and writing, we will support her/him.
3. I always judge a successful school year by regularly asking myself these questions about my students:
Do my kids love to come to school?
Do they love learning?
Are they excited to participate in whole group learning experiences?
Do they enjoy the stimulation of independent work?
Are they learning to be independent, cooperative, thoughtful members of a community?
Are they learning to be problem solvers?
Are they confident?
Are they stimulated?
When you find that you can answer all of these questions positively, then your child will go far. The confidence and excitement about school will be the source of endless motivation, academic and social success.
Kindergarten will be the place your child will learn to make friends, learn to solve differences and arguments, learn to compromise. Your kindergartener will learn to make choices independently: what to play, with whom to play, what books to read. Your child will learn to be accountable, self-sufficient, and confident. That trite "All I really need to know I learned in Kindergarten" poster we all grew up reading? Every word of it is true.
So what can you do in the meantime?
Read with your child. Choose fun books with your child and make it a special part of your day. It doesn't take much to ignite the love of literature in a young child. And once that seed is planted, it never dies. It can only grow.
Be a partner with your child's teacher. If your child's teacher has certain rules for their classroom, help your child be respectful of those rules and, to the extent that you can, reinforce those rules at home.
Get involved in your child's school. The PTA definitely needs you. Your child's classroom teacher may need you as a volunteer. You may be really helpful in the lunchroom, helping the lunch room aides to open milk containers and snap the tops off of yogurt bottles. No matter how organized or well-staffed your child's school may be, rest assured there is still a lot of volunteers needed to make the school year (especially the beginning of the school year) run smoothly.
Lastly, have fun! Enjoy the rest of the summer with your rising kindergartener. It is such a special age! Sit back, relax, and leave the worrying to the teachers.

Denise is a mother of 3 girls, and a teacher. She has taught Pre-K through Grade 2. She loves kids, writing, teaching, and writing about all of the above. She has had her blogs published on numerous sites. Read her blog at deniseyg.wordpress.com.