Hello from "Horse Country " also known as Middleburg, VA. For those who are unfamiliar, Middleburg is a tiny little town in the outskirts of suburban VA that has become a mecca for anyone who wants horse statues, horse clothes (both the kinds you wear decorated with horses, and clothes literally FOR horses), horse shoes, horse art, horse photographs, and anything else horse related.
I'm here because my daughter is attending a horse (shocker!) seminar all day. I thought I could wander around the quaint little shops in the village until she was done, but I was horsed out by store three, so I ducked into the only non-horse themed eatery to grab coffee and blog (while I try to ignore that everyone around me is talking about horses!)
My oldest daughter LOVES horses. This is one who loves animals in general (and had an unhealthy obsession with zebras for a while, as noted in an earlier blog). She wants to be vet, and is already well on her way having taken a number of junior vet courses, seminars, and workshops. Her workshop today deals with equestrian skeletal and muscular anatomy. Not how I'd want to spend a Saturday in the summertime, but she was very excited.
I'm more than happy to back these endeavors. Vet school is expensive so I support anything she can do to work towards a scholarship at age 11. (Oh right! Also, I love my kids and want them to be happy.) I do wish she'd picked a less expensive animal to love however. Any of you with kids who do horse-related sports know how quickly the costs add up, and that's not even counting owning or renting an actual horse for riding.
There are some affordable options however, to foster a love of horses – or other animal related hobbies.
We participate in three different 4-H groups. One for horses, one for dogs, and one for farm animals. These groups allow kids a chance to learn about the animals in new ways and often provide foundational education for vets or other animal sciences. This full-day horse seminar is sponsored by 4H and costs us $5 (for lunch). As part of the farm group, my daughter has shown goats, helped birth baby pigs, shorn sheep, milked cows, and given vaccines to chickens.
Humane societies, park-run farms, and other animal rehabilitation centers are often looking for volunteers to work with rescued animals once they've been deemed safe. Kids are tasked with exercising, feeding, and cleaning up after the animals. It's pretty amazing to see the kids mucking out stalls when you think back to the state of their bedrooms.
Reading. You knew I'd get here, didn't you. If you can't experience horses, or dolphins, or hippogriffs – or whatever other animals your child is obsessed with, you can find stories about them. Get a great introduction to my daughter's favorite topic with this theme pack of back issues all about (you guessed it) horses:
And I'm happy to share a lovely two-part story about a beloved horse straight from the pages of Cricket Magazine, our award-winning literary magazine for kids ages 9 to 14.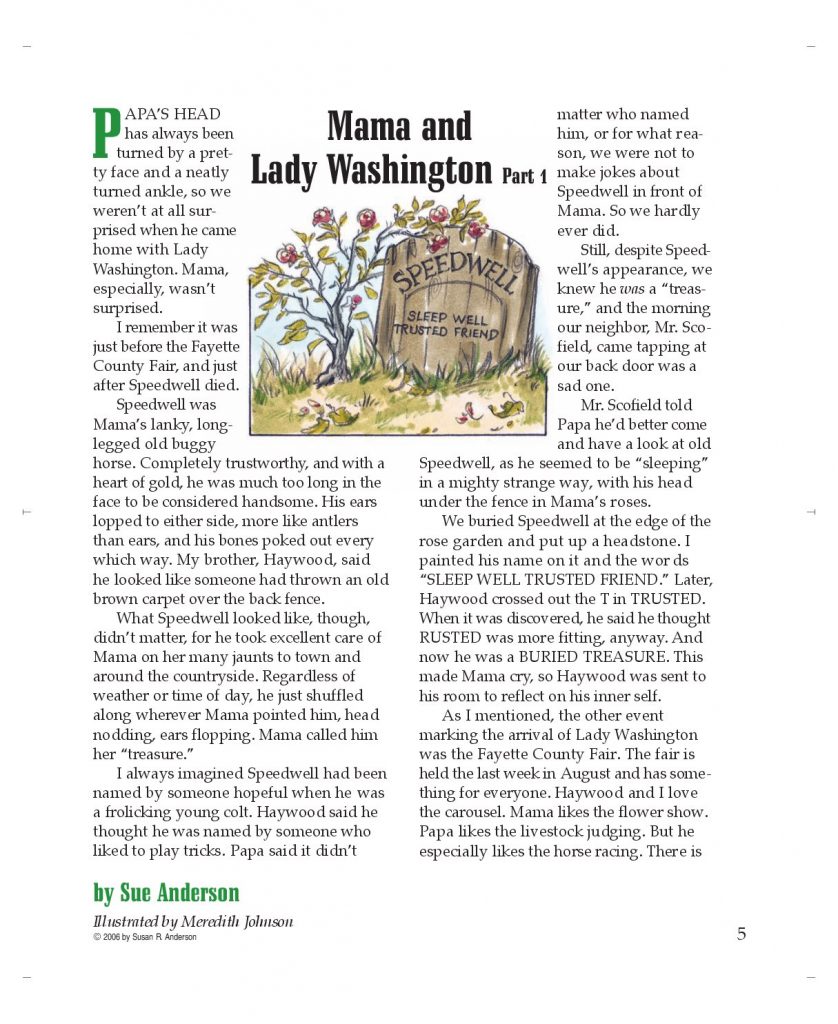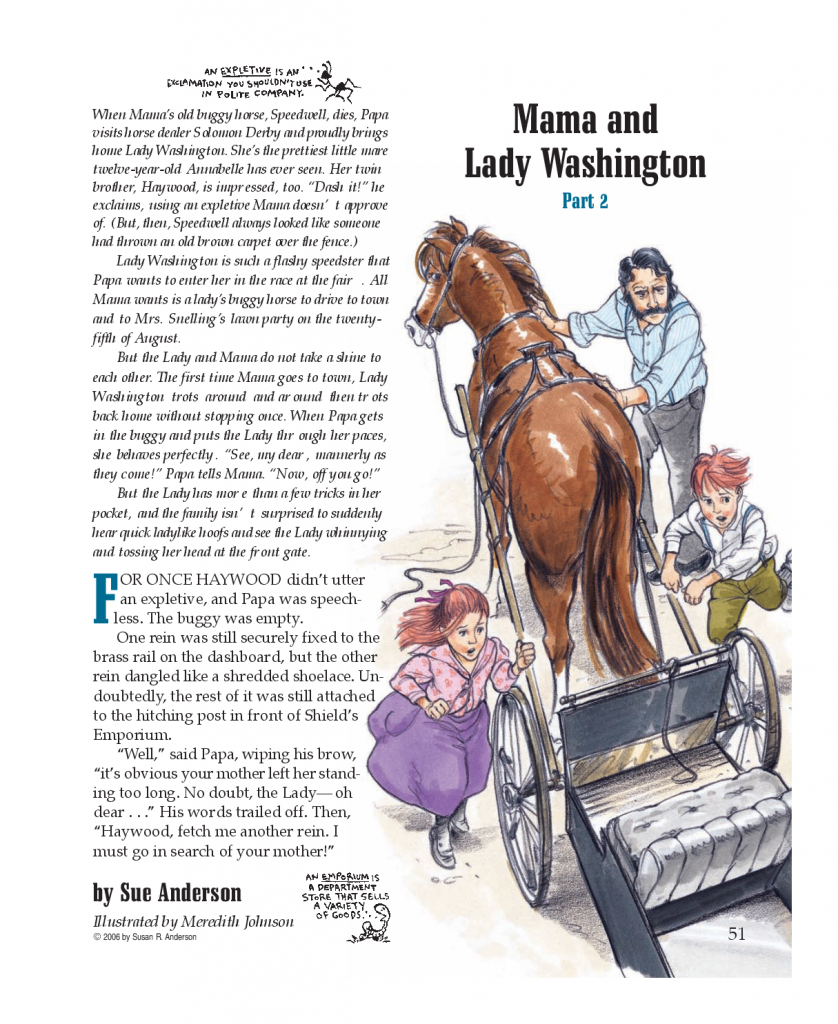 We hope your little horse-crazy kid enjoys the story. For more great stories like this one, be sure to subscribe to Cricket. See you in Middleburg. I'll be the one without any horse gear on.
Cricket Media Mama understands that you neigh-sayers may have reached the last straw with her unstable puns, but hay! Just hold your horses because she know she has foaled it up and her next blog will rein it in – at least a little bit.