My daughters have never been daring eaters. They take after their dad that way. When I met him the most exotic food he'd ever eaten was beef fried rice. Personally, I've always been a pretty adventurous eater. I was eating oysters, octopus's tentacles (which I insisted on calling testicles), and seaweed by the time I was six, so having kids who seem adamant on sticking to pasta, chicken nuggets, or burgers no matter where we go is somewhat heartbreaking. And my girls are smart on top of being picky. I can't get away with hiding spinach in brownies or making creative plate pictures that would entice them to try something.
I get it. New foods can be scary. Weird. The textures are bizarre. They taste funny. You're not sure where they come from, or what they used to be. And there's always that irrational fear that if you try something, and don't like it, Mom won't give you anything else to eat again, ever. But I also understand that a limited palate can be… well, limiting. When my oldest daughter had the opportunity to travel through China two years ago, I was thrilled at all the new foods she would be exposed to. Instead, she came back 5 pounds lighter, having eaten nothing but rice and watermelon until they finally hit Hong Kong where she found a McDonalds. It was then I knew I had take drastic measures.
Introducing New Food Dinner
The first rule of New Food Dinner is you must eat new food. The second rule of New Food Dinner is YOU MUST EAT NEW FOOD. The third rule of New Food Dinner is everyone must eat something new. That includes my husband and even me.
Now the first two rules can be stretched. For example, you can eat a hamburger, if you are eating a style of hamburger you've never had, such as an ostrich or buffalo burger. Or try a burger creation with different toppings. You can get pasta if you have it with seafood or vegetables that you don't usually try. But we also try to enforce New Food Dinner at New Food Restaurants, where we expand our culinary horizons to international cuisines, the likes of which you can't find in a box in your pantry.
The final adaptation to the rule is that you only have to eat half of your plate. I'm willing to waste money on food for the experience of knowing it's been tried. And if the kids truly hate it, they can rest assured they will not go hungry. There is an option to make themselves chicken nuggets or spaghetti-o's when we get home.
The results have been mixed. Through New Food Dinner, my family has discovered new favorite foods such as shumai, samosas, pho, and babyback ribs. They learned they hate quiche, bibimbap, and anything with the word "jerk" in it. Sometimes the kids are excited about a new meal. Sometimes the struggle to get them out of their tried-and-true favorites is such that I dream of New Wine Dinners. But even so, I consider every New Food Dinner we embark on to be a success just due to the experience.
New Food Dinner happens the last Sunday of every month. We take turns picking which cuisine and location we are going to try. We often scour the menus beforehand so we come in prepared to do gastronomical battle with whatever is about to be served to us. With a plethora of worldwide cookeries to explore, we have yet to run out of options, but keeping in mind that taste buds change and palates expand, I hope that we will be able to revisit some of the same foods again, with different results, as we will eventually have to circle back around to New Food Dinner: The Second Course!
Editor's Note: Thinking about starting a New Food Dinner tradition for your family? Why not pair it with a subscription to FACES, the magazine about people, places, and cultures all around the world. Reading FACES will help your family get acquainted with the foods from different countries before they try it. And many issues of FACES feature local recipes, making it even easier to bring New Food Dinner to your dinner table.  Check out the free article below about Palestinian Foods, including a recipe for a traditional Palestinian main dish called maqlouba (MAC-lou-ba). FACES and maqlouba…try them both. We think you'll like them.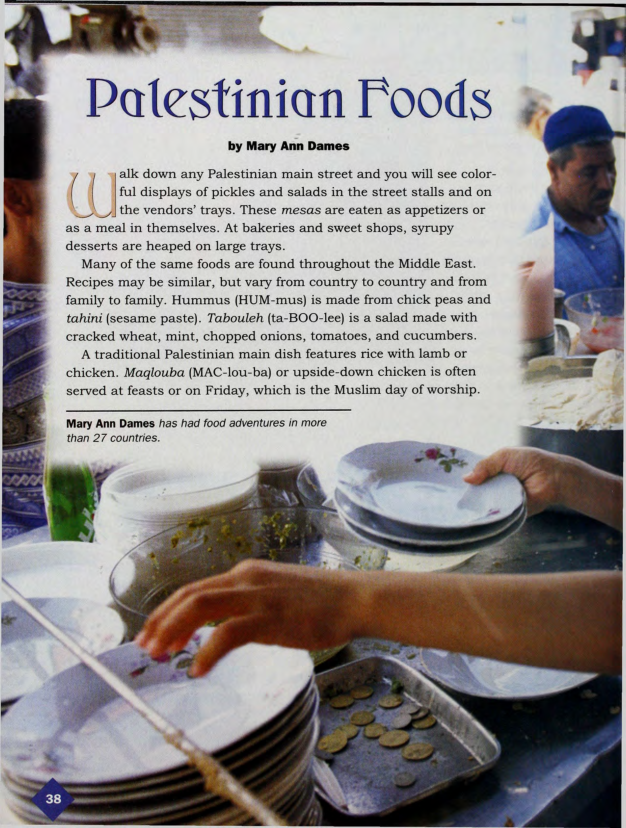 Cricket Media Mama's favorite part of New Food Dinner is New Food Dessert. Who knew macarons, green tea ice-cream, or something called "gulab" would be so delicious?