Is your child obsessed with Chopped Junior or Cupcake Wars, Kids Edition? If so, they aren't alone. Cooking has captured the imagination of kids across the country and words like "braised" and "infused" are starting to become part of the discussion of "what's for dinner?" in homes everywhere.
While your child might not be ready to compete with the amazing kids featured on these television shows, you can count on SPIDER Magazine to provide some easy recipes for your young chef to try. Recipes are a regular feature of Ophelia's Last Word, and cooking with Ophelia, the oldest (and wisest!) buggy character in SPIDER, is like cooking with your grandmother, as she effortlessly guides a young chef from finding the ingredients to serving the meal. If your child hasn't tried a recipe yet, have them check out the recipe below for making quesadillas, a yummy Mexican snack.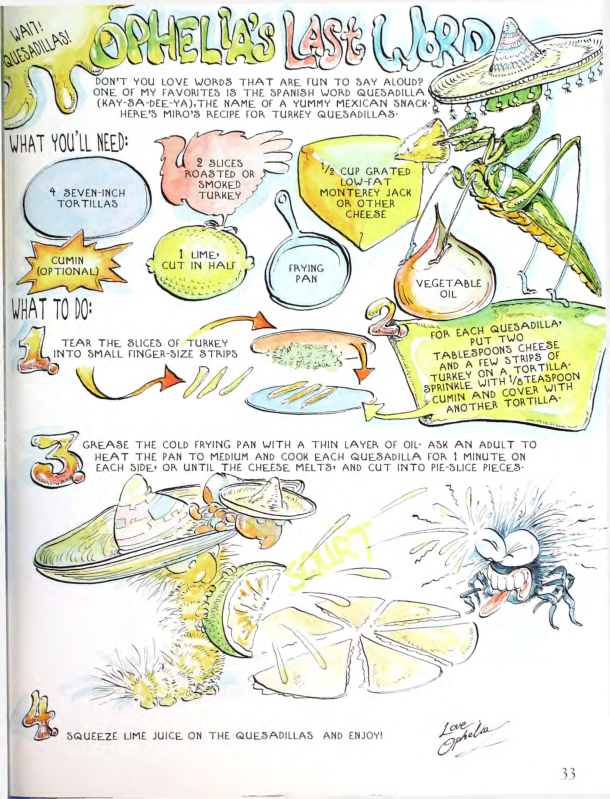 We know parents count on SPIDER to provide their children with the highest quality stories and literature each month. But with activities, recipes, games, and puzzles, SPIDER can be your child's monthly go to spot for all-around entertainment (and yummy food). Find out even more about SPIDER Magazine and be sure to subscribe so your child won't miss a single recipe, activity, story, or poem.
And enjoy those quesadillas. Just remember to remind your young chef that doing the dishes is part of being a great cook.