Halloween season is in full swing and ghosts, witches, zombies, monsters, and other scary creatures are everywhere. It seems like no matter where you go you are bound to see spooky decorations adorning store windows and private houses, grotesque costumes on display, and scary stories in the "featured" section of libraries and bookstores. Kids are naturally drawn to these stories…there is something really satisfying about being both scared and totally safe at the same time. But if your child is on the sensitive side, you may wonder when is the right time to pick up a book of spooky tales or head to the movie that is all about ghosts and goblins.
Experts will tell you that there is never any blanket correct answer for the question of when to expose your child to stories with darker themes – it really depends on how sensitive your child is. The experts do recommend introducing them at some point, however. Scary stories can often serve an important purpose; one you see reflected in the original versions of many fairy tales. These stories provide entertainment while helping kids through key developmental stages. You have only to look at the original versions of fairy tales to find insights into how to deal with common negative emotions or situations such as sibling rivalry, jealousy, or greed.
Parents Magazine agrees: "Take the tale of Hansel and Gretel: Children who are read this story can explore their emotions concerning abandonment while at the same time experience the vicarious thrill of fending for themselves and emerging victorious. The late Bruno Bettelheim, PhD deemed the tale particularly significant for kids around age 5, because that's when they take their first real steps into the world and need reassurance that they'll be all right."
Scary stories aimed at children often teach the consequences of vital life rules such as "stay on the path," "don't talk to strangers," "tell your parents where you are," and "don't invite vampires into your home" in a way that validates the importance of the rule without traumatizing them about the real world dangers around them.
Here are some tips for introducing scary stories to younger or more sensitive children:
Start with books that feature characters your child already knows such as Snoopy, Sesame Street, and the Berenstain Bears, so they are familiar and comfortable with how the characters behave in their world. Even small kids inherently know Sister Bear will emerge victorious from any scary situation from all the other stories they've read from the same series.
Make up your own stories and let your child help with the plot points. This will allow you to perfectly the tailor the story to exactly how scary your child wants it to be.
Give your children some control over the physical environment. If you are reading, let them hold the book so they can close it at any time they feel it's getting to be too much. If you are watching a movie, let them hold the remote or the controls for the lights.
Seek out books or series that have positive endings where evil is defeated by good. This demonstrates the scary things in life can be overcome. If the ending is ambiguous, children may feel like the fictional horror could continue into their real lives.
There's one room in your house that ghosts can't go into, so always read ghost stories in the LIVING room.
Some children find movies to be scarier books, but for particularly imaginative kids, books offer the opportunity to add their own personal touch to the story, making them much more intense.
Start with "Not So Scary" stories and work up to true ghost tales. Look to your child to see if she/he is ready for more.
Be careful about venturing out to Halloween events with a spooky theme. Even seemingly innocuous celebrations can be intimidating for kids and slightly scary decorations can be much more terrifying in the dark.
As you can probably imagine, CRICKET, LADYBUG, SPIDER, and BABYBUG have been presenting not-too-spooky tales in their pages for many years. Back issues of these magazines are good source for stories for all ages. And click below for a free download of Witch Hollow by Mary Kay Morel, a spooky story from CRICKET Magazine, perfect for 9 to 14 year olds.  To be sure your child doesn't miss any amazing stories (spooky or not) be sure to subscribe to CRICKET.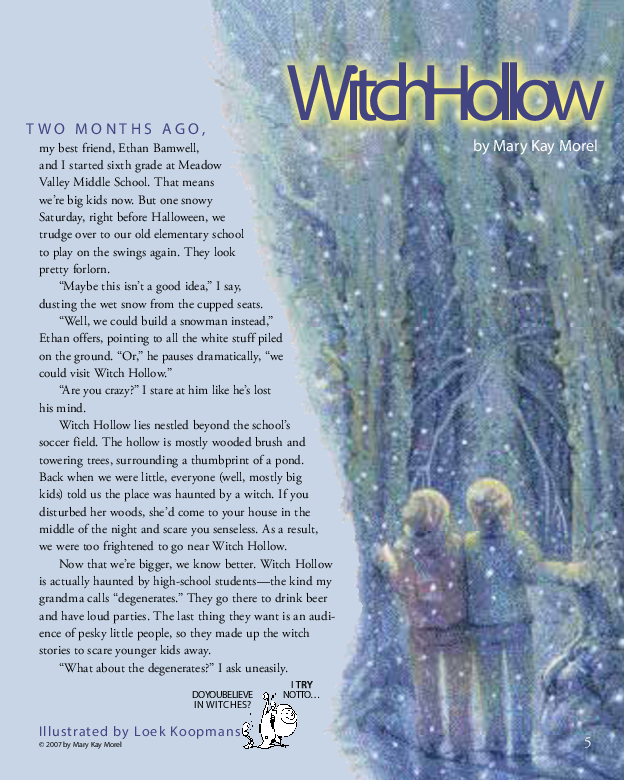 Cricket Media Mama never liked horror stories as a little kid, but then she gruesome. Okay, that's actually not true, she always loved horror stories. She just really wanted to use that joke.
Editor's Note:   Download FREE printable Halloween cards and send some Cheer to Your Favorite Little Ghost or Goblin!
(To download, click on any of the images below.)