It's official: the groundhog saw his shadow. That means six more weeks of winter! Here in the DC area, at least, our kids have already had several snow days, and it looks like there are still more to come. It can be frustrating to find ways to keep everyone entertained without resorting to excessive screen time. That's why we compiled this handy list of activities from our award-winning children's magazines! The next time you and your family are stuck at home together on a chilly winter day, you won't have to rely on watching your kid's favorite animated movie for the 87th time!
Crafts for Little Ones (Ages 3-6)
These crafty activities from LADYBUG Magazine will only need a little bit of help from grown-ups!
Snowflake Time: No matter what the weather is like outside, you can make your own beautiful snowflakes with coffee filters, scissors, and some food coloring or watercolor paints. The finished products are gorgeous, colorful snowflakes right out of a princess movie.
Winter Hello: This craft is perfect for a really cold day! Freeze your own outdoor ice ornament, filled with unique treasures, to show off to the neighbors! Bits of pine trees, berries, buttons, and pretty pebbles can all be repurposed for this activity.
Winter Welcome Mat: After the next snowfall, lay out a tasty welcome mat for your feathery friends using delicious seeds! The birds will love the seasonal treats! Meanwhile, kids will get a kick out of creating a mosaic-like design with the seeds.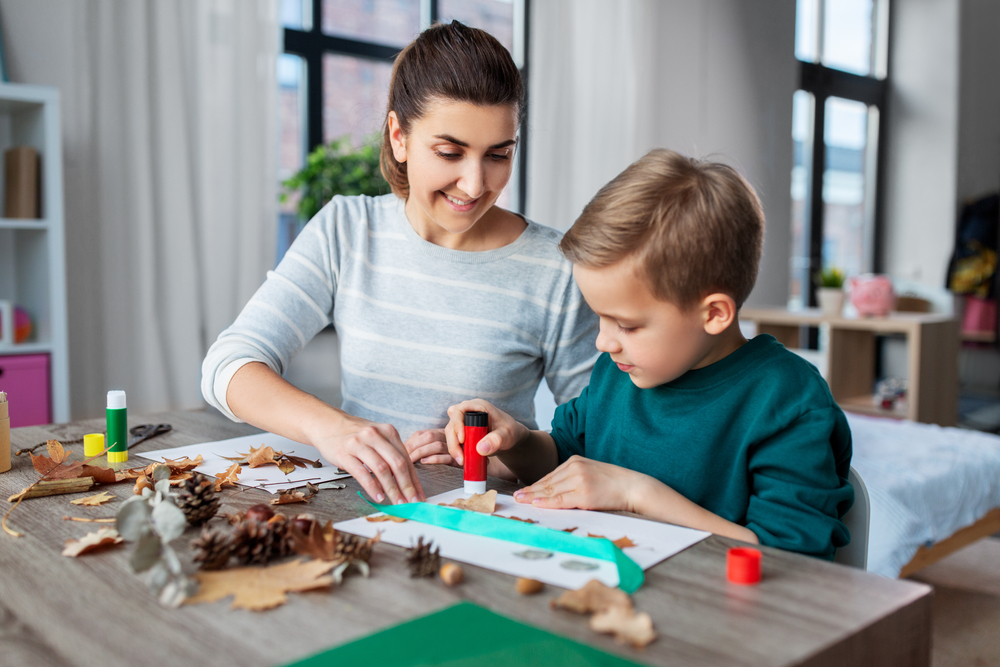 Crafts for Bigger Kids (Ages 6-14)
These activities from SPIDER (ages 6-9), ASK (ages 6-9) and CRICKET (ages 9-14) magazines are just right for kids with a little more hand-eye coordination and a desire to showcase their creativity.
Snowman Slush: This melting snowman magnet makes a great fridge decoration or a goofy gift! Cotton balls form the bulk of this craft activity, plus other standard craft materials like foil, a pipe cleaner, paint, glue, and assorted snowman accessories like twigs, buttons, and beads.
Pine Cone Derby: Even a pine cone can be pretty fun in the right hands. Kids can design adorable little snowboarding or skiing trolls with the help of pine cones, ping-pong balls, craft sticks, toothpicks, and pipe cleaners. Place them around the house to make it look like they've traveled!
Pet Snowy Owl: You may have heard of pet rocks, but this is next level. These beautiful painted rocks look just like snowy owls. Kids who are particularly proud of their rocks can leave them outside to decorate the front step.
Snow Globe: Kids often love snow globes, but most of them have never made their own! It's easier than you might think. Find a cool plastic figurine like a dinosaur or superhero to immortalize in a home-made jar snow globe!
Crystal Snowflakes: After holiday decorations come down, our homes sometimes look a bit sad. Add a bit of whimsical winter fun with these crystal snowflakes! Pipe cleaners plus borax make surprisingly cool-looking window decorations that are just right for winter.
Super Static Electricity Butterfly: This isn't just a fun craft– it's also a science lesson! With a balloon, cardstock, construction paper, and tissue paper, you can create a butterfly card with wings that really flap!
Family Recipes
Get in the kitchen together and whip up these fun and kid-friendly recipes. Some of the flavors might be a bit more adventurous than what your kids are used to, but they are more likely to step outside their comfort zones if they helped prepare the food themselves!
Fruity Valentine Nachos: Valentine's Day is right around the corner! This sweet 'nacho' treat made of graham crackers, pudding, and fruit is easy enough for the smallest kids to assemble.
Cheesy Chicky Quesadilla: What's better than a yummy meal? A yummy and funny meal! This kid-friendly quesadilla looks just like a chick popping out of an egg. See some submitted by our readers on Instagram!
Sweet Plantains: This tropical treat may look like a banana, but it makes a delicious dessert or side dish when cooked! They're easy to make and popular with all ages.
Veggie Rabbit: This could be a great accompaniment for the cheesy chicky quesadilla. Make a yummy bunny face hop out of your garden and onto your plate with this cute veggie and dip plate!
Sticky Rice Balls: Lunar New Year occurred at the beginning of February, so what better time than now to make these delicious Asian rice balls? These are a little more complex than the other recipes on this list, but kids will love making the dough and coloring the rice balls!
Snowflake Shake: Who says you can't have frozen treats when it's cold outside? This wintery shake adds a tropical twist to a chilly day– as long as you can drink it in a cozy heated home!