Last week, we introduced the Discover Summer Reading Program. Each week, for the next 6 weeks, we are making a few stories available to download based on a popular summer theme.  Each story comes directly from the pages of our magazines and are short, quick reads.  In addition to helping prevent the summer learning slide, readers who regularly read short stories can increase their reading confidence and develop a deeper love of reading.
Benefits of Reading Short Stories
Reading a short story may not be as daunting to a young reader who finds the long story format and thick novels unnerving to get through.

The short story format engages a reader quickly allowing them to focus on key themes and story lines.

Because they are short in length, it gives the less than patient young reader a quick payoff.

Short stories are a great reading tool for non-native speakers because they tend to be written with a natural dialogue and conversational tone.
Remember, even if your kids only read the stories we share each week, it can still make a difference in stopping the summer learning slide.
Week Two: Traveling
Enjoy these two stories about traveling and remember, next Thursday we'll unveil the next summer theme.  
Postcards from Hawaii 
by Carol Jones
Cricket Magazine 2010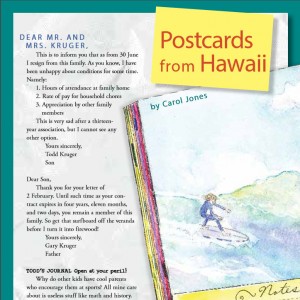 Paul's Postcards
by Maggie Murphy
Ladybug 2008