Children love to play! They are often happiest when they are moving. From the time they take their first steps, their love of walking, running, jumping, and dancing begins — and grows! As their love of movement grows, they soon discover the joy of group sports, of throwing, catching and kicking balls, and playing together on teams: soccer, basketball, baseball, football, volley ball, hockey, and lacrosse.
As parents, we want to foster that love of play and sports. One of the best ways is to allow them to see and feel the joy we experience when we are participating in sports and to share that enthusiasm with them. Our children look to us as not only their first teachers, but as their first coaches, as well.
As coaches for our children and for our community's children, it is important for us to keep in mind that children are first attracted to the games they play because of the fun of it. That's the key to every game, every practice — keep it fun. The more children enjoy a sport, the more they want to play it. The more they play it, the better they get. The better they get, the more fun it is!
We all want their games and sports to be safe and fair and fun, a place where fellowship, sportsmanship, good health, and self-confidence grow. In that kind of atmosphere, no matter the final score, everyone is a winner.
Here are a few tips for those of us lucky enough to serve children as parent-coaches:
Treat each child as your own.
Cheer for all players on all teams.
Play every player every game.
Allow players to play different positions.
Praise good plays and sportsmanship.
Offer tips for improvement in a positive, cheerful manner.
Show respect for each player, umpire, parent, and fellow coach.
Set a good example on and off the field.
Keep it fun. Coach to teach, not just to win.
Remember your own love of the game.  Share it.
And here's poem about playing from my book "Score! 50 Poems to Motivate and Inspire".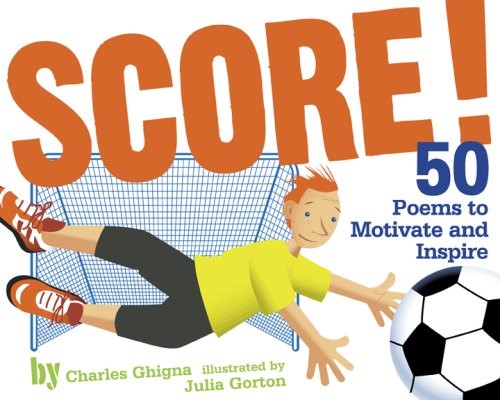 The Spirit of Play
By Charles Ghigna
The final score is more than how
We win or lose with pride;
It's how we play the game of life
With laughter on our side.
Charles Ghigna – Father Goose® lives in a tree house in the middle of Alabama. He is the author of more than 100 award-winning books for children and adults from Random House, Capstone, Orca, Disney, Hyperion, Scholastic, Simon & Schuster, Abrams, Charlesbridge and other publishers. His poems appear in hundreds of magazines from The New Yorker and Harper's to Cricket and Highlights. He is a former poetry editor of the English Journal and nationally syndicated feature writer for Tribune Media Services.