Like many little girls, my oldest daughter has always been a huge animal lover. In her case, it goes beyond ponies and puppies – though she really loves ponies and puppies. However, she is equally obsessed with wild and unique animals, the weirder and more unknown, the better.
When she was about five, a friend of the family donated money in my daughter's name to a wildlife sanctuary in Africa. The letter we received as a thank you informed my daughter of all the types of animals she was helping to feed and shelter with her donation, but she was fixated on the idea that this donation meant one of those animals actually belonged to her. To this day, my daughter still asks when we can go to Africa to visit Fred, her zebra.
Now that she's older, she's learning about the ecosystems, how humans impact the environment, and the tragedy of extinction. At least three varieties of her beloved zebra have made the endangered or vulnerable list, so this is a topic close to her heart. Some of the information she's shared with us about extinction include:
• Scientists believe that about 99 percent of all species that have ever lived are extinct.
• A species is considered extinct after a number of years of not being spotted. This process takes such a long time that it is probable there are hundreds of species that are already gone that we have not yet recognized.
• While extinction is a biological phenomenon, naturally occurring at a rate of one to five species per year, scientists are now estimating that we're losing species at about 1,000 to 10,000 times that rate – with dozens going extinct every year.
Extinction, along with morality, is a harsh lesson for kids to learn and it's difficult to present it in a way that is not scary, or guilt-inducing, but doesn't undermine the importance of the issue.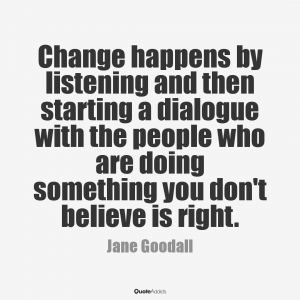 I recently came across The Photo Ark – a photo archive that hosts intimate portraits of more than 6,000 endangered species. The goal is to record images of these animals before they go extinct. National Geographic photographer Joel Satore is behind this endeavor, with the goal of having people "care, fall in love, and take action." This is a beautifully moving way to share the realities of extinction with your children and to help them learn how to work towards sustaining a world we can all thrive in.
Building empathy and respect for animals is an important part of a child's education. But we can't just present the problem and then walk away. We have to empower kids to take steps to be part of the solution. That's why you'll often find issues of Cricket Media magazines devoted to animals big and small and to the challenges facing those who want to help them. Check out our archive of back issues devoted to animals, including whole issues on protecting endangered animals from Click, our magazine focusing on science, art, nature, and environmental issues for children ages 3 to 6, and Ask, our magazine focusing on arts and sciences for kids ages 6 to 9.
Cricket Media Mama is fully against extinction. Except in the case of the mice that have moved into her utility room. The sooner they become extinct, the sooner she can resume doing laundry, and the better for everyone.