What better way to spend the cozy time after Thanksgiving dinner than curled up with a good story? In honor of the season of plenty, we're sharing four free stories for all ages from our children's magazines! Celebrate a frontier Thanksgiving, dance with turkeys, find thankfulness in unexpected places and more!


"Max and Kate" from LADYBUG Magazine (Ages 3-6)
This short but sweet story, written by Mick Manning and illustrated by Brita Granström, is the perfect way to get young kids in the Thanksgiving spirit! Every issue of LADYBUG features a "Max and Kate" story, and this month follows the pair as they visit relatives for Thanksgiving. When they get there, they discover that they aren't the only ones celebrating! Kids who are just learning how to read can try their hand at this story, too! Read and download it here.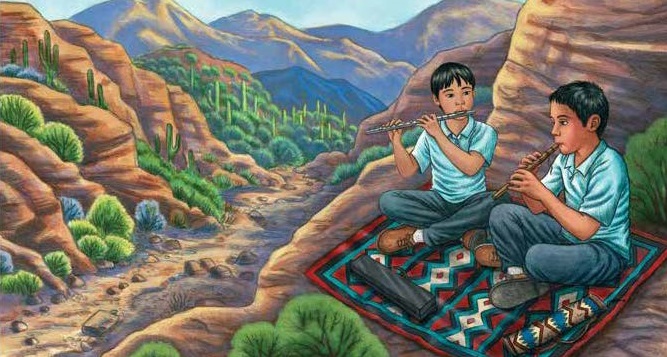 "Ring Silverbells" from SPIDER Magazine (Ages 6-9)
Sometimes it's hard to feel thankful, and the last few years have been challenging for many children. If your kids have had to deal with changes in their lives, like moving to a new place, starting a new school, missing friends and family due to social distancing, or just celebrating Thanksgiving in a different way from usual, this story might be just right for them. In "Ring Silverbells," Carl has to adjust to his new home in Arizona during the holiday season– but hot and dry Arizona doesn't feel very festive. Find out how he rediscovers his holiday joy in a new way in this story, written by Edward F. Peterson and illustrated by Debbie Maze. Read and download it here.

"Old Tom's Thanksgiving Dinner" from CRICKET Magazine (Ages 9-12)
This good-natured historical fiction story follows a group of prospectors looking for silver in the desert just before Thanksgiving. When a young boy named Hank joins the party, surly 'Old Tom' can't stand the sight of him– or how much he eats. Although he's an excellent cook, Tom refuses any offers of help with the camp's food. So when there's no turkey for Thanksgiving and Old Tom is too busy prospecting to cook the feast, who will take over the duties as chef? This Thanksgiving meal may end with a change of heart and a lucky day for Old Tom! "Old Tom's Thanksgiving Dinner" was written by William Thomas Whitlock and illustrated by Greg Michaels. Read and download it here.

"People of the First Light" from COBBLESTONE Magazine
November is Native American Heritage Month! Learn about the Wampanoag people, who had lived in what is now southeastern Massachusetts for many years when the Pilgrims landed there, in this storytime video!