It's been a strange year. One of the many things that's changed since early 2020 is the way we spend time with family and friends. Families that usually spend the summer traveling across the country to visit relatives may have skipped their usual vacations. Neighbors that usually get together for dinner and a movie every Friday night might have canceled their usual plans. Grandparents that often babysit kids may have had to stay home instead. And some families have used virtual methods to stay in touch more than ever, setting up weekly video calls as a replacement for formerly busy schedules. Now that we're moving into summer, we've created a new way to connect with loved ones near and far while engaging in some healthy summer reading!
We're happy to introduce CricketTogether: Family & Friends! Our virtual mentoring program, CricketTogether has been around since 2017. CricketTogether pairs up students in classrooms around the country with caring adult volunteers from partner companies. Students and eMentors both read articles, selected by the students, and collaborate and discuss the articles in a virtual letter exchange on a safe and secure digital platform. It's proven to boost student academic achievement and employee satisfaction.
So how does CricketTogether: Family & Friends work? It's just a little bit different. Instead of choosing from a library of virtual articles that fit in with a classroom curriculum, students will receive a digital magazine pack. The first step is to choose the magazine pack that's right for your child's reading level. Both levels include a mixture of literary (fiction) and discovery (non-fiction) content. There's the SPIDER/ASK pack (recommended for ages 8-10) and the CRICKET/MUSE pack (recommended for ages 11-14).

After you choose the reading level, it's time to find an adult family member or friend to connect with your child this summer. Maybe an aunt or uncle far away, a grandparent whose high-risk health conditions keep them at home, a parent serving overseas, a close family friend that moved out of town, or anyone else who wants to get involved. Remember, you can only pick one relative for CricketTogether: Family & Friends!
Then, sign up for our summer session by May 31st to get started! The summer session will run from June to September 2021. The entire program costs only $20 per child! Kids and adults will receive access to new and exciting digital magazine content each month and can send letters through the CricketTogether platform to communicate about them
.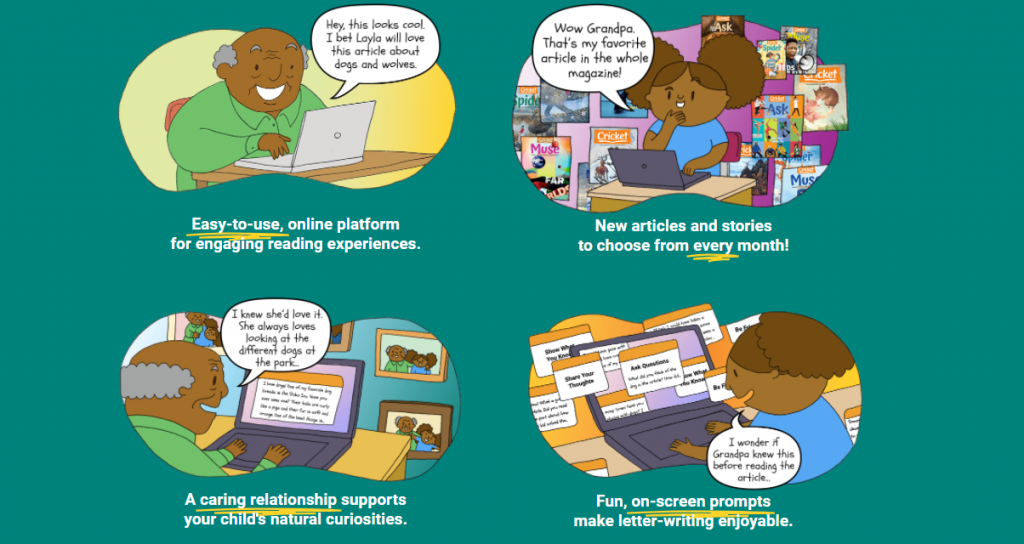 For example, let's say there's a story about a lost dog in one of the digital magazines. Your child may want to talk about how sad they were when their pet passed away earlier in the year and how they felt like the child in the story who lost their dog. The adult might share their experiences with pets and talk about what helped them get past it. Or maybe a nonfiction article about solar eclipses reminds a child about an interesting lesson they learned in school. They can tell the adult pen pal all about what they learned about the sun and ask the adult a few of their own questions about the sun. It's a great way to share experiences and ideas and always provides something new to talk about.
Kids and adults can send letters at any time through the platform. There's no designated 'session time' or built-in time commitment. If you want to go on vacation for a week and take some time off of reading and writing, that's perfectly fine. If there's a time zone difference and kids and adults send letters 12 hours apart, that's perfectly fine, too. CricketTogether: Family & Friends is meant to be a flexible program that lets kids and adults stay in touch, no matter how complicated or busy their schedules are.
We can't wait to join you for our second summer session! You can register here now through May 31!