One of the identifying features of a Cricket Media children's magazine is the small cartoon art you'll find sprinkled throughout the margins of the pages. The characters in the art serve as friendly guides to the magazine. They comment on the stories, crack jokes, provide additional information, and give kids some extra fun to look for. Most of the characters also star in their own full-length adventure or host a column that appears in each and every issue of their magazine.
For years, Click, our award-winning magazine for children ages 3 to 6 focusing on science, art, nature, and environmental issues, had only one of these marginal characters: Click the mouse. Everyone who has ever worked on the magazine loves Click, and we hope our readers do too. But honestly, we sometimes felt a bit shortchanged. Ladybug has three characters, Spider six, and Ask has a whopping eleven.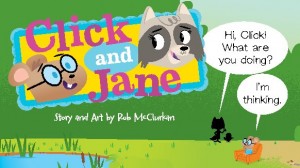 So when it came time to find a new artist for our mouse namesake, we stopped to think: What if we added some new characters for Click to talk and play with instead of just trying to copy the old format? We loved the idea, and as you'll see starting in our April 2016 issue, that's exactly what we've done. Now, in addition to curious, confident Click the mouse, you'll see his clever raccoon friend Jane, an adorable duckling called Clementine (nicknamed CeCe), and their owl-shaped robot pal, Cloo. We hope you like them.
Below you can download and join Click and Jane on their very first adventure. And to read even more stories about Click the mouse and his new friends, subscribe to Click.