It's National Anthem Day today so let's all celebrate by listening to someone with a beautiful voice sing our notoriously difficult to sing national song. (I suggest Whitney Houston's version which you can find on You Tube.) Don't worry if you didn't know National Anthem Day was a thing. It wasn't highlighted on my calendar either. I was even surprised to learn that National Anthem Day isn't the day on which the song was composed, but the day it actually changed from being just a hard to sing song and became our National Anthem.
Although I didn't know this day existed, it makes sense to have a day to acknowledge this historic song of our country. And the story behind how it came to be is quite entertaining. I recommend streaming the music (Whitney Houston version or otherwise) while you continue to read, so you can really dig into the lyrics as you learn the history behind it.
The History Behind Our National Anthem
An attorney – Francis Scott Key – created the National Anthem in 1814. He had traveled to Baltimore, MD with an American Colonel to help negotiate the release of an American prisoner by British soldiers. While they were there, the British navy began to attack – first Baltimore, then the peninsula of the Patapsco River, where Fort McHenry was built. This, compounded by a thunderstorm at the time, kept Key from traveling home, so he was stuck watching the bombs exploding among the thunder and rain.
Approximately 1000 American soldiers manned Fort McHenry, a star-shaped building, that night. Over the course of the night, this small station was hit by more than 1500 cannon shots and provided virtually no response to the unrelenting barrage of bombs. When morning finally broke, the troops were able to stop the British landing party, and further raised an over-sized American flag over the fort to replace the one that had been damaged in battle.
Key witnessed this site from sea as he was waiting for safe passage home. Imagine the scene as he saw it: The sun rising to complete silence at the end of the combat, over Fort McHenry, battle-damaged and smoking, to illuminate a giant American flag in pristine condition. This site inspired Key to write a song that he titled, "Defence of Fort M'Henry." His brother-in-law later published it as a poem. It was modified somewhat, put to the tune of John Stafford Smith's song "The Anacreontic Song," and retitled "The Star Spangled Banner." It wasn't until 117 years after it was written that it became the national anthem of the United States of America, when Herbert Hoover officially declared it as such on March 3, 1931.
How many of you know all three verses of the National Anthem? Today might be a fun day to learn the song as a family activity. For an entertaining way to share the story I outlined above with your family, try the story below, which appeared in Cricket Magazine a few years ago.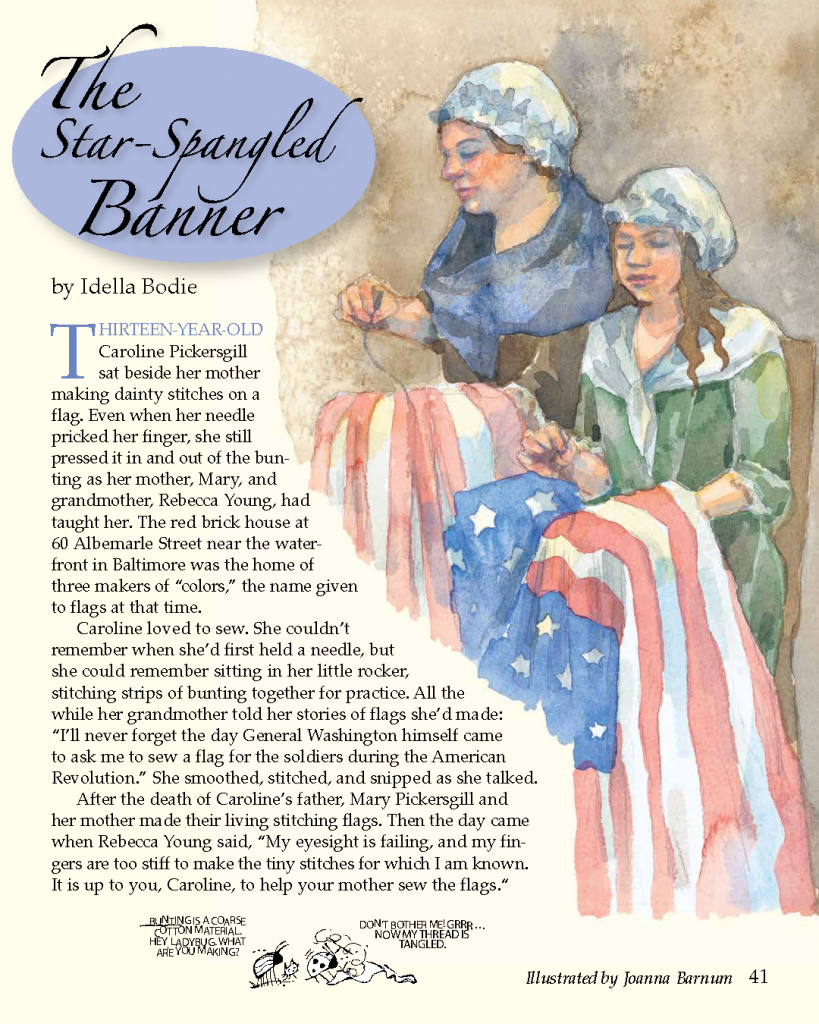 To read the rest of the story, download the pdf: The Star Spangled Banner by Idella Bodie 
Cricket Media Mama admits she's not sure she actually knows all the lyrics to the first verse correctly. [Quick web search] Well, she had most of them right – a "perilous fight" makes way more sense than the "pearless night" she'd been signing all this time. By the way, who knew they could "stream" stuff back in 1814!