By Jenni Buchanan, Reading Rainbow Mom
March 2nd is Read Across America Day, an annual reading motivation and awareness celebration founded by the National Education Association on March 2, 1998 in honor of the birthday of beloved children's author Dr. Seuss. This is a day not just to celebrate, but to revel in and share the joy and happiness that comes from reading.
We all know just how important reading is. Reading is important because it's how we learn about our history and how we came to be where we are today. Reading is how we learn about the world around us, other cultures and people on the other side of the world, or even just on the other side of town. Reading is part of how we learn useful information such as the best time of year to plant cucumbers or how to build a model rocket.
But here's a secret… Reading is important not just because it gives us information, but also because reading brings us joy.
Books can always be counted on to make me happy when I'm feeling down. Whether it's a book of jokes, a humorous novel, or a cheerful character, reading the right book at the right time can always lift my spirits.
This is something I'm passing on to my kids as well–not just that reading is important for school, but that reading is a joyful activity in and of itself. When one of my kids is tearful or frustrated I know it's time to pull out the books and snuggle up on the couch. 10 minutes spent snuggling and hearing mom do silly voices for Frog and Toad is guaranteed to turn the day around!
We as parents have so many important things to teach our kids: How to ride a bike and tie a shoe, how to get along with friends and what it means to be a good person. But we also teach our kids about happiness—not just what it means to be happy, but in many cases, HOW to BE happy. Books can help us do this.
Next time you or your child is feeling down let a book cheer you up! Of course everyone will have their own special books that make them smile, and kids are more likely to get joy out of their reading when they get to choose their own reading material, but here are a few of my personal favorites for kids AND grownups.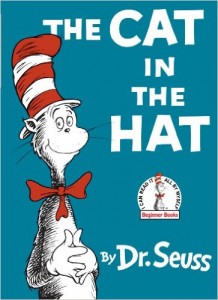 The Cat in the Hat by Dr. Seuss (ages 3-9) – When in doubt, you can always turn to the man who inspired Read Across America Day himself, and his story of the cat who transformed a dull, rainy afternoon into a magical and just-messy-enough adventure.
"Look at me!
Look at me!
Look at me NOW!
It is fun to have fun
But you have to know how."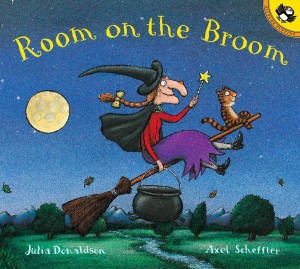 Room on the Broom by Julia Donaldson (ages 3-9) – A colorful and funny story in verse about a friendly witch and what happens when she continues to make "room on the broom" for new creatures and friends.
"The witch had a cat
and a very tall hat,
And long ginger hair
which she wore in a plait.
How the cat purred
and how the witch grinned,
As they sat on their broomstick
and flew through the wind."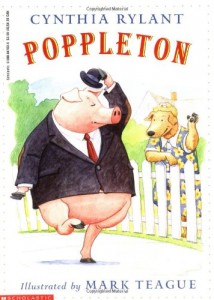 Poppleton by Cynthia Rylant (ages 5-10) – What's a pig to do when he moves into a new neighborhood with a nosy llama living next door? Why make friends, of course!
"Cherry Sue was Poppleton's new neighbor.
Cherry Sue was very friendly.
In the morning she called out,
'Yoo-hoo! Poppleton! Would you like some oatmeal?'
So Poppleton had oatmeal with Cherry Sue."
Tales of a Fourth Grade Nothing by Judy Blume (ages 8-12) – Peter Hatcher has nice parents, a great best friend… and little brother named Fudge who drives him crazy! Peter tries so hard to be a good and responsible brother. With a sibling like Fudge, it's not always easy, but it's always funny!
"Eat it or wear it"
The Wind in the Willows by Kenneth Grahame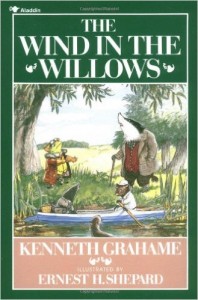 (ALL ages) – Rat and Mole are the quintessential best friends, two calm and reasonable animals who just want to enjoy spring on the river that runs through the woods. Then they visit Toad, who longs for adventure and excitement… and is somewhat lacking in common sense. Adventure and hilarity ensue!
"'We shall creep out quietly into the butler's pantry–' cried the Mole.
'–with our pistols and swords and sticks–' shouted the Rat.
'–and rush in upon them,' said Badger.
'–and whack 'em, and whack 'em, and whack 'em!' cried the Toad in ecstasy, running round and round the room, and jumping over the chairs."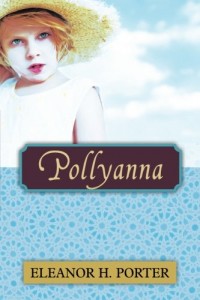 Pollyanna by Eleanor H. Porter (ALL ages) – When first published it was known as "The Glad Book" and Pollyanna as "The Glad Girl." Pollyanna's funny scrapes, and undeniable positive outlook will always be able to make you glad as well.
"The game is to just find something about everything to be glad about—no matter what it is."
I hope these books will inspire happiness in your family as much as they have in mine. And if you have your own "Happiness Books" please share in the comments!
Happy Reading!
About Reading Rainbow: For more than 30 years, Reading Rainbow has been inspiring children to read, first with our award-winning PBS TV show and now with Skybrary, our library of quality children's books and video field trips on the web or on mobile devices. Find out more or try Reading Rainbow Skybrary for FREE at www.readingrainbow.com
As the Reading Rainbow Mom, Jenni Buchanan enjoys encouraging readers of ALL ages to believe that they can "go anywhere, be anything." See more of Jenni's blogs and tips for parents about children's reading on the Reading Rainbow Blog, or follow her on Twitter.