Summer is on its way, and so is a new batch of Cricket Media magazines! Take a 'road trip' through the past, present, and future of cars, or set your eyes on a vacation destination in outer space! Meet new animal friends, explore exciting places, and watch the skies for a shooting star! There's so much to see and do amid the pages of our May/June magazine issues!

"Hop And Twirl"
Cover art by Martha Aviles
Up, up, and away! The very youngest readers can take off with "Yvette's Jet" or watch ladybugs fly and caterpillars crawl! Take a spin on the merry-go-round, enjoy a picnic on the grass, and spin around and around! And can you spot the hidden objects on the back cover?
In this issue's "Kim and Carrots" story, Kim meets a family of bunny rabbits! Her toy bunny, Carrots, joins the fun.
A guide for caregivers can be found in the back with suggestions for interactive activities to enrich the stories and poetry in this issue! Little ones can grow their very own grass seed or look around for baby birds on neighborhood walks!
"Vroom Vroom"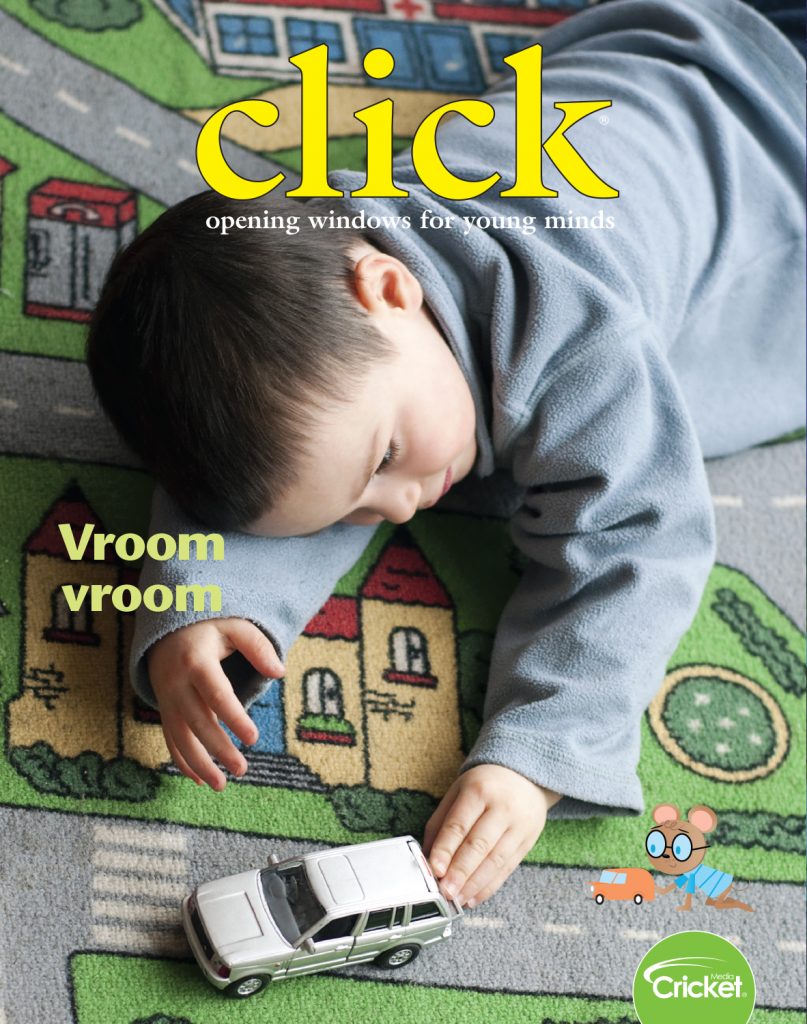 Do you know a child who can't get enough of cars? Whether they never leave home without their favorite toy cars or they can tell you all the parts of an engine, this issue of CLICK will be right up their alley!
What were the first cars like? How do cars go? What are the different parts of a car called? CLICK answers all of these questions and more. Young readers will learn to identify road signs, meet a real race car driver, discover different types of 'big rigs,' make their own toy cars, and more! Don't miss the takeout pages, which come with a special 'Going to Grandma's' board game!
Bea and Dagny's are headed to their uncle's wedding, but how will their family find the way? Follow along as they learn how to read a map and learn how to follow roads! And join Click and Jane as they set up their own neighborhood car wash. This issue of CLICK is the ride of a lifetime!
"Clever Friends"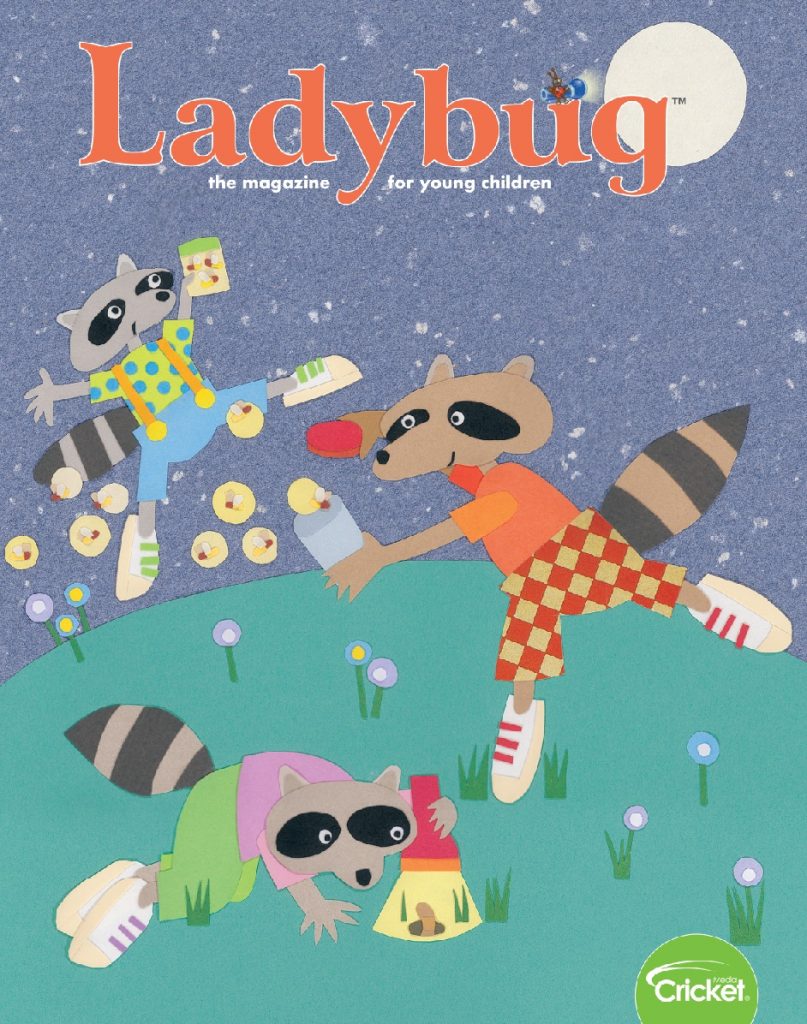 Cover art by Shirley Beckes
It's the most beautiful time of year to explore nature– and make some new wildlife friends! Meet a pair of friends who share everything 50-50, discover busy animals that only come out at night, and watch a parade of animals race to the top of the hill!
King Tiger thought he was in the greatest in the world. But when he sends his followers to find him food in Borneo, a clever mouse deer is able to outsmart them. Find out how in the Indonesian folk tale "Mouse Deer and the Tigers!"
Readers can enjoy colorful comics, interesting puzzles, and fun ways to keep their bodies moving! You can even create your own 'Ocean in a Jar' or a beautiful May Day Bouquet! Join Max and Kate as the celebrate the first day of May, and watch what happens when Molly's pet cat Emmett decides to throw a party! There's plenty of summer fun for everyone in this issue of LADYBUG!
"Catching Comets"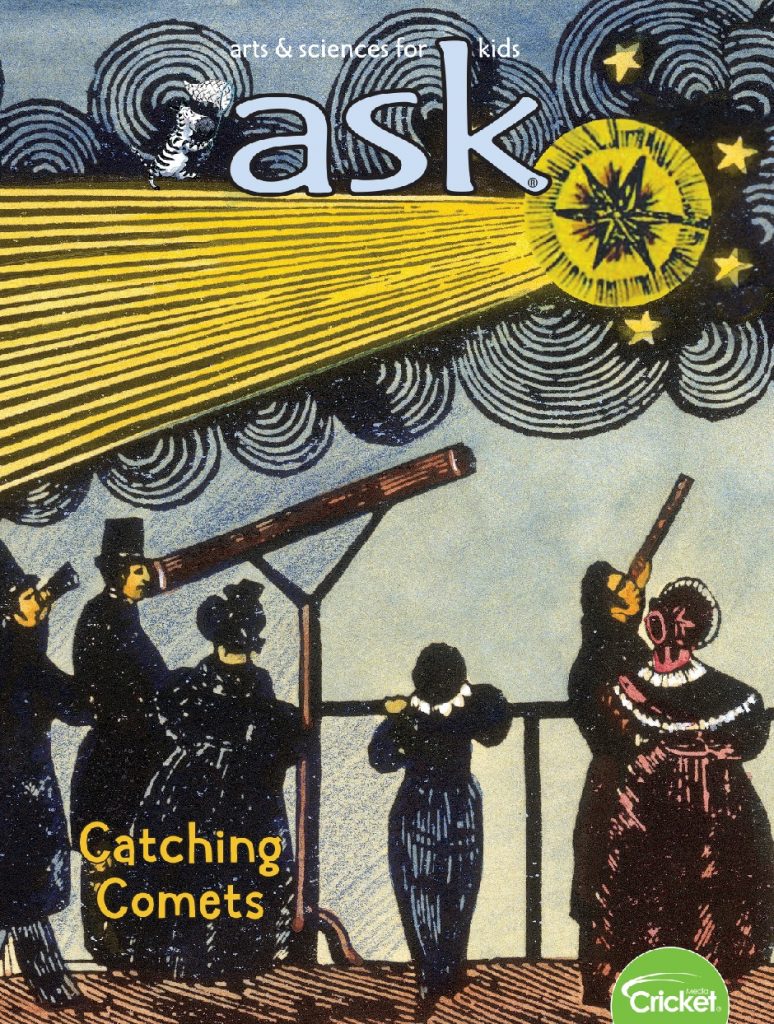 Look, up in the sky! It's a bird! It's a plane! Actually, it's a comet. But what exactly is a comet, and why are they such an important part of history? Find out in this illuminating issue of ASK!
Discover different kinds of space rocks and where to find them– from different galaxies to your own backyard! Do you know the difference between a meteor and a comet? Are 'shooting stars' really stars? What happens when a space rock falls to Earth? Find out here!
Hitch a ride on a comet to follow its path, then meet Oumuamua, the first known space rock to visit our solar system from another star! You may not have heard of Caroline Herschel, but this 18th century astronomer made some important discoveries! Find out how to avoid an asteroid, how to fit a quarter through a dime-sized hole, and why cats don't have belly buttons! Plus, join Nestor and friends in "Nestor's Dock" as they daydream about finding 'space treasure!'
"Adventures in Space-Time"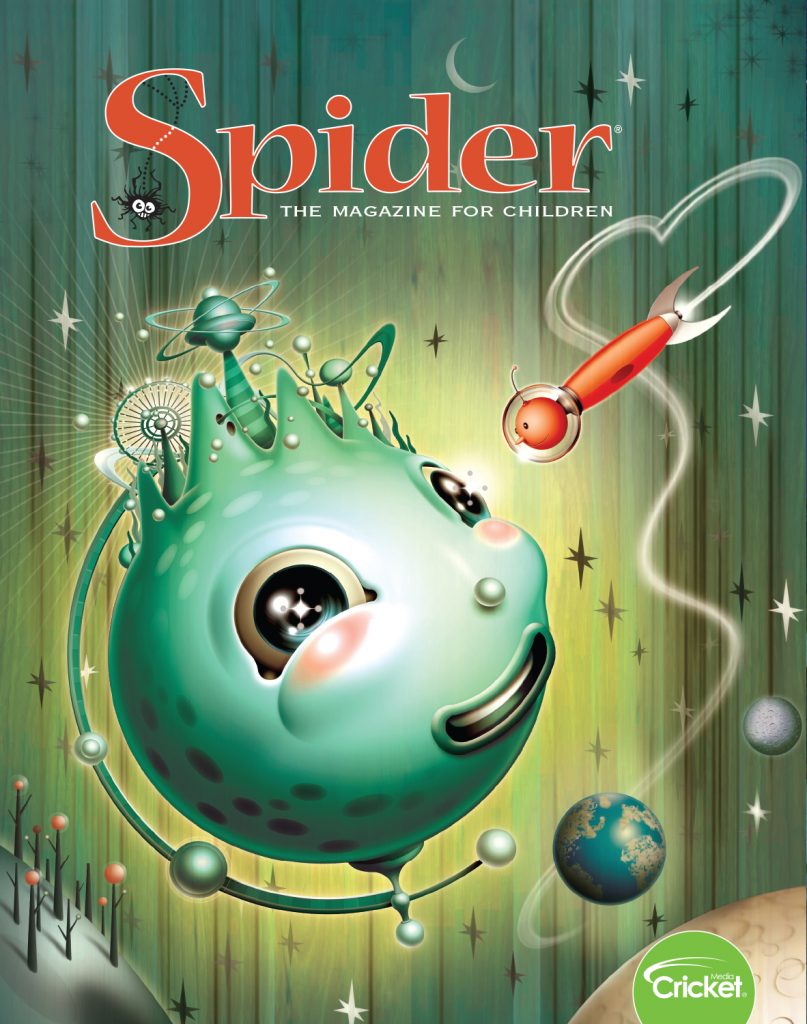 Cover art by Mark Rogalski
3…2….1… Blastoff into adventure with this issue of SPIDER Magazine! Travel back in time, celebrate a birthday on a space station, make galactic soup, and build your very own extraterrestrial friends!
"Cosmic Mudballs From Outer Space" may sound like the name of a science fiction movie, but it's a very real phenomenon. In fact, there might be a meteorite in your own backyard! If someone asked you what a meteorite smells like, what would you say? If you guessed 'Brussels sprouts,' you'd be… right! But that's not the most exciting thing about these unique mudballs.
In "The Memorial Day Mission," a young boy learns all about his great-grandfather's achievements as one of the Tuskegee Airmen in World War II. Find out how Poppy's story gives him courage to present at show and tell! This issue of SPIDER is truly out of this world!
"Road Trip"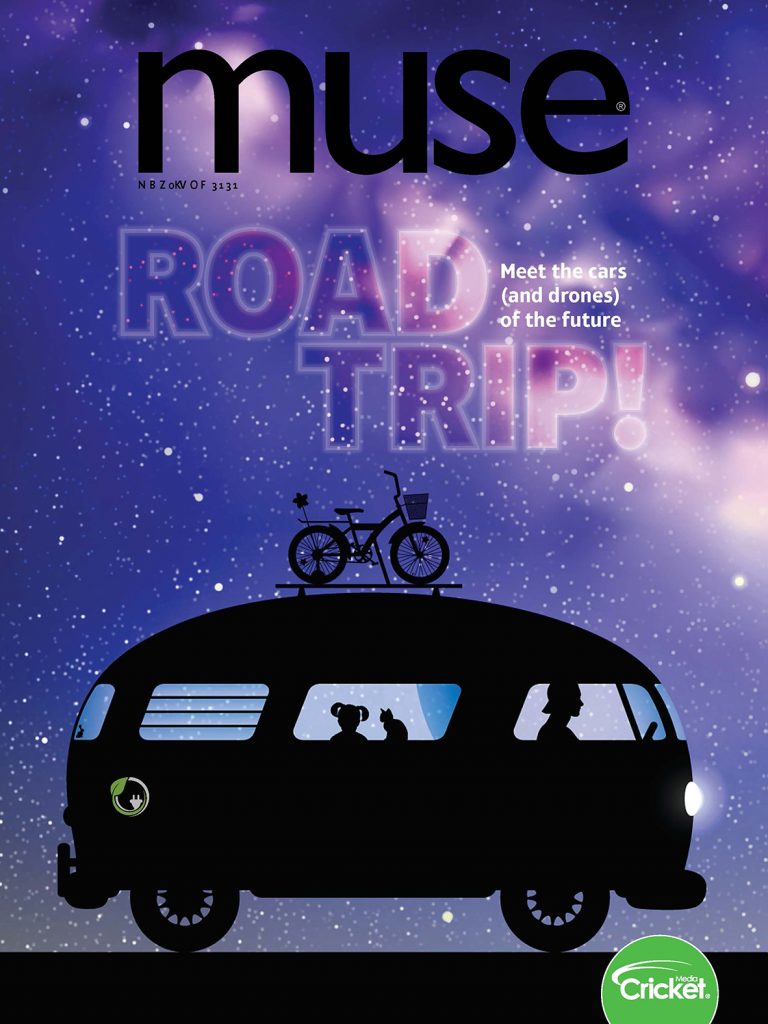 Everybody pile into the Musemobile! It's time to hit the road for an unforgettable trip through the past, present, and future of cars! Although real summer road trips might be canceled this year, there's still tons to see and do in this issue of MUSE.
Meet the university students competing in the AutoDrive challenge, a competition to create an electric self-driving car! Find out what kind of 'driver's ed' a car needs to take to learn how to drive itself– it's more complicated than you may think! Are hybrids or electric vehicles the wheels of the future? How will drones change the way packages are delivered– and the flow of traffic? And how will roads themselves get smarter as cars become more advanced? This issue of MUSE explores cutting-edge questions about the future of transportation.
Fill in a hilarious Mad Lib, puzzle over morphing art, read eccentric letters from readers, and join the gang at Parallel U as they learn to communicate with a bear!
"Light the Sky"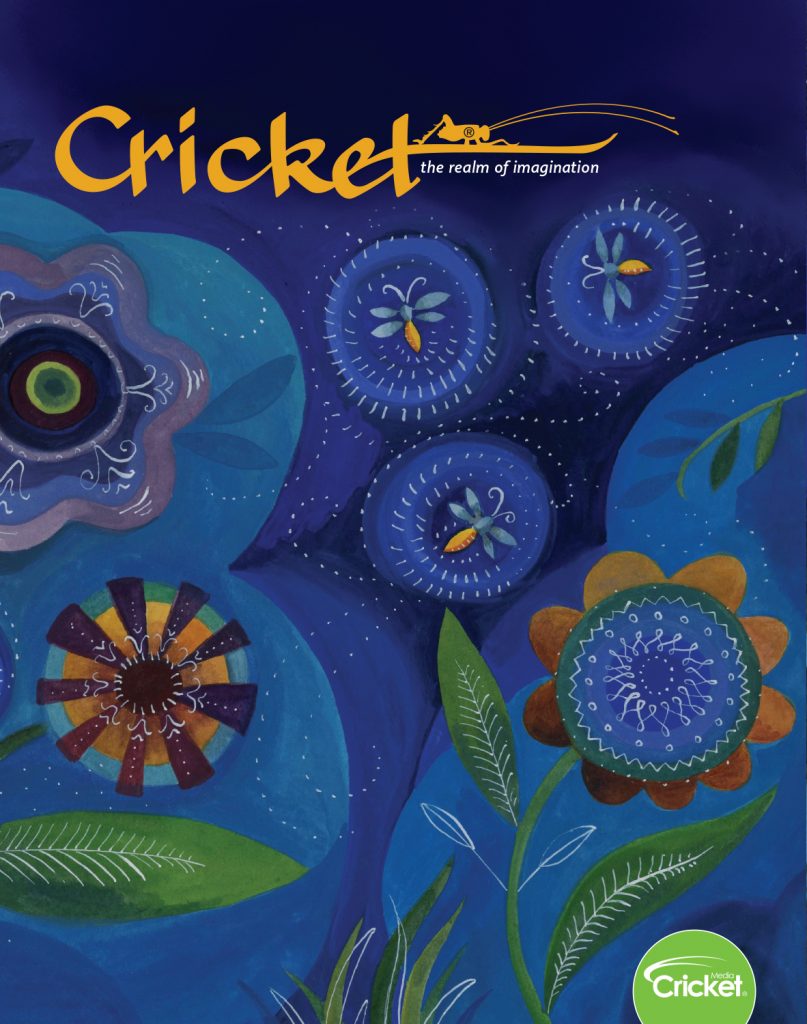 Cover art by Julie Paschkis
Curl up and relax on a pleasant summer day with these refreshing stories and poems! It's the perfect time of year to make sand angels, watch fireflies, and investigate the secret lives of hermit crabs. But watch out for that alligator in the hotel lobby!
Marie worries about what it will be like when her mother, an army nurse, is deployed. Who will take care of her and her younger sister Evelyn? But when a walk on the beach turns dangerous, Marie discovers that she's stronger than she thinks.
Find out how Hazel she makes a small part in the school play special in "Hazel Down the Rabbit Hole," meet "The Fool Who Fished For a King," and enjoy the fascinating finale of "False Impressions," a 4-part tale from Ancient Mesopotamia! Now is the time to savor a great story!
"Asian Americans"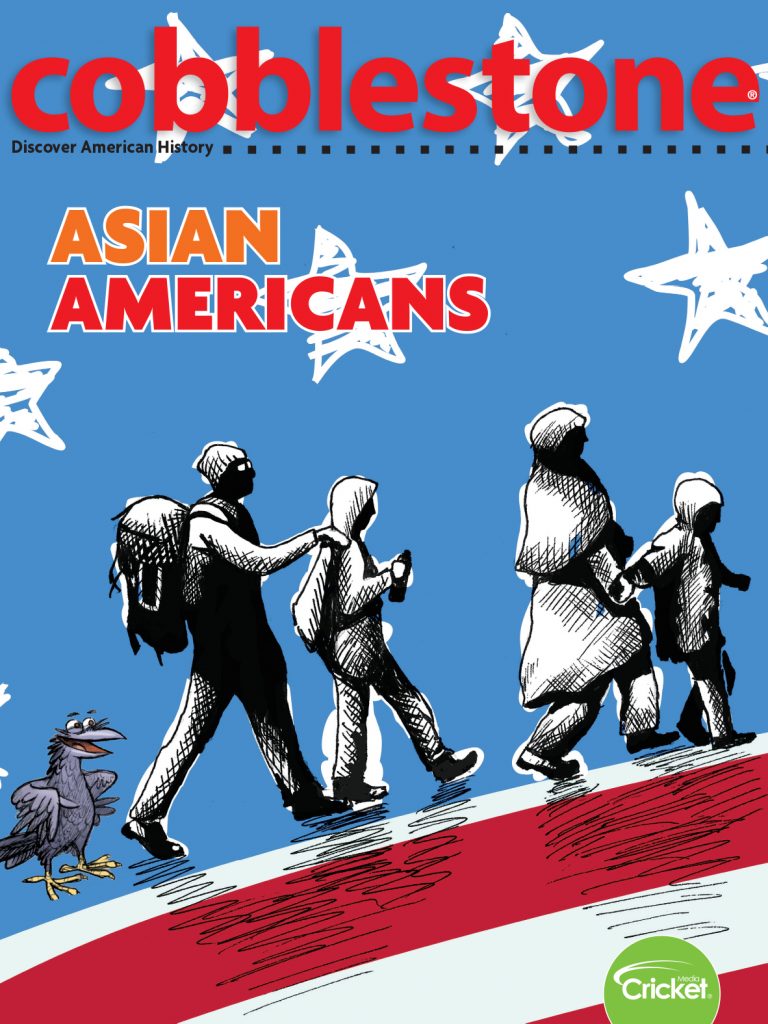 Did you know that May is National Asian and Pacific Islander American Heritage Month? It may be a long name, but Asian Americans have a long and important history in the United States.
Although scattered Asian travelers arrived in the 1700s, the first waves of Asian immigrants began in the 19th century. They mostly came from China, Japan, and Korea. Today, people from Asia make up the largest group of immigrants coming into the United States!
Meet the Chinese immigrants who played a crucial role in constructing the Transcontinental Railroad, read the painful history of Japanese internment during World War II, and enjoy an illuminating interview with master cellist Yo-Yo Ma. Learn about major immigration acts since the 19th century and get to know Asian American celebrities from Tiger Woods to Ang Lee to the original designer of Scooby-Doo! There are so many different Asian cultures represented in the United States today. How will you and your family commemorate Asian and Pacific American Heritage Month this May?
"Celebrate Brazil!"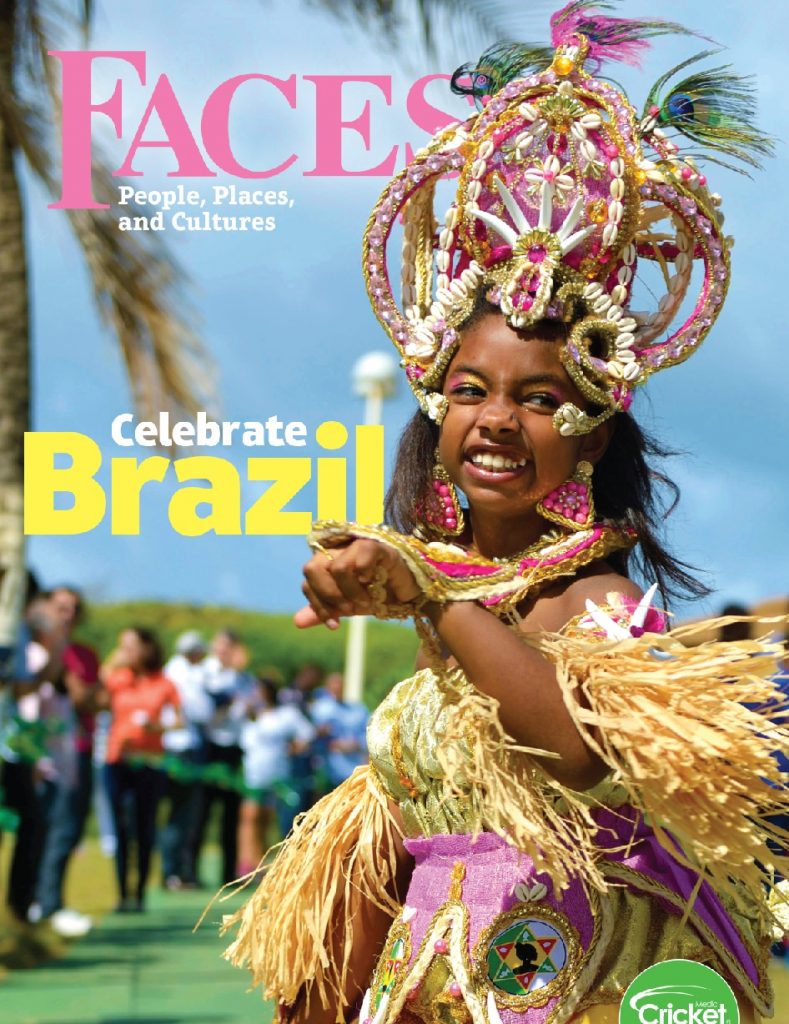 We may be inside our homes this summer, but this issue of FACES takes readers on a vacation to the remarkable country of Brazil. It's home to the biggest rain forest and the biggest party on earth– and it's the largest country in South America. But that's not all that makes Brazil so special!
Most countries in South America speak Spanish as their primary language, but 98% of Brazilians speak Portuguese– while 160 indigenous languages are also spoken! Find out about Brazil's Portuguese roots and try local food– including a delicious visit to a Brazilian steakhouse! Meet legendary soccer player Pelé and see why Brazil is considered the Country of Soccer (or, as Brazilians call the sport, Futebol).
Take a breathtaking tour of the Amazon rainforest and the world's sixth-largest waterfall, Iguazu Falls. Join the party at Carnival, come face to face with a toucan, and act out the traditional folktale of the Dancing Turtle!