The leaves are changing, students are back in school, and Fall is officially on its way! Along with it, here's our batch of September magazines! This September is sure to be full of adventures, from an expedition to Mount Everest to apple picking to a journey on the transcontinental railroad. Enjoy this sample of this month's magazines:
Dive in deeper and discover more about each of our award-winning magazines for young readers:
"Vrooming Into Autumn"
Cover art by John Sandford
Fall is one of the most festive times of year, perfect for crafts, outdoor adventures, and snuggling up for storytime with the family! Small children are mesmerized by watching the seasons change. Join in an apple picking excursion with Kim and Carrots, then bust out the rake and help clear up the autumn leaves! Then, it's off to town! Watch the cars and trains speed by, wave hello to a street-sweeper, and go for a bike ride! Kids can even enjoy seeing real babies featured in the "Let's Explore" section.
A guide for caregivers at the back of the magazine is full of helpful advice for making the most of storytime with little ones. This month includes suggestions for experiments with apples, experiences with sound, and one surprising trait that your toddler may share with Henry David Thoreau! September is just the beginning of a great adventure!
"Look At My Collection"

Young children love to collect things, from rocks and leaves to stuffed bunnies and Batman action figures. But they may not know that lots of grown-ups make careers out of collecting– or that museums are just really big collections! Find out just what makes a dedicated collector with the sweet story "Hector the Collector." Then, pay a visit to the aquarium and meet the Dive Safety Officer at Newport Aquarium for a behind-the-scenes look at a day caring for ocean life! Have you ever seen a diver enltering a tank at the aquarium? Learn why they visit the animals' exhibits! Then, get ready for a sleepover with the sharks!
Can you find your way through the Museum Maze? Don't get lost among the dinosaurs! Get to know Dana Darling, Dino Detective, a scientist who helps a museum set up fossil displays! It takes a lot of work to put together a fossilized T-Rex! Not all collectors are human. Discover the birds that collect beautiful items to make the perfect nests for their mates.
Plus, make your own museum with our takeout pages! Join Click & Jane as Jane tries to start a collection of her own and say hello to our readers of the month! This issue will be a great addition to your child's magazine collection!
"Funny, Furry Friends"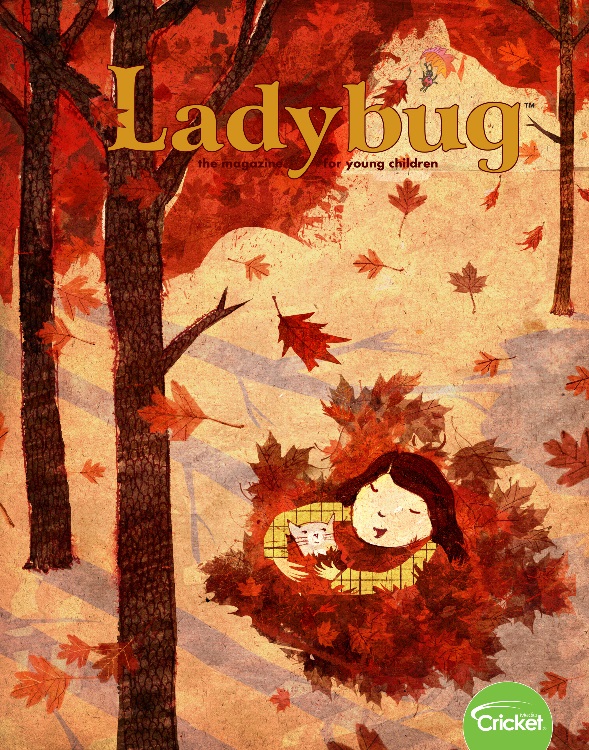 Cover art by Lee White
Dogs are called 'kid's best friend' for a reason! Our pets are a neverending source of humor and fun. This lovable issue of LADYBUG is packed with dogs, cats, turtles and… giraffes? Meet the residents of a big city– and not just the human ones! There are plenty of butterflies, squirrels, pigeons, and pets to be seen! Chase a bubble through the park and meet new animal friends, or hunt for beautiful autumn leaves.
It's time to hop on the school bus! Can you guess the identity of the new class pet! Can you imagine making friends with a giraffe? Play catch with the tallest animal at the zoo and find out why you shouldn't take one home with you. Help the mixed-up animals find their spots, stripes, feathers and scales– then join Ladybug, Muddle, and Thud at the animal races!
Plus, Max and Kate meet a surprising new friend when they sail their paper boat, while Molly and Emmett discuss a friend's new pet puppy! Learn a squirrel's favorite song, meet all kinds of crazy cats, and make your own finger puppets in the take-out pages.
"Clever Cloth"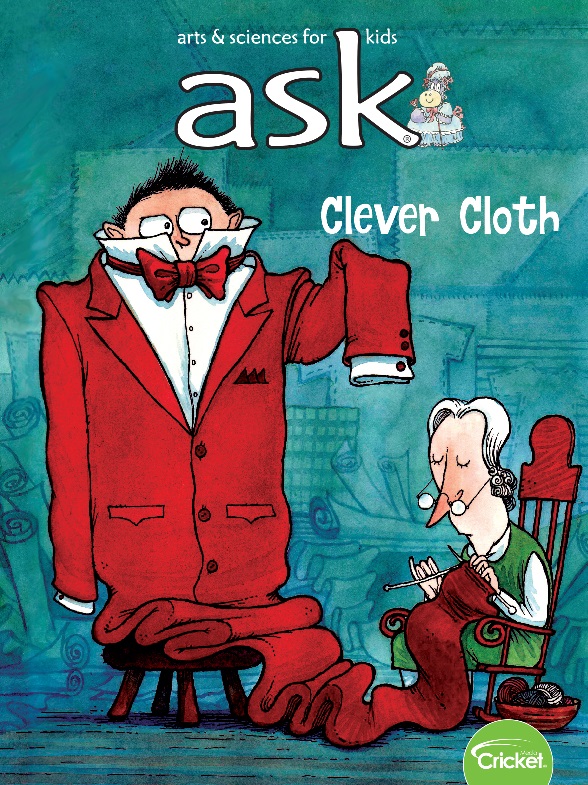 Cover art by Dave Clark
Have your kids ever wondered where their clothes came from? It turns out that fabric can be pretty fascinating! This September issue of ASK Magazine explores the surprising history and future of our favorite garments!
Most of us buy our underwear at the store, but for decades, many families made underwear and other kinds of clothing out of old flour and feed sacks! Whole classrooms of children went to school with 'Superior Chicken Mash' stamped across their undies! Learn about the silkworms who created elaborate robes for Chinese emperors, and try your hand at doing your own weaving. Discover the history of dyeing cloth, from crushed-up shells to lab-created hues, then fly into the future of fabric! Did you know that scientists are currently experimenting with self-repairing clothes, spider-silk suits, phone-charging jackets, and more?
Don't miss the "Nosy News" section, summing up some of the weirdest science news stories in a kid-friendly way. Nestor and friends try out a high-tech t-shirt in "Nestor's Dock," while a mishap creates a gorgeous fashion statement in "Marvin and Friends." Find out the answers to kids' own questions in the "Ask ASK" section and enjoy recycled artwork sent in by readers. This issue also includes book recommendations in Whatson's Book Corner!
"Gadgets & Gizmos"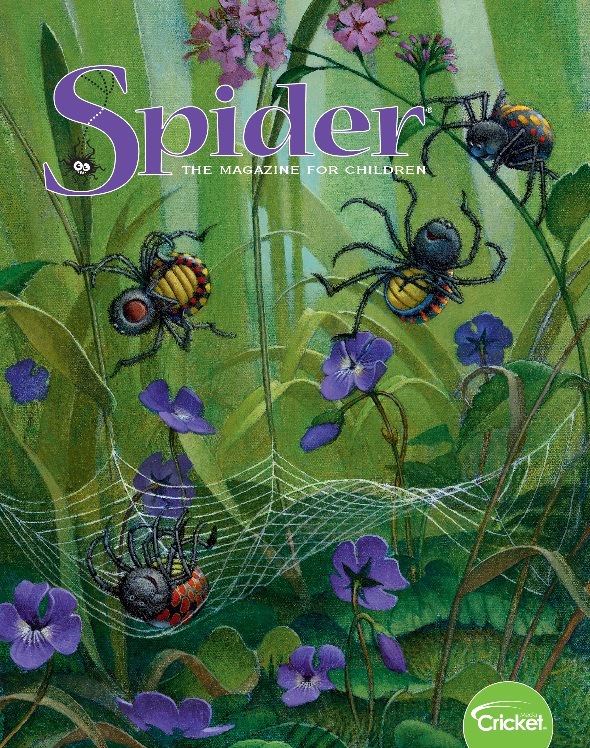 Cover art by Jon Goodell
Leonardo Da Vinci was one of the greatest artists of all time, but he was also an inventor! Follow in his footsteps with this issue of SPIDER, where art and engineering join forces! See how dinosaurs shop for their back-to-school duds, or share a back-to-school joke or two! Feeling scientific today? Help rescue a preying mantis, build your own volcano lava lamp, make friends with a dog robot, and meet the real scientist who created a super-strong thread called Kevlar!
Imagine having a blue space alien on your soccer team who has to stand in a bucket of liquid at all times… and now imagine being invited to his water-filled spaceship home for dinner! Find out how humans and Unipods team up to throw the perfect party! You can even translate messages from space aliens using SPIDER's nifty decoder.
As for SPIDER's regular departments, Doodlebug & Dandelion help their dad with a truly bizarre art show, enjoy the eccentric hats submitted by SPIDER readers, and build a loyal tin can robot buddy in "Ophelia's Last Word." What did people do before the invention of movies? Some of them played with a spinning toy called a 'thaumatrope' that made pictures appear to move! Create your own in the take-out pages! This issue of SPIDER is sure to spark your creativity– for art, science, or whatever else you feel like creating today!
"Recycling's Moment of Truth"
They say that one man's trash is another man's treasure. What can we do about the plastic that's piling up all around the globe? This month's MUSE Magazine has a few ideas.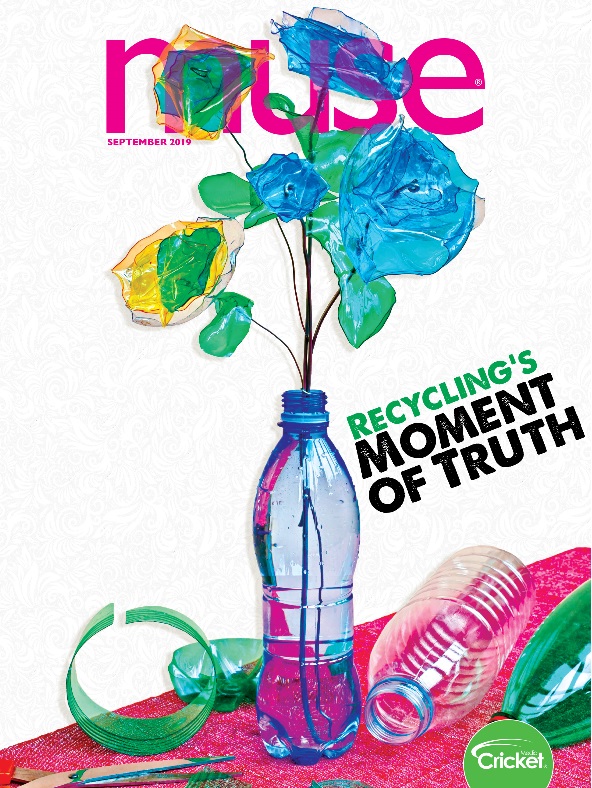 Scientists estimate that over 7 million tons of plastic trash are lying around the planet with nowhere to go. Less than a quarter of our trash is recycled. Learn some of the challenges that make recycling so tricky and a few tips to make sure you're recycling the right way! Everyone says 3D printing is the future, but could it be dangerous to the environment? Learn the do's and don'ts of 3D printing!
Visit a birthday party where recycling and reusing are the stars of the show! Kids create creative crafts out of old donated packaging and other items. Get to know Amanda Jefferson, a site engineer at a recycling and waste management facility, and listen to the beautiful music of an orchestra playing instruments made of recycled materials! Separate the real recycling robots from the fictional creations, learn how things turn into microplastics, reduce your fashion footprint, and more! You can even create a cool new upcycled necklace out of an old t-shirt!
MUSE's beloved regular features are still going strong, with reader-submitted pictures and poems from astronauts's dreams and wildly creative fan letters in "Muse Mail." Check out this month's MUSE News: from the world's biggest bee to a replicating device, to a skyscraper made of recycled bottles, which one is the fake story? In Q&A, discover whether disposable plates and cups or frequent dish-washing is better for the environment. It's an issue you'll read and reuse over and over again!
"At Work In Colonial America"
Before computers, phones, or cars, work in America looked very different. Most work was done by hand and often took a long time! Take a step back in time to our country's past and see what work in Colonial America was really like with COBBLESTONE Magazine. Uncover the work that the very earliest European settlers did to establish communities, then visit a subsistence farm in Massachusetts Bay Colony in the 1600's. Follow early trade from fir trees to furs to fish, or pop into local businesses like the apothecary, the cobbler, the cutler, and the cooper!
Tired out from your travels? Park your stagecoach and visit a colonial inn for food, drink, a place to sleep, and some good company. Did you know that some of these taverns are still open? The White Horse Tavern in Rhode Island has been in business since 1673! Speaking of long-running businesses, traditional blacksmithing still exists in America! Read an interview with real-life blacksmith George Pare!
Not everyone in colonial America earned an honest day's pay for their work. The sad truth is that much of the hard work in early America was done by enslaved people. Learn more about their lives and work in the early days of the country.
What did Benjamin Franklin and George Washington do for a living before they were famous? Don't forget to check out fun facts about colonial careers in the "Did You Know?" section! Fill out a colonial crossword puzzle, check out some of 'yesterday's jobs' that have been replaced by machines, and learn about some of the freakiest jobs in history, from body snatchers to leech collectors. Want to learn more? COBBLESTONE has some recommendations for cool historical sites where you can see colonial trades in action!
"Deep Dive"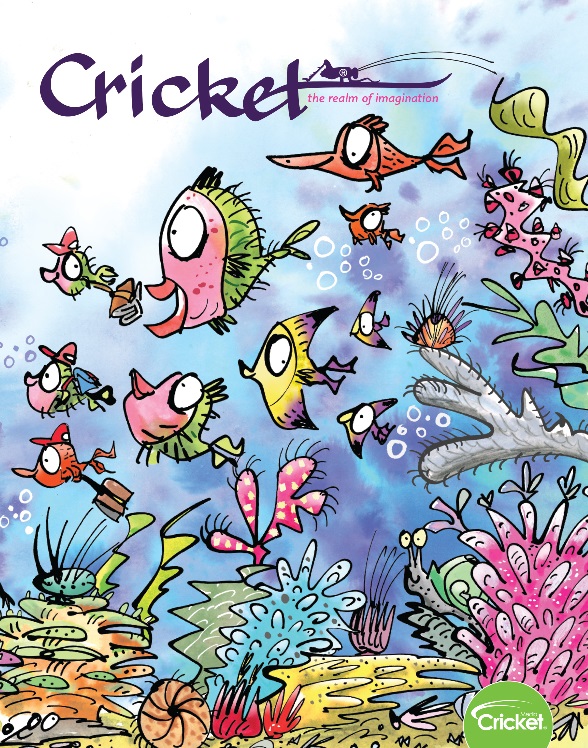 Welcome back to school… of fish? This issue of CRICKET takes readers under the sea and around the world! Read a suspenseful story about a teenager's scary slip during a hiking trip with his blind grandfather. Travel to Iran, where young boy falls in love with reading after being asked to throw away the 'wrappings' from groceries at the corner store– which used to be pages torn from a book!
Crossword puzzles seem like they've been around forever, but have they? Learn how these time-tested puzzles got their start and see if you can solve the first-ever crossword puzzle! Learn what it was like to be there at the joining of the transcontinental railroad from the perspective of a young Chinese water boy, or watch a narrowly-averted disaster on the high seas– with many lives saved thanks to wireless communication!FInally, meet the artist who made a career of illustrating the creepy creatures that live deep under the sea!
And as always, the Letterbox is overflowing with mail from readers, while the buggies of Cricket Country hunt for Bigfoot! Read the winning entries from our April Cricket League story contest, and learn a little something about the history of books thanks to Old Cricket! There's never a dull moment in the pages of CRICKET Magazine.
"Top of the World, Ma!– Nepal"
When you hear the word 'Nepal,' the first thing you think of is probably Mount Everest! But there are more high points to this fascinating country than just, well, the highest point in the world.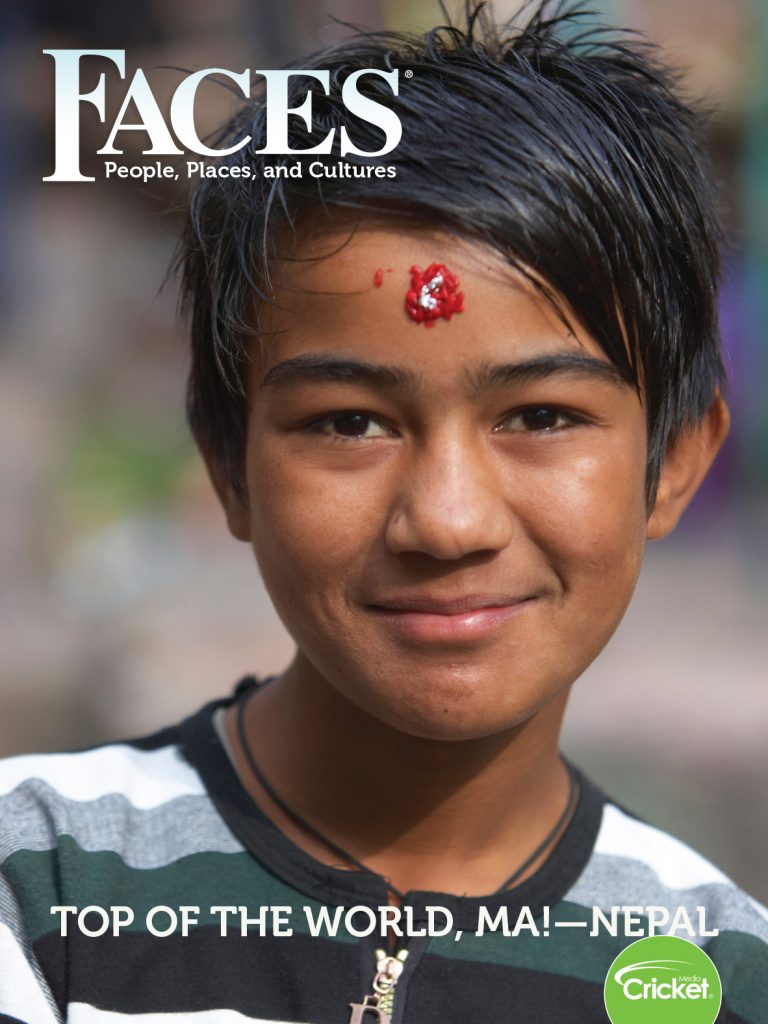 Come face-to-face with the rare Indian rhinoceros (which, contrary to the name, you can find in Nepal, too), then visit the world-famous birthplace of Siddhartha Guatama, better known as the Buddha in Lumbini. Mountainous, remote Nepal might not strike you as a leader in renewable energy sources, but in fact, it's working on a plan to build enough hydroelectric plants to power the whole country. Learn how this country's many waterways make it an ideal candidate for the future of energy!
Sample Nepalese food, from savory national dish dal bhat to yak butter to delicious dumplings called Momos. You can even make your own momos and Himalayan tea with a traditional recipe courtesy of FACES! Get to know the Sherpa– best known as mountain guides– including the first woman to reach the summit of Mount Everest. Search for the mysterious Yeti, meet self-proclaimed 'yak girl' Dorje Dolma, and shop for colorful Nepalese clothing!
While you're here, enjoy artwork submitted by readers, make your own mandala, try a crossword, and read "The Evergreen and the Rhododendron," a play based on a Nepalese folktale about the marriage of two trees! It's a mini vacation in the form of a magazine!