A little secret: Cricket Media LOVES October. After all, it's one of the most creative times of the year! From creating clever costumes to putting up spooky decorations to carving jack-o-lanterns, Halloween is a time of fun and imagination for the whole family. This month's October issues are no exception, packed with spooky stories, amazing articles, and cozy poems that are sure to entertain! From fictional dragons and witches to the real creatures of the sea and air, you'll make lots of new fall friends with our October magazines!
Treat yourself with a closer look at each of our award-winning magazines for young readers:
"Big and Brave"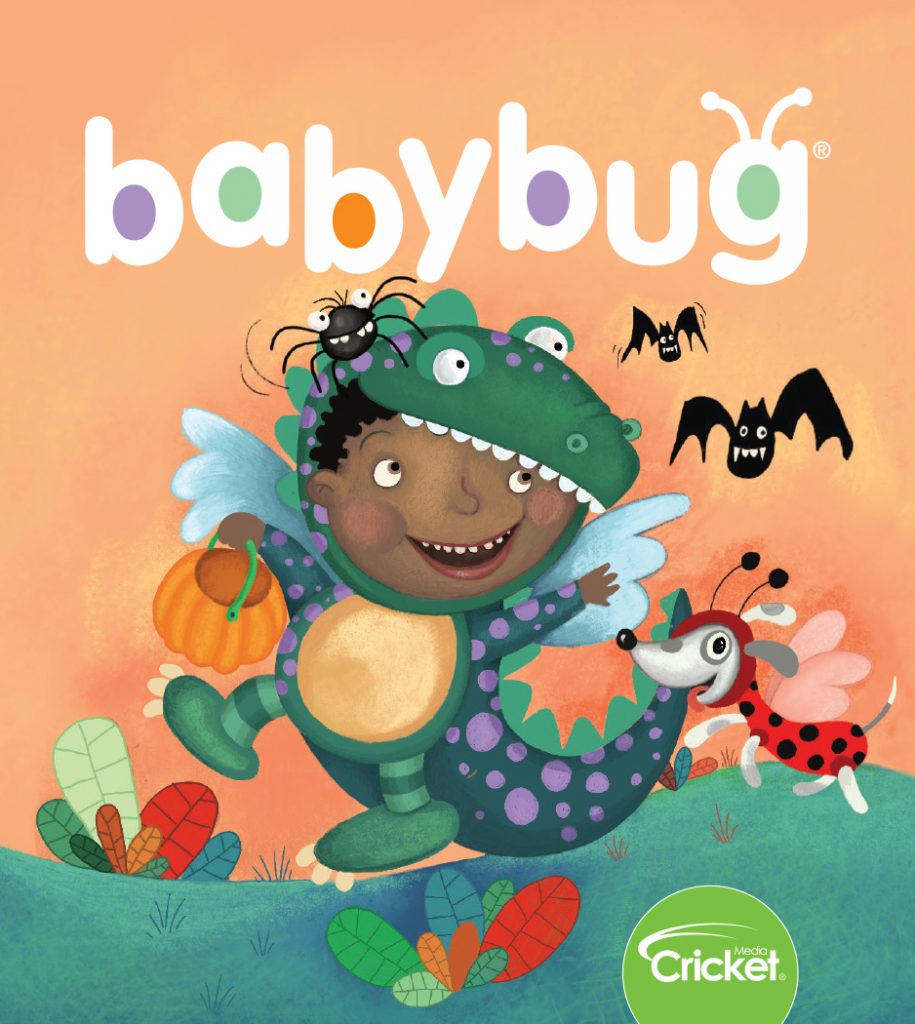 Cover art by Inés Hüni
Halloween may be full of tricks and treats, but it doesn't have to be scary! Snuggle up for a cozy autumn with this month's BABYBUG and your favorite blanket. Meet a brave little hippo, take your first steps, and stroll around the neighborhood on a Halloween night! Create a masterpiece with purple paint or make your own Halloween mask. Join Kim & Carrots as they prepare a costume for Halloween!
As always, the guide for caregivers at the back of the issue provides suggestions for fun activities and conversations inspired by the issue! This issue is all about bravery! Young readers might be surprised to hear that even grown-ups are afraid sometimes. Toddlers can also create their own kid-friendly purple paint for future masterpieces. October is sure to bring fall fun for the whole family!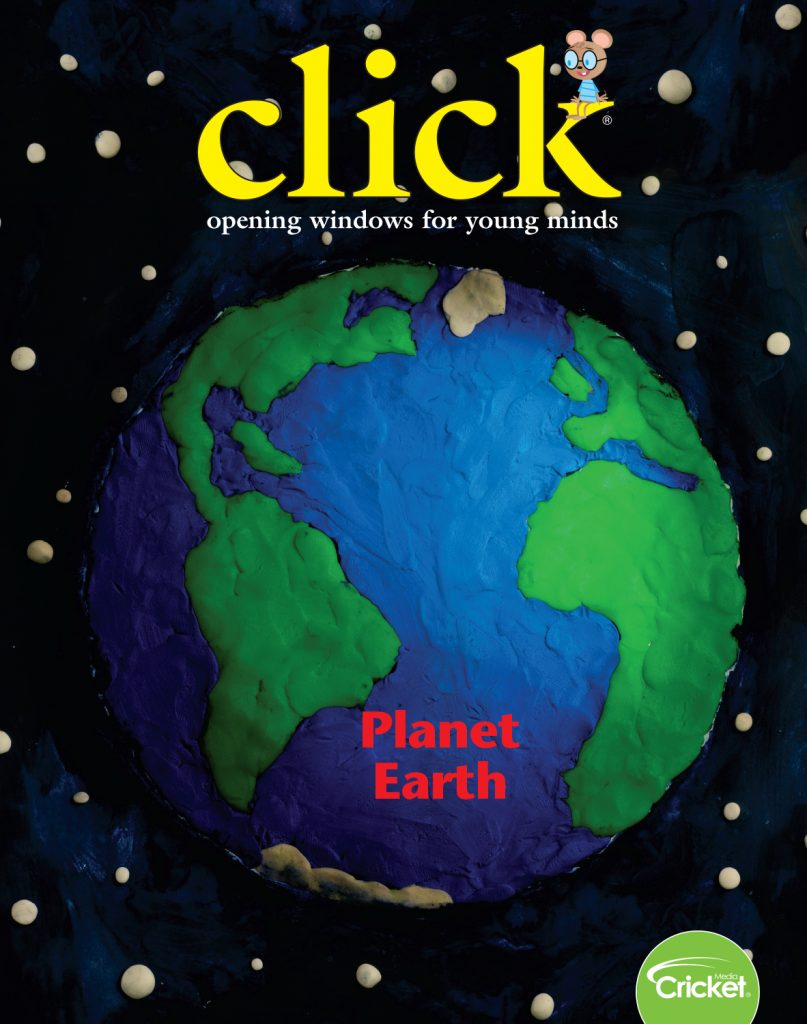 How do we know that the Earth is really round? How long has it existed? Preschoolers and kindergartners are often full of questions about our planet– and why not? It's good to know as much as we can about our home! In this out-of-this-world issue, kids can learn about Earth's history as told by the planet herself, try to put the planets of the solar system in order, and even journey to the center of the earth to see what's inside!
Kids may be amazed to learn that the earth hasn't always looked the same! Learn the fascinating history of how the continents developed. Travel the globe to visit different biomes. What's your favorite? A snowy tundra, colorful temperate forest, dry desert, or a steamy rainforest?
CLICK is filled with exciting activities and features for kids. This month, create your very own globe with our takeout pages, use shadows to discover how ancient Greeks determined the earth is round, and use a stack of index cards to map out how old the earth really is! In regular features, Click and Jane try to dig to the opposite side of the earth and Beatrice Black Bear shares her favorite places on the planet! It's an issue for everyone– everyone from planet Earth, that is!
"Autumn Dreams"
Cover art by Brita Granström
From the colorful leaves to the cheery jack-o-lanterns, autumn is an exciting time of year! Enjoy the colors, sights, tastes, and sounds of fall with this month's LADYBUG. Pretend to be a scarecrow with a fun rhyme, go trick-or-treating, and enjoy fall in the city! Readers can learn new songs or build batty banners to decorate their homes for Halloween.
Imagine artwork coming to life, making friends with birds, or drifting away into a world of dreams! Then, join Maya and her class as they volunteer at a senior living center. Will she find anything in common with a 103-year-old woman?
LADYBUG readers always look forward to the sweet adventures of Max & Kate. This month, the two friends visit a pumpkin patch! Meanwhile, Molly and Emmett pick out Halloween costumes. The takeout pages feature a 'corny cottage' that kids can construct all by themselves. Can you imagine living in a house made of corn? October is the perfect time of year for autumn dreams!
"Deep, Dark Ocean"
Humans have explored the earth for thousands of years, but there are parts of the deep, dark ocean that have never been discovered! Scientists are learning more every day about the amazing creatures that live there. Take the plunge into this month's fascinating issue of ASK!
Get to know the earth's largest habitat: the ocean! Dive into the Marianas Trench, the deepest place on earth. It's so deep that you could hide Mount Everest inside it and it would still never reach the surface! Learn the true story of Marie Tharp, the woman who mapped the sea and proved that the continents do move. What's that eerie glow in the distance? Deep sea creatures often glow in the dark! Find out why and how their lights help them survive– and create your own amazing glowing creature! How can life under the sea help us find life on other planets? Learn the secrets of the deep sea volcanoes to find out.
Don't miss this month's awesome regular features. Dive under the ocean with Marvin and Friends and watch the company of Nestor's Dock go trick-or-treating in deep sea themed costumes! Check out incredible new scientific discoveries in "Nosy's News," from squid in a tree to a slingshot spider. Learn how old sharks are in "Ask ASK," and enjoy the fantastic fictional horses submitted by readers! Finally, make a ketchup packet sink or swim on its own with "Marvin's Clever Trick!" You won't believe what you "sea!"
"A Boo-tiful Performance"
Cover art by Bats Langley
Take a bow! This October issue of SPIDER is all about putting on a show! Stop the very wicked witch from ruining the village play! Then, take your turn in the spotlight by acting out "The Ugliest Pumpkin" with your friends or classmates. Still haven't satisfied your inner theatre bug? Learn about the epic world of puppet theater– an art that definitely isn't just for little kids!
What's a samurai to do when a giant rat destroys his belongings? He has to find the right cat to exterminate it! Enjoy the Japanese fable of the three cats and see which one ultimately takes down the rat! Then, get crafty with some fall activities, making homemade pumpkin pockets and a cute pumpkin hat.
In this month's recurring features, Doodlebug and Dandelion go on a 'Ghost Walk' for Halloween and learn to face their fears. Join Spider and the Gang for a pie-making adventure and read winning poems about parks submitted by kids! Readers can also create falling leaf spinners in the Fun Zone! You'll be sure to fall in love with this issue of SPIDER.
"The Birds"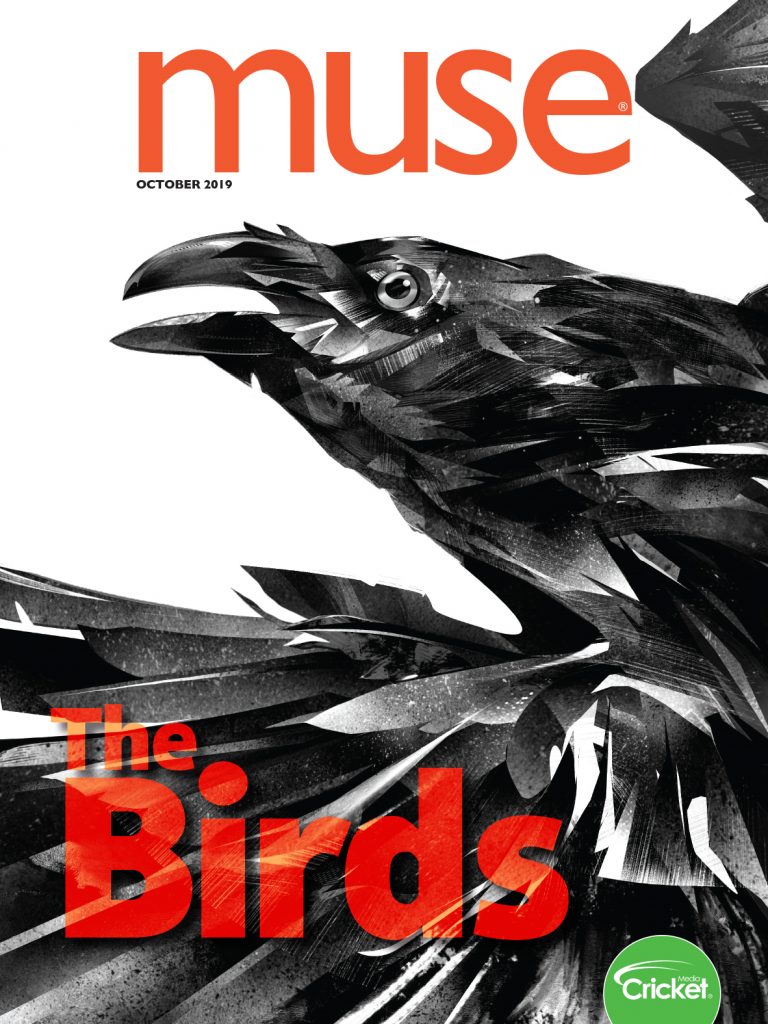 The caw of a crow, the hoot of an owl, the eerie silhouette of a vulture… there's something about birds that fits right in with Halloween. The science of birdwatching has never been spookier– or more exciting!
Meets the girl who made friends with crows and learn how to tell the difference between crows and ravens! Are ravens omens of death, cunning tricksters, bringers of life? Uncover the myths surrounding these beautiful birds. Play a bird board game, visit a crow roost and a hawk mountain, and find out how you can help with scientific research by counting birds in your area! There's even a list of apps you can use to help identify different birds!
Tom Hanks starred in the movie Sully, the true story of a pilot who safely landed a plane in the Hudson river after a catastrophic engine failure caused by hitting a flock of geese. The geese were not so lucky. Enter the bird bot, a drone designed to herd birds away from aircraft– saving both human and bird lives! Read the story of how barn owls helped bring people together across the Palestinian/Israeli borders and discover the true lives one of the most unloved birds on the planet: vultures. Finally, solve the puzzle of avian intelligence and find out if you are smarter than a bird!
This month's regular features are extra special. Learn why witches are often depicted with green skin, take flight with Cate in Parallel U, see if you can identify the fake news story in "Muse News," check out some 'funny money' submitted by readers, and more! Fans of MUSE will soon be…. 'raven' over this issue. (Sorry!)
"The Homestead Act of 1862"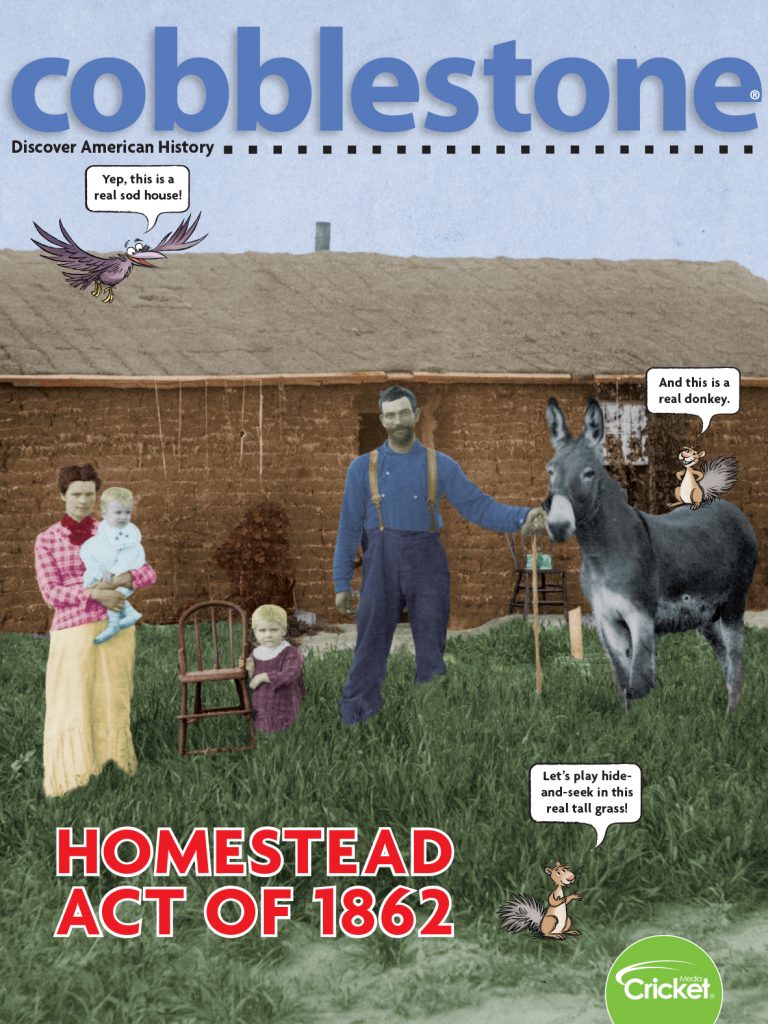 You might think that the only people who live in houses made of dirt and grass are hobbits. But in the early 1860's, many pioneers lived in real sod houses thanks to the Homestead Act, which offered free land to Americans in Western territories. Does a free home sound too good to be true? The homesteaders' lives weren't exactly free of complications. For example, people already lived on that 'free' territory.
Find out if you fit the bill for a homesteader– who you need to be, what you must do, and what you'd need to set up a household on the prairie. Readers can even play a board game to simulate life in a 'soddy.' Visit the black homestead settlements created by free African-American people and learn why these historic sites are now endangered. Find out why President Abraham Lincoln thought this act was so important and read about his fateful decision over whether to prosecute those involved in a battle between Dakota people and American settlers.
Sadly, many Native American people lost control of their ancestral land and cultural practices due to the homestead policy– or even worse. Many lost their children or their lives. Regular features in this month's issue include a look at prairie voices (including 'Little House' author Laura Ingalls Wilder), a recommendation to visit a real homestead site, and a look at a mystery hero who helped save the bison!
"Here There Be Dragons!"
Cover art by Tiffany England
Reader, beware! This issue of CRICKET is filled with strange and beautiful Halloween magic! And watch where you tread– here there be dragons!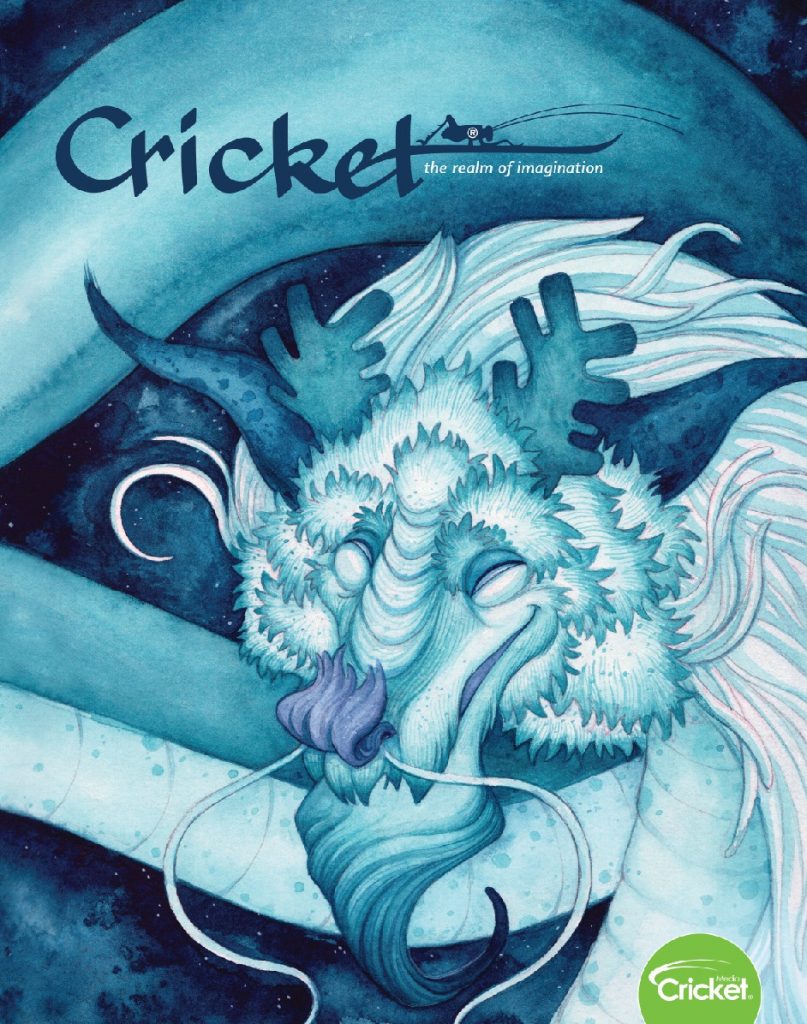 Working at a store that sells magical ingredients is not as much fun as it's cracked up to be. Althea's disorganized 300-year-old boss has lost the dragon scales that he borrowed… and now Althea has to face an angry dragon customer who wants them back! Read a beautiful Basque fairy tale about an enchanted tablecloth that a generous boy used to defeat a dragon! What do you do when you come face to face with a witch in your own home? Find out in the heart-pounding story "Yara and the Witch Queen."
Meet the women who walked across the entire country, laugh at a tall tale about agent cows, enjoy a spooky Irish ghost story, and bake delicious barmbrack bread!
This month's recurring features are as magical as ever. Join the buggies of Cricket Country for a visit to a magical haunted village, solve a dragon-filled crossword puzzle, read award-winning poetry from CRICKET readers, and learn about the mysterious stone circles standing around Great Britain! This issue of CRICKET is an embarrassment of riches fit for even the greediest dragon!
"Chocolatepalooza"
This October, many of us will be filling up our trick-or-treat baskets with chocolate goodies. But have you ever wondered where chocolate comes from? This month's issue of FACES is the perfect treat for chocoholics!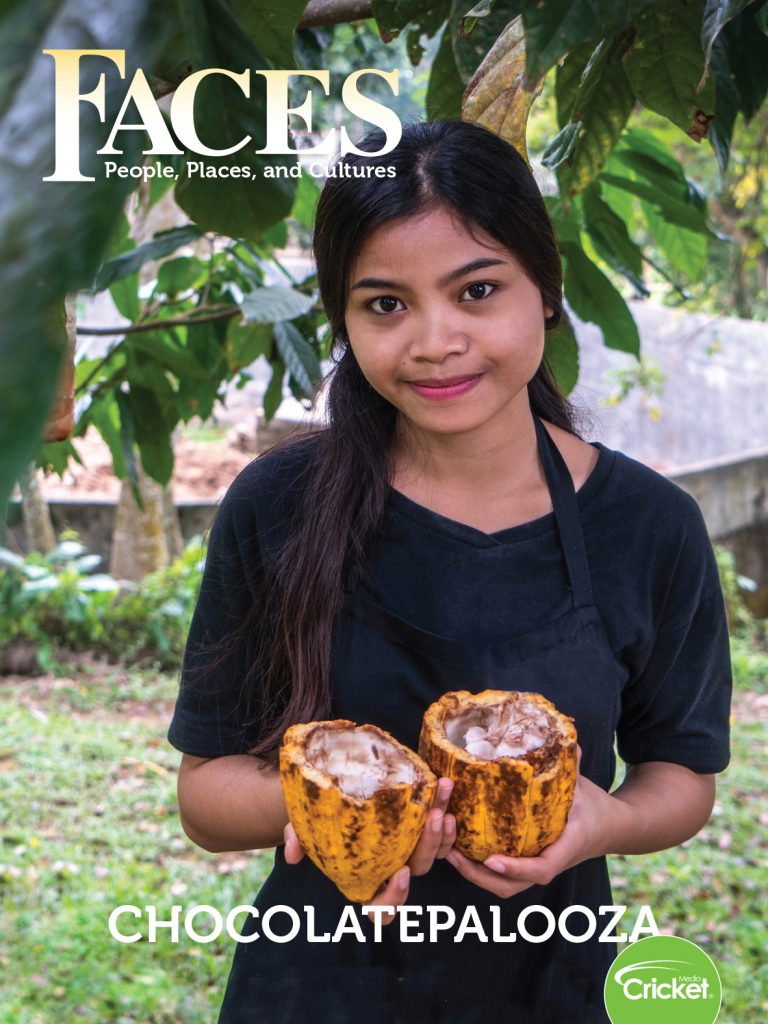 Start off with a short and sweet history of chocolate! Meet the Mayans, the world's first chocolate lovers and find out where in the world cacao beans are grown! Do you prefer dark, milk, or white chocolate? Learn the differences in how they're made, then check out iconic chocolate bars from around the world. Why is chocolate so popular among humans– even astronauts? Learn about the chemicals in chocolate that make us so happy.
This Halloween issue isn't without scares. For example, read about the relationship between chocolate and brain-eating bugs! And imagine one of the scariest nightmares of all– a world without chocolate due to climate change!
In the popular 'Dear Kylie' section, meet one of the top chocolatiers in North America and learn how to make delicious chocolate treats! This month's folktale follows the legend of the chocolate tree– a Mayan story about how humans came to enjoy chocolate. Want to get crafty with chocolate? Make chocolate silhouettes in 'Art Connection!' FACES Magazine has truly never been sweeter!