Where I live, the ground this time of year is a mosaic of gold, red, brown, burgundy, and orange. So many pretty fall colors, so many fun leaf shapes. I wish I could keep autumn forever.
Viola! My wish is my command!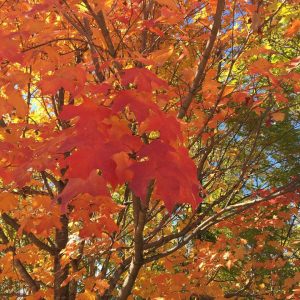 This was my favorite craft when I was a kid, and one of my favorite crafts to do with my kids now that I'm all grown up. It's easy to do and the result is awesome. And the best part is that it involves going outside with your kids and paying attention to the world around you. Bring a bucket, bag, or even a wagon and collect the prettiest, most vibrant fall leaves you find.
Pick the prettiest autumn leaves and press them in a heavy book for a few days.
Place the pressed leaf in between two pieces of wax paper.
Run a warm iron over the wax paper for a few seconds.
Once the paper is cool, trim the waxed paper around the shape of the leaf
Add a hole for string, and hang it in your window.
The colors of the leaves will stay nice and vibrant, and if you hang a few of them, when the sun comes through, it looks like fall leaf stained glass.
If you want to get even more crafty, you can add some crayon shavings around the leaf before you iron it to add a tie dye effect in the background of the leaf. Try a couple of different crayon colors that would look nice with the leaf.
As fall starts to come to an end and the bleakness of winter approaches, it's important to celebrate the beauty of nature anywhere you can find it.
[Editor's Note: Cricket family magazines such as LADYBUG and SPIDER frequently contain innovative and easily doable crafts related to holidays, seasons, and just because. Don't miss any of these amazing activities by subscribing to your favorite magazine today.]
Cricket Media Mama can't wait for this year to pass after a polarizing election period, abject social injustice, the passing of some amazing musical talents, and an abysmal fantasy football season. The collage of hanging fall leaves in her window reminds her to hold on to the beauty of the world when she can because it, too, passes.