This year's Olympic Games are almost over, and as we move toward the closing ceremony, it's a great time to reflect on some of the interesting moments in past Olympics. From the original Olympic Games in ancient Greece to the first 'modern Olympics' in 1896 to this year's games in Tokyo, there's so much fascinating history to explore!
The ancient Olympics were for men only
In the ancient Olympics, athletes competed completely nude (which seems especially frightening for events like the javelin throw!) and there were no women allowed. This includes the audience! Women could be put to death just for showing up– or even crossing the nearby Alpheios River!
There was one interesting exception, however. Ancient records tell of a woman named Kallipateira who was so proud of her athlete son that she disguised herself as a male trainer and went to watch him complete. In the excitement, she blew her cover and lost her disguise. Fortunately, her son was the champion, and she was also the sister and daughter of former Olympic champions, so she was allowed to leave the games alive out of respect to them. And you thought modern soccer moms were intense! Learn more about the Ancient Olympics in this fun article from ASK Magazine.
Ancient Olympians didn't win medals
Nowadays, we measure Olympic success in gold, silver, and bronze medals, but that wasn't always the way! In Ancient Greece, Olympic champions could look forward to crowns of olive leaves and the sheer glory of being a winner. Much like how modern athletes receive lucrative sponsorships and victory parades, however, champions often got even better rewards when they got home. Their proud hometowns often showered them with money, jars of olive oil, and free meals– sometimes even for life!
At the 2004 Summer Olympics, held in Athens, the hosts paid tribute to the ancient traditions by awarding each champion an olive leaf crown in addition to their medals! Apparently, this took some getting used to. Champion swimmer Michael Phelps wasn't sure what the proper etiquette for crown-wearing was, so just in case, he took his off and held it over his heart during the National Anthem, the way he would with a baseball cap. Romanian gymnast Nicoleta Daniela Sofronie was so tiny (standing at only 4 foot 9) that her crown turned into a leafy necklace!
The first modern Olympics featured only 9 sports
Today's Olympics feature 33 different sports, 208 countries, and over 11,000 athletes. Yes, you read that correctly. It's amazing to think how far the Olympics has come since 1896. Masterminded by French Baron Pierre de Coubertin, the first modern Olympics included 9 sports, 14 nations, and 241 athletes. These turn-of-the-century athletes got to compete in track and field events, cycling, fencing, gymnastics, shooting, swimming, tennis, weightlifting, and wrestling. Was your favorite sport on this original program?
Much like the ancient Olympics, no women competed in the 1896 games. The first female Olympians participated in 1900, though only in golf, sailing, croquet, and equestrian events. We didn't even know that croquet was ever an Olympic sport! This year's Olympics introduced several new sports: karate, surfing, climbing, and skateboarding! Baseball and softball have also returned to the games after 13 years without them.
The Olympics have been canceled before
"What year did the 2020 Olympics take place?" sounds like a trick question, but we're sure it'll be a staple of future sports trivia games. This may be the first time the Olympics was postponed, but it has been canceled at least three different times. There were no Olympics in 1916 due to World War I or 1940 and 1944 due to World War II. It's kind of hard to hold games signaling friendly international competition during a World War.
That doesn't mean that the years that the Olympics did occur have always been peaceful. Boycotts, protests, and even attacks have been part of many past Olympic games. South Africa was banned from competing in the Olympics from 1964 to 1992 due to their apartheid rule. When New Zealand's rugby team toured South Africa in 1976, many countries were outraged. Since the International Olympic Committee didn't ban New Zealand from participating in the 1976 Olympics in Montreal, 28 African countries boycotted the Olympics in protest. Over 60 nations, including the USA, boycotted the 1980 Olympics in Moscow after the Soviet Union invaded Afghanistan. In response, the Soviet Union and 12 other nations boycotted the next Olympics in LA. That leads us to possibly the most infamous Olympic games in history.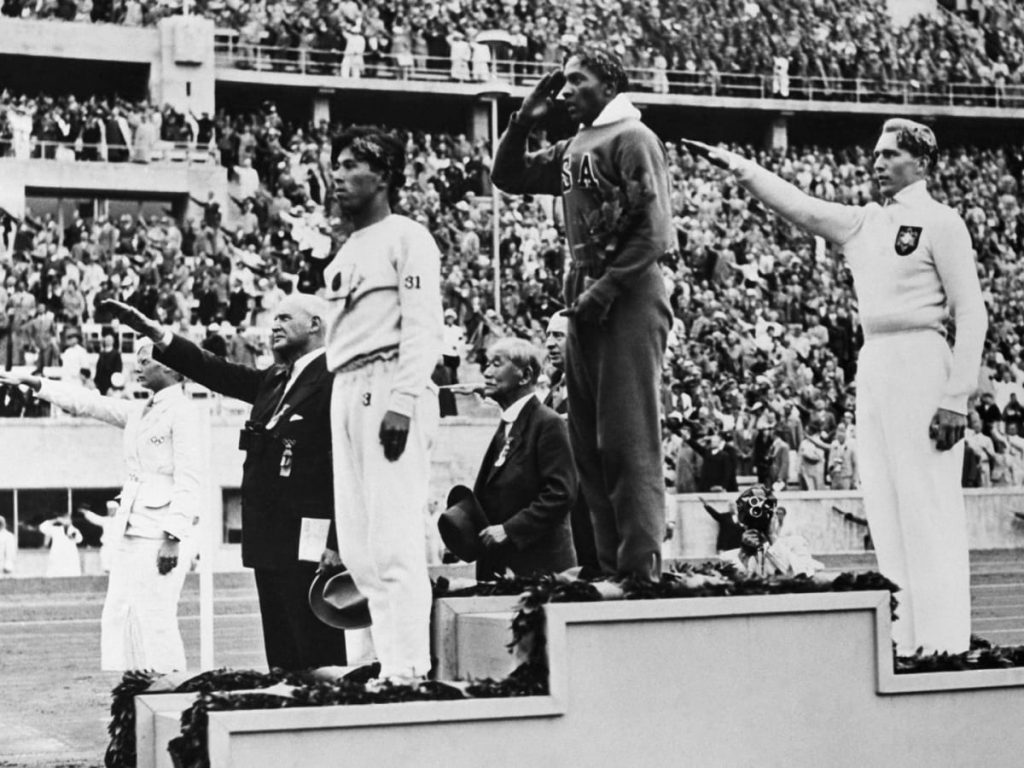 Nazi Germany hosted the Olympic games in 1936
Before World War II broke out, but after Adolf Hitler's rise to power, the 1936 Olympics were held in Berlin. For the Nazi regime, the Olympics was a chance to prove the supremacy of what they called the "Aryan race." They believed white, Germanic athletes were physically superior to everyone else. It's hard to believe that the USA participated in Olympics with swastikas hanging over the athletic arenas. In fact, many Americans did want to boycott the games, and several Jewish athletes chose to stay home.
While Germany won more medals than any other country, they utterly failed to validate their racist beliefs. The "Aryan" athletes lost to foreign competitors and athletes of color in quite a few events. Star American athlete Jesse Owens, a Black man, won an amazing four gold medals in running and long jump.
Although Owens was greeted with parades, gifts, and media coverage when he got home, not all of his treatment in his home country was fair. He had to take a freight elevator up to the reception honoring him at the Waldorf-Astoria Hotel in New York because, due to segregation policies, he wasn't even allowed in the front door. President Roosevelt didn't invite him to the White House or congratulate him, as is customary for star Olympic athletes. He finally made a long-overdue visit to the White House in 1976, when President Ford presented him with the Presidential Medal of Freedom.
Learn more about the 1936 Olympics in this article.
Athletes protesting racial injustice in 1968 were punished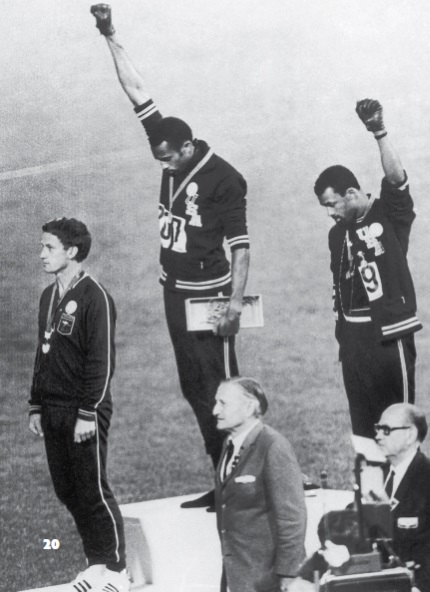 Jesse Owens was far from the only African-American Olympian to receive unfair treatment. After the 200 meter race at the 1968 Olympics, gold medalist Tommie Smith and bronze medalist John Carlos raised gloved fists in a 'Black Power' gesture as the National Anthem played. Smith and Carlos belonged to an organization called the Olympic Project for Human Rights, which protested against racial segregation and injustice. Both wore badges from OPHR on the podium, as did silver medalist Peter Norman, a white Australian athlete.
The IOC punished the athletes for their "political" gesture, expelling Smith and Carlos from the Games and banning them from the Olympic village. After the Olympics, both men endured harsh criticism in the press and even death threats sent to their homes. Even Peter Norman was not allowed to take part in future Olympic games or official Australian Olympic celebrations. Smith and Carlos both served as pallbearers in Norman's funeral.
Kids can win Olympic medals
While some Olympic sports impose age limits, quite a few kids have taken home Olympic medals! Possibly the most famous kid champion was 14-year-old Nadia Comăneci, the first Olympic gymnast to score a perfect 10! She won 9 Olympic medals in her impressive career. The youngest gold medalist was 13-year-old diver Marjorie Gestring, who represented the USA in the 1936 Olympics. The only athlete to rival her in age was Momiji Nishiya, who won the street skateboarding competition in this year's Tokyo Olympics. While both athletes were 13, Momiji was older by a mere two months.
Even younger kids have won silver and bronze medals. The silver medalist in this year's street skateboarding competition, Kokona Hiraki, was only 12 years old, while the bronze medalist, Sky Brown of the UK, was barely 13. The youngest known Olympian to ever win a medal competed in the first Olympics in 1896. Bronze medalist gymnast Dimitrios Loundras was only 10 years old! Nowadays, Olympic gymnasts must be at least 16, though a few athletes have cheated and pretended to be older. There's also one mystery kid champion who might be younger than all of them. The gold medal winning Dutch rowing team recruited a local boy to serve as a last-minute replacement coxswain in the 1900 Olympics. Nobody knows his name or age, but he sure did look young! Do your kids have Olympic dreams? They might not be as far away as you think!