by Cheryl Clark, Vice President, Programs, Reading Is Fundamental (RIF)
Summer is a time to kick back, relax and enjoy warm lazy days away from school. For many children, summer is also an idle time when they forget many of the skills they learned the previous school year. This learning loss is called the summer learning slide and it can impact a child's academic success and ability to achieve later in life. In fact, as many as 80 percent of children from economically-disadvantaged communities can lose up to three months of learning over a single summer. Once a child falls behind, they rarely catch up.
Summer is an excellent time to dive into a new reading routine to beat the summer slide. Whether your child is a reluctant reader or already a bookworm, the months away from the classroom could be a perfect time to encourage their curiosity on new topics and build their literacy skills!
Here are a few tips to make the most of summer break and keep your child ahead in reading.
Let your child read books on topics that are interesting and relevant to them – visit the local library and check out books that make your child happy and eager to read. RIF has a host of booklists available for children of all ages.
Read a little every day – whether it's a cereal box, newspaper or favorite magazine, make sure your child reads at least 20 minutes a day.
Set a good example – the more your child sees you reading, the more value and importance books will be given.
Share stories together – from reading favorite books aloud together to putting on a puppet show, make up stories that are fun and engaging.
Go on an adventure – take a stroll around your neighborhood and explore the outdoors. Or let them help map the best route to a friend's house or a new way to get to the grocery store. Be sure to celebrate reading since you could literally be lost without it!
Play games with words – Playing and having fun can introduce your child to new words. Check out these family-friendly word games and activities from RIF.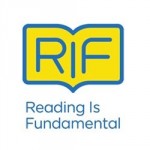 Reading is Fundamental has resources that can help get your kids off the couch and into a creative mindset. Wherever your family is spending this summer there is the opportunity to prevent summer learning loss and creating lasting memories. Have a happy, safe and story-perfect summer!