I'm asked that question a lot. Where do poems come from? Where do you get your ideas? It's like one of those questions we hear from our children, "Where do babies come from?" A wise parent will offer an explanation based upon what they think is appropriate for the age and level of understanding of their child. If the child is still a toddler, we often offer up a warm smile and say something loving and vague about love and heaven and a twinkle in the eye. When the child is a little older, we might begin with a little introduction to the basics of reproduction. In either case, we sometimes feel as though we've fallen short of sharing the truth, the whole truth and nothing but the truth about the wonderfully intricate details of creation.
Answering the question of "Where do poems come from" is a lot like that. I'm often tempted to answer with a tongue-in-cheek smile, "Oh, I have a little black book with a list of all the ideas in it. When I need new ideas and inspiration all I have to do is open that magical little book, pick out an idea, and start writing."
After my school assembly programs, I like to allow time for students and teachers to ask questions. Recently a student asked that question, "Where do you get your ideas?" Without thinking, I said, "Everywhere!" I went on to explain how I'm often inspired by "little things, quiet moments, by nature, children, pets, animals, family, friends, and from the real and imagined visions I see along my daily walks." I'm not sure that was enough, but that's all I had for her in that fleeting moment.
Later, during a little after school workshop with teachers, one of them mentioned how much she liked my answer. Another teacher who is also a writer asked me to elaborate. I was caught off guard for a second, then I thought perhaps the best answer would be to simply share an example of how I got an idea and how I developed it into a poem. I picked one of my most memorable moments of inspiration. It was a poem that was born right after my son was born.
When my son was born, my wife and I purchased one of those wonderful gadgets that allows parents to listen in on their sleeping babies. I remember waking up in the middle of the night and listening to my son's babbling coming in over our new nursery monitor. I listened for a while, then drifted back off to sleep. In the morning over coffee, I thought about that sweet midnight serenade and how it sounded as though my son was speaking in two different voices, like characters in a dream play. The possibility of his having already discovered the joy of storytelling occurred to me. At what age does imagination begin? Are we ever able to fully comprehend our own inherent powers of creation?
My son's babbles sparked those questions — and this poem.

For My Son Who Talks In His Sleep
The babble of babies rises again in your room
and I wonder what new friends
you are making tonight.
Not yet two, you have learned the joy of dreaming,
the endless gift, my son, of making
the make-believe come true.
Before you were born
a fortune teller told your mother
we would have an author for a son.
And I want you to know
how much I love hearing
this story you are telling tonight.
Exquisite lamb,
you lie awake in dreams
conversing with the other angels.
Your waking world
will never count you in
as just another sheep.
Creation is yours for the making.
Poems come from everywhere. All we have to do look — and listen. —Charles Ghigna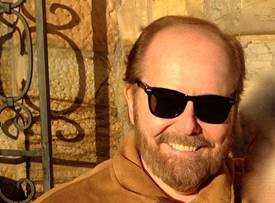 Charles Ghigna – Father Goose® lives in a treehouse in the middle of Alabama. He served as poet-in-residence and chair of creative writing at the Alabama School of Fine Arts, and as a nationally syndicated feature writer for Tribune Media Services. He is the author of more than 100 award-winning books for children and adults from Random House, Disney, Hyperion, Scholastic, Simon & Schuster, Time Inc., Abrams, Charlesbridge, Capstone, Orca and other publishers. His poems appear in hundreds of magazines from The New Yorker and Harper's to Cricket and Highlights. For more information, please visit his website at FatherGoose.com