Families come in many shapes and sizes. For our Cricket family, it's always been important to depict all sorts of kids and families in our magazines. For some kids, it's valuable to see characters just like them or their friends on the page. For others, it's just as important to learn that everyone is different and that other families may not look exactly like theirs!
Our first art director, Trina Schart Hyman, was well-known for being one of the first white American illustrators to incorporate diverse characters into her illustrations. Thumbing through our magazines, you'll find stories about kids of many different ethnic backgrounds and religions and cultures, kids with two parents or divorced parents or one parent, kids who were raised by guardians or grandparents or even robots! What they all share is the sense of childlike joy and wonder about the world around them that the youngest readers can relate to. That's why, in honor of Pride Month, we're sharing three of our stories that portray another kind of family: ones with two moms or two dads!
"The Very, Very, Very Long Hike"
Edun is less than excited about going on a long hike in the mountains with her family. She's downright disgruntled about camping in a tiny cabin without running water or electricity. See how her parents, Mama Sara and Mama Jade, and her little brother help her learn to embrace the great outdoors!
This story was written for SPIDER Magazine by Debbie Urbanski, the author of many beloved stories in SPIDER and CICADA magazine, with adorable illustrations by Dave Szalay. You can read and download "The Very, Very, Very Long Hike" here!
"Pumpkin Planting"
"Pumpkin Planting," from April's LADYBUG Magazine, is a story for younger readers ages 3-6. It follows an enthusiastic toddler named Emmy who is incredibly excited to plant a crop of tiny pumpkins with her Mom and Mama. Emmy learns to be patient and compromise while planning her garden with her parents. This simple story may also be preschoolers' first introduction to how fruits and vegetables are grown!
This is author Krista Curran's first piece for one of our magazines, but you may recognize Sally Springer's artwork from her many illustrations in LADYBUG, SPIDER, and BABYBUG over the years! Read and download "Pumpkin Planting" here.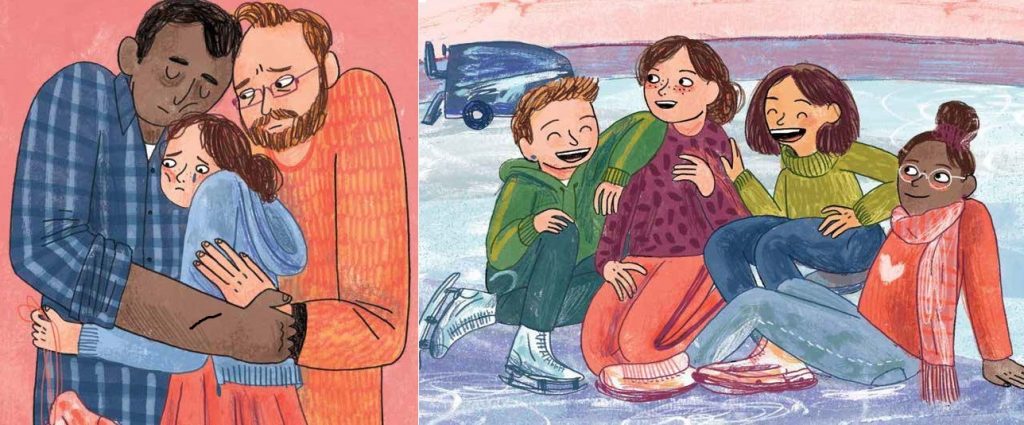 "The Human Zamboni"
This sweet story from CRICKET Magazine is a great read for any young perfectionists out there. Harper has always dreamed of being an Olympic skater, but when she keeps falling on the ice, she decides it's time to hang up her skates for good. It takes some encouragement from her dads to convince her to return to the ice– not for her Olympic dreams, but because there's nothing in the world that she loves more than skating. Sometimes, parents can be pretty smart, even when kids don't want to admit it. "The Human Zamboni" was written by Jennifer Sneed with art by Noa Kelner. Read and download it here!
Just like us!
Our director of editorial, Jim O'Connor, says of these stories, "Each child, and each child's family, is a part of the world and shares in the experiences all families share. We don't advocate for a particular identity or family structure—we want kids to see that families of all configurations can be safe and nurturing, both their own and others."
Do your kids have a favorite story that reminds them of their own family? What about their friends' families? It can make for a fun and often surprising topic of conversation! For example, they might focus on the fact that the family in the story owns a cat or also likes to eat pizza on Fridays!