Mentoring is big. In fact, it's proven to help set kids on the pathway to academic success—and gives mentors a sense of fulfillment in their work. Sounds like a win-win for everyone, doesn't it? So why isn't everyone doing it? The truth is that for many, mentoring is easier said than done. How many times have you heard a coworker or friend say, "I'd love to volunteer more often, but who has the time?" Or heard a teacher say, "Tutoring would really help my students, but getting them to stay after school is a struggle."
That's why eMentoring is so valuable to students, teachers, mentors, and companies alike. It combines the benefits of one-on-one mentoring with the convenience of online communication, opening up mentoring to many more participants. So why exactly does eMentoring matter, and how can you get involved? Read on!
Mentoring helps everyone
Mentoring students has been shown to improve performance in many ways, whether for students, mentors, or the host organization. Fifth grade teacher Luci Unferth says, "Young people with mentors have better attitudes about school, enhanced self-esteem, improved relationships, and are less likely to drop out of school." The results are proven:
Advantages to students:
Access to advice, encouragement, and positive feedback
Assistance solving problems from a trusted and experienced adult
Enhanced self-confidence and improved behavior
Better school attendance and increased graduation rates
Strengthened relationships with peers, family, and teachers
Advantages to mentors:
Opportunity to share knowledge and experience
Reinforces knowledge of subjects and practices skills
Boosts skills in communication, leadership, and listening
Provides sense of satisfaction in work through 'giving back.'
Advantages to host company:
Revitalizes sense of community
Encourages participation and commitment
Improves performance and morale across the organization
Facilitates better communication within the company
eMentoring breaks down barriers
With all of these known benefits, why doesn't every student have access to a mentor? The problem is, how will mentors reach those in need of mentoring? Unfortunately, potential mentors rarely live in the same neighborhoods as the students who need mentoring the most. Many of these students come from areas in which 80% to 100% of public school students come from low-income families.
Secondly, there's the matter of scheduling. When will these sessions take place? School hours and business hours tend to overlap. Busy employees with families of their own are not likely to visit schools before or after work, and leaving in the middle of the day is even less feasible. Simply put, there is a large group of people who need mentoring, a smaller group of people willing to mentor, and an even smaller overlap when cost, travel, time, coordination, and safety concerns are factored in.
However, eMentoring removes those barriers. Unlike traditional mentoring, communication takes place on a safe and secure virtual platform. Students can communicate with their mentors during class time, while mentors can respond in their own free time without leaving their desks. This new format gets rid of many of the challenges of traditional mentoring and dramatically increases the number of people who are willing and able to mentor. As a result, eMentoring allows students and mentors to share valuable knowledge despite distance, place, and time barriers.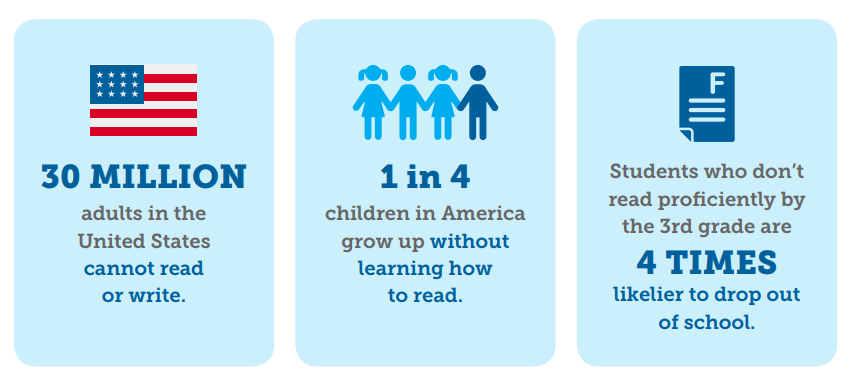 Literacy is the key to success
According to the National Commission on Adult Literacy, the USA is facing a "literacy crisis." Literacy is essential for improved employment or economic opportunities. Adults without strong literacy skills also experience fewer social opportunities and often feel anxious, lonely, and isolated. Literacy connects us to one another.
Sadly, once a student falls behind her classmates in reading and writing, it's difficult to catch up. Countless students across America read below grade level, and these students are far more likely to drop out of school. Statistics show that up to two thirds of students who are unable to read proficiently before 5th grade eventually end up on welfare or in jail. This problem is often passed down through generations. Children whose parents have low literacy levels or who don't have access to books face a serious disadvantage in the classroom. To break this cycle, students need access to caring mentors.
CricketTogether is a proven eMentoring platform designed to excite kids, empower teachers, and enable employee participation. Combining a safe and secure online environment and award-winning Cricket Media content, CricketTogether is easy to administrate and use. How does it work? First, teachers select a unit for the class to study– each designed to cover topics found in elementary curriculum. Next, each student picks a focus article within that unit. Students and eMentors read the articles separately and the class discusses the topic together. Then, eMentors and students exchange online letters about the articles in 1:1 pairs. Students will thrive on the individual attention and chance to use their critical thinking skills.
Mentoring closes the STEM gap
STEM is the future. Looking forward, experts estimate that 80% of professions will requite some form of STEM expertise. As this demand grows, however, more students will be left behind, particularly girls and minorities. Although women comprise half of the workforce, they only hold a quarter of STEM positions. Only 13% of employees in STEM fields identify as Hispanic or African-American. It's more crucial than ever to encourage elementary students to embrace science, technology, engineering and math before they lose interest.
Teachers and mentors must act quickly to reach students. About a third of students will have lost interest in math and science by 4th grade. Skip forward a few years to 8th grade and that figure grows to 50%. Students, especially minorities and girls, don't believe that they're good at STEM or that it is relevant to their futures. That's where mentoring comes in to provide role models and examples of STEM careers.
TryEngineering Together is a STEM eMentoring program designed by Cricket Media and IEEE to put students on the path to STEM careers. Although the model for TryEngineering Together is similar to CricketTogether– units, focus articles, online pen pals– it focuses on engineering. While some students think engineering careers are only for geniuses, the truth is that anyone can try engineering. This program helps kids increase their understanding of STEM concepts and skills with articles and interactive activities. It also improves literacy skills through reading and writing virtual letters to their mentors. Through building awareness of STEM careers, students will learn to realize their full potential.
How to get involved
If you'd like to learn more about eMentoring with CricketTogether or TryEngineering Together, visit our website to discover how you can get involved! Or, download a free ebook about either CricketTogether or TryEngineering Together to dig even deeper. Whether you're a teacher, a potential mentor, or just want to bring eMentoring to your company, you can help make a difference in students' lives!