Have you ever wondered about the people behind your favorite Cricket Media magazines? These talented editors and designers work hard to make sure each page of their publication delivers "the best of the best" for their audience each month. We decided to ask some of these busy folks a few questions to try to get a sense of how they shape their magazine issues.
Today, meet Meg Chorlian, the editor of Cobblestone, our children's magazine for kids ages 9-14, focused on bringing history to life.
Q-How Long Have You Been With Cricket Media?
A-I started as editor of COBBLESTONE at Cobblestone Publishing in 1994.
Q- Who is your favorite Cricket family character?
A-The squirrels from COBBLESTONE. I like their sense of humor – it's good-humored sarcasm.
Q-If you were an animated character, who would you be and why?
A-I've always liked Bugs Bunny. I admire his sense of fun and how, under pressure, he remains calm, cool, and collected.
Q-Describe your desk / office space.
A-Well-lit, clean, and organized.
Q-What's your favorite children's book?
A-The Giving Tree by Shel Silverstein. It was the first book I read on my own. I still have the original copy my parents gave me, which I have used to encourage my own children to read. My favorite middle-reader book is The Phantom Tollbooth by Norton Juster. I read a lot as a kid, but that book is unlike any other book I read, and the story and its characters made a big impression on me.
Q-Who has inspired you in your life and why?
A-My parents. They emphasized the importance of education, having a strong moral compass, and finding a healthy balance between working and enjoying life. They also instilled in me a love of reading (truly a gift that keeps on giving).
Q-What job did you think you'd have when you were 10 years old?
A-I thought I'd be a lawyer!
Q-Chocolate or vanilla? Dogs or cats? Spring or fall? 
A-Vanilla-it goes with everything/Cats-their combination of independence and neediness intrigues me/Fall-I live in New England!
Q-If you could have dinner with any person living or dead, who would you pick and why?
A-Eleanor Roosevelt. She is an example of a woman of strength, who overcame some devastating personal events. And although she was born into privilege, she showed enormous empathy with Americans' suffering during the Great Depression. And she combined her empathy with intelligence. If she saw a problem, she looked for and found ways to solve it. I'm also curious about Eleanor of Aquitaine. To know as much as we do today about a 12th-century woman indicates to me that she must have been a truly remarkable individual.
Q-What's Your Favorite Story/Article that You've edited / published?
A-There are too many, but two of my favorite issues are: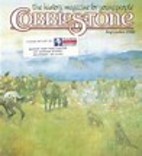 Lewis and Clark and the Corps of Discovery—There are many times when I think I know the subject of an issue, and I felt pretty comfortable when we chose to devote an issue to the Corps' journey, but then I started working on it and I was filled with admiration for the entire expedition, from the two captains who led it, to the brave men who signed on to participate in such an unknown adventure, to Sacajawea who proved to be invaluable to the success of the expedition. It is story that combines adventure, diplomacy, ingenuity, natural curiosity, bravery, and luck. We know how it turned out, but for Americans living in 1804, sending a group to discover what existed on the frontier was probably like sending astronauts to explore space today – they just weren't sure what was out there. I also found a Web site that offered transcriptions of the journals from several of the men on the expedition. It was fascinating to read their firsthand accounts, and we ended up devoting several pages in the issue to journal excerpts. I loved getting to know the details of this remarkable expedition.
D-Day—I worked with two great consulting editors on this issue, and they helped shape the content for it. Even now, when I look back through it, I am impressed with the variety of interesting information we managed to pack into this issue: an overview about World War II, an article about the action on D-Day and a map of the landing at the Normandy beaches, a description of the Atlantic Wall built by the Germans, an article about how the Allies tried to keep the landing a secret, the sidebar on the different code names used, an article on spies, an article about how paratroopers and gliders were used to land soldiers behind enemy lines, two articles about engineering marvels that emerged as a result of trying to problem-solve for the D-Day landing, short bios of the leaders involved in D-Day scattered throughout the issue, and an interview with Buck Compton, who shared his experiences as one of the paratroopers in "Easy" Company. Easy Company's story had become famous through a book by historian Stephen Ambrose that later became a HBO television series – Band of Brothers. One of the consulting editors, at the Dwight D. Eisenhower Presidential Library and Museum, introduced me (via phone) to Mr. Compton. I love including interviews in issues – I believe they bring the history to life.
Q- How do you choose the theme for each issue?
A-We look at recommended national standards and state curricula. We have a master list of potential themes that we refer to and add to as ideas present themselves. We constantly review that list, which is loosely arranged in chronological order and by subjects that our readership (ages 9-14 years old) are encouraged or expected to know, consult our advisor board members, try to anticipate major anniversaries of historic events or people, and then select a combination of nine issues for the year that we think would make interesting in-depth subjects for COBBLESTONE's readers.
Q-What advice do you have for young writers/artists?
A-For writers, read a lot and different styles of material. Keep a journal and an idea book, too. Just write as much as you can. Sometimes when I get stuck on an editor's note or short sidebar, I make myself just type ideas on a blank document. I don't try to write the whole piece from start to finish. I write as many important points or key phrases that I can think of, then I take a break and do something else, like photo research or organize an issue. Or if I am running against a deadline, I may go for a walk to clear my head and let my subconscious work on it. Then I come back to the draft I was stuck on. I give it fresh, critical eyes. Writing can be lonely, hard work, but when you get it right, it's so rewarding!
Q-Did you grow up with any of the Cricket family magazines? If so, what's your favorite Cricket memory?
We had a subscription to Cricket. I liked to read fairy tales and fiction when I was a kid, so Cricket was perfect for me. I also liked the bug dialogue along the bottom of the pages.
Thanks, Meg, for taking the time to speak with us today. To see the results of Meg's hard work each month, be sure to subscribe to Cobblestone.
Look for more interviews with the people who create the Cricket Media magazines in the coming months.