Some of us here at Cricket Media have been a little distracted for the past few days. That's because we have discovered the Eagle Cam, a bird's eye view (sorry, couldn't resist) of the nest of a pair of mated American Bald Eagles nestled high in a Tulip Poplar on the grounds of the American Arboretum in Washington, DC. The two eagles, which have been dubbed "Mr. President" and "The First Lady" are the first pair to nest in this location in nearly 70 years.
The two eagles have been very busy caring for the two eggs in their nest, the first of which has already hatched. The second is expected to hatch within a few days. I have to warn you that turning on the eagle cam is very addicting. You'll likely have a hard time tearing yourself away from the sight of the two birds feeding, sheltering, and tending to their little one. And while you watch, you and your children are bound to have a few questions about eagle behavior. Luckily the website hosts regular chats where anyone watching can pose questions of the experts.
Also, luckily, Cricket Magazine published a story called "Eagle's Trial," which takes you inside the life of an eagle by telling the story from the eagle's point of view. It's a perfect example of how Cricket uses the power of fiction to expose readers to subjects that are traditionally taught using non-fiction articles.
Download "Eagle's Trial" to read the story in its entirety.
About the American Bald Eagle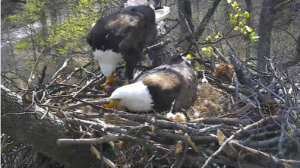 Before I close, here's a bit of information about the American Bald Eagle. Did you know that this majestic bird was once on the endangered species list? Scientists estimate that in Colonial days, as many as 500,000 eagles lived in what would become the United States. That number dropped to fewer than 500 pairs of nesting eagles by the 1960s. Today, however, thanks to conservation efforts and the outlawing of harmful pesticides — such as DDT in 1972 — the bald eagle is making a comeback. With more than 7,000 nesting pairs across the United States, the bald eagle was removed from the list of "threatened" species in June 2007. But how crazy is that? Our national bird — our most recognized symbol of freedom and strength — was almost driven to extinction!
Happy watching! It will be amazing to see these little eaglets grow first hand on a day-by-day basis until they are ready to start nests of their own.
Just in! Another pair of baby bald eagles are about to hatch in DC
Images courtesy of © 2016 American Eagle Foundation, EAGLES.ORG.