October is one of the most magical times of year, with all kinds of spooky surprises, sweet treats, and beautiful fall foliage! We can't wait to share our October magazine issues with you, especially with our brand-new logos! Although our logos have changed, you can expect the same high-quality content for children of all ages! Get ready for plenty of pumpkins, owls, ghosts, witches, and things that go bump in the night!

"Fall Colors"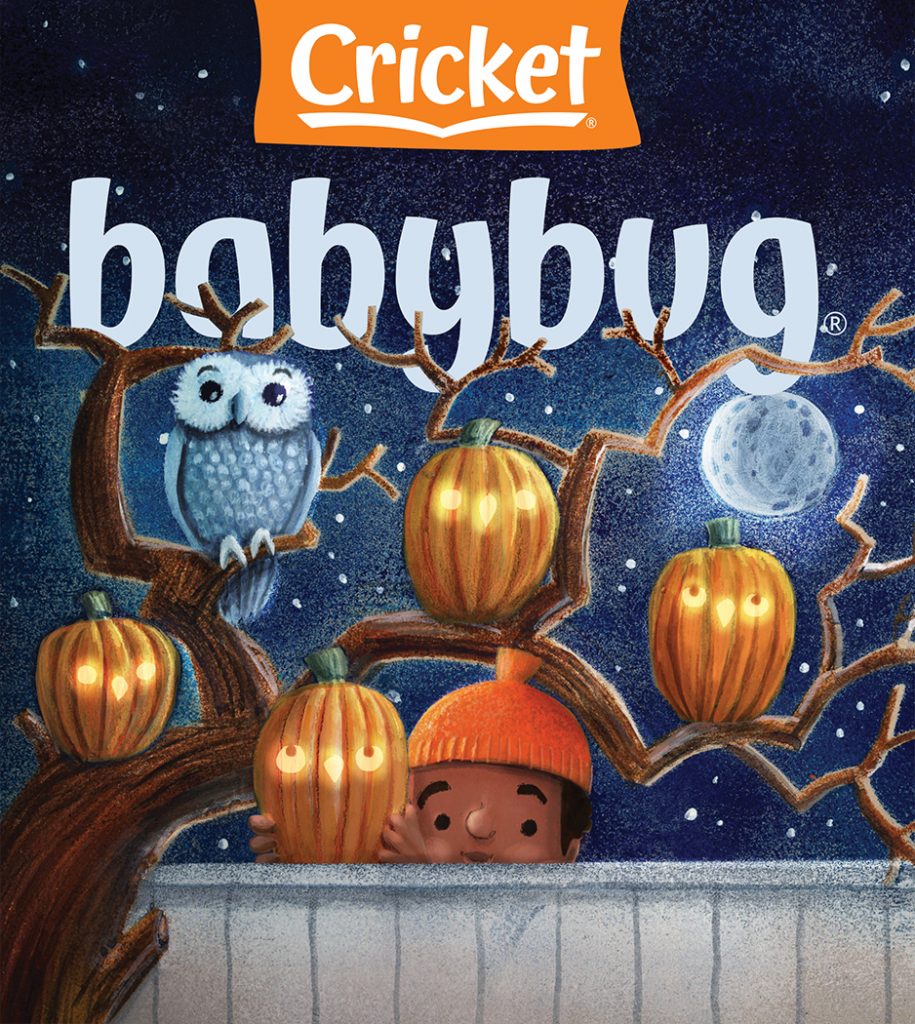 Cover art by Luciana Navarro Powell
Fall is a delightful time of year for the youngest children, and this issue of BABYBUG perfectly captures all of the excitement of the season! Watch animals as they get ready to sleep– or start to wake up! Enjoy colorful fall leaves, look for the color orange in nature, surprise a loved one, and join Little Hippo as he discovers stars floating in the river!
In this installment of Clara Vulliamy's popular "Kim and Carrots" stories, Kim and Carrots take a visit to the pumpkin patch to pick out the perfect pumpkin!
The 'guide for caregivers' at the back of the magazine is full of tips and tricks to bring the content from this issue to life for small children. This month, it's all about helping toddlers learn to identify and match colors during this colorful fall season!

"Good Night"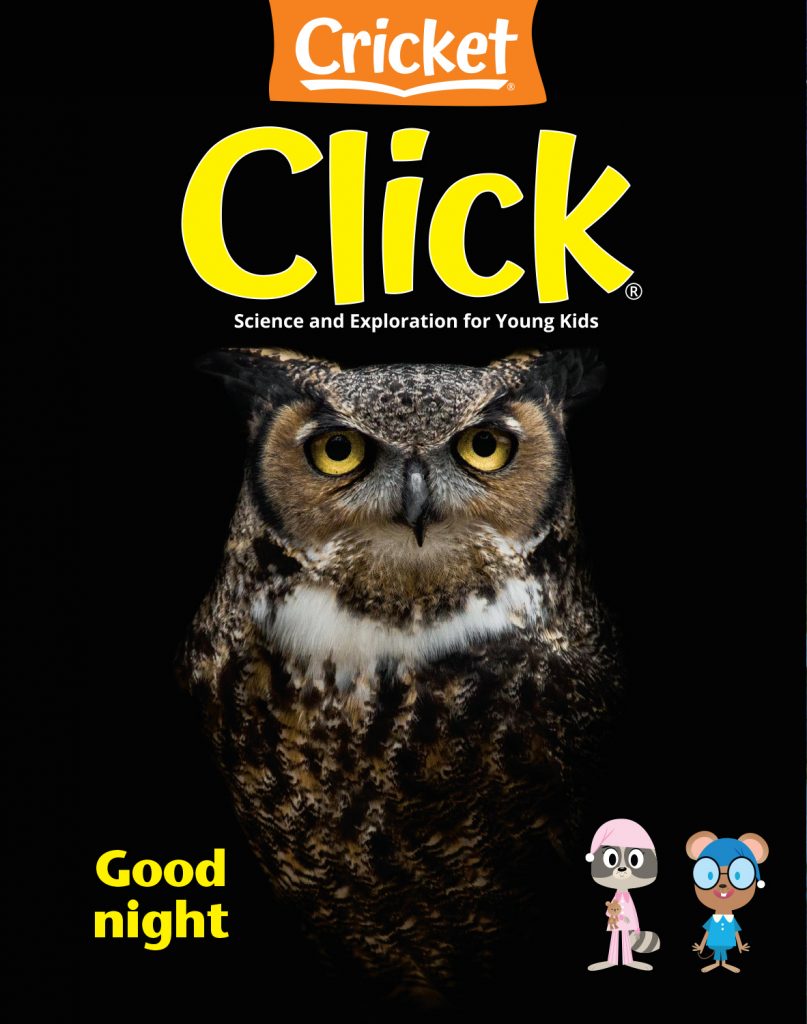 CLICK-or-treat! This issue of CLICK is all about nighttime– what happens while we're sleeping, and what kinds of creatures stay awake!
Meet the workers who do their jobs when the rest of the city has gone to bed, from grocers stocking shelves at the store to airport staff making sure planes land safely. What do you see when you look at the stars? Learn all about the different constellations in our night sky and how they came to be named. Get up close and personal with some of the over 200 species of owls, explore the phases, of the moon, and find out why sleep is so crucial for our bodies!
In the story "Dozens of Cousins, Trillions of Stars" by Charnan Simon, Katelyn and her large family prepare for their annual stargazing party!
In this issue's regular departments, Click and Jane deal with a power outage and Beatrice Black Bear takes photos of forest animals at night. Plus, make your own adorable owl friend in the takeout pages! This nighttime issue of CLICK is a dream come true!

"Imagine Autumn"
Cover art by Renata Gallio
This colorful issue of LADYBUG is like a miniature fall festival! Meet a costume-loving squirrel, build an indoor treehouse, or pick out a new pet! Follow a seed as it grows into a tree, make your very own friendly owl decoration, join a black cat for a stroll around the neighborhood, and pick your favorite pumpkin!
With only two hours to spare before Alligator's Halloween party, how will Cat and Mouse make the perfect costumes? Find out in Maggie Murphy's story, "The Halloween Costume Countdown," with art by Leslie Tryon.
In this issue's regular features, enjoy an autumn nature walk in this month's "Max and Kate" story; visit a squirrel cafe with Ladybug, Muddle, and Thud; and carve jack-o-lanterns with Molly and Emmett! Readers can even make their own autumn treasure boxes with the take-out pages! Packed with seasonal plants and adventurous animals, you are sure to fall in love with this fall issue!

"What is Alchemy?"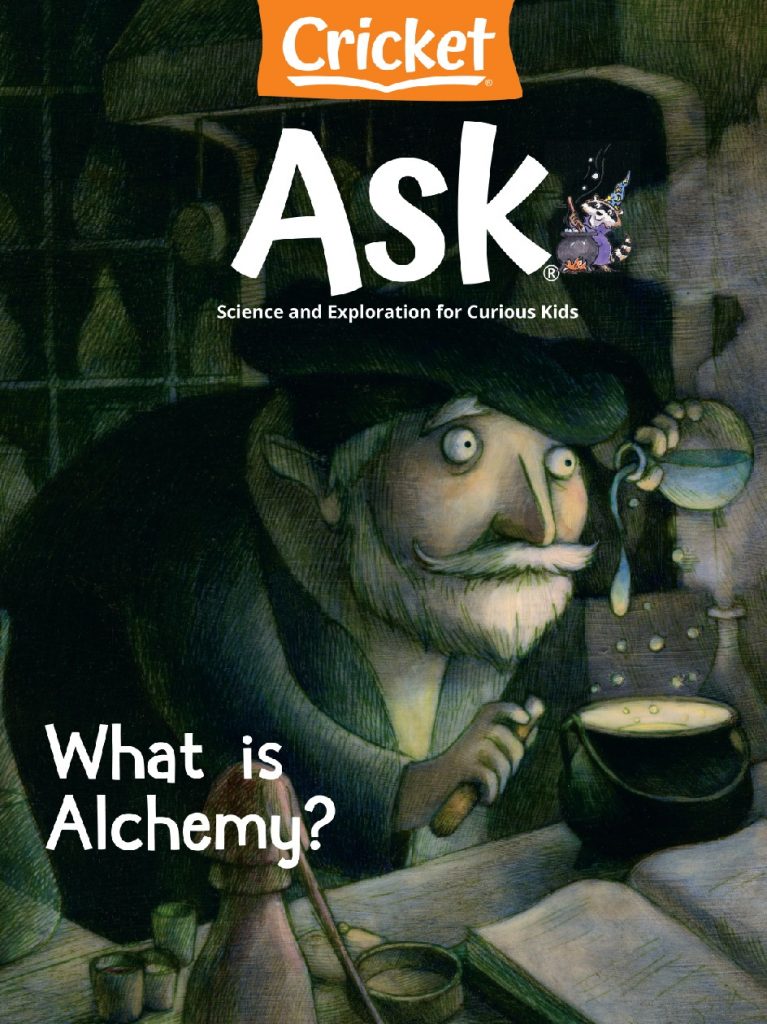 Cover art by Kelly Murphy
During the Renaissance, innovators made all kinds of new advances in literature, art, philosophy, and science… but they were also fascinated by alchemy. Why did generations of brilliant minds seek to transform baser metals, and where did this practice come from? Find out in this issue of ASK!
Meet infamous alchemists throughout history and find out how modern scientists replicated their experiments. Then, find out what everything really IS made up of (hint: it's not earth, fire, water, and air). Follow the adventures of an alchemist's apprentice as he learns to make gold and discover the tricks that alchemists used to make it look like they'd struck gold! Learn the secret of fireworks,
Don't skip this month's departments in your rush to discover the secrets of gold! Find out how snakes make friends in Nosy News, learn why llamas spit in "Ask ASK," and learn a weird calculator trick in "Mighty Math." Plus, Join Nestor and friends as they dabble with an old book of alchemy in "Nestor's Dock," and see how Nestor turns broccoli into chocolate in "Marvin and Friends!"

"Tricks and Treats"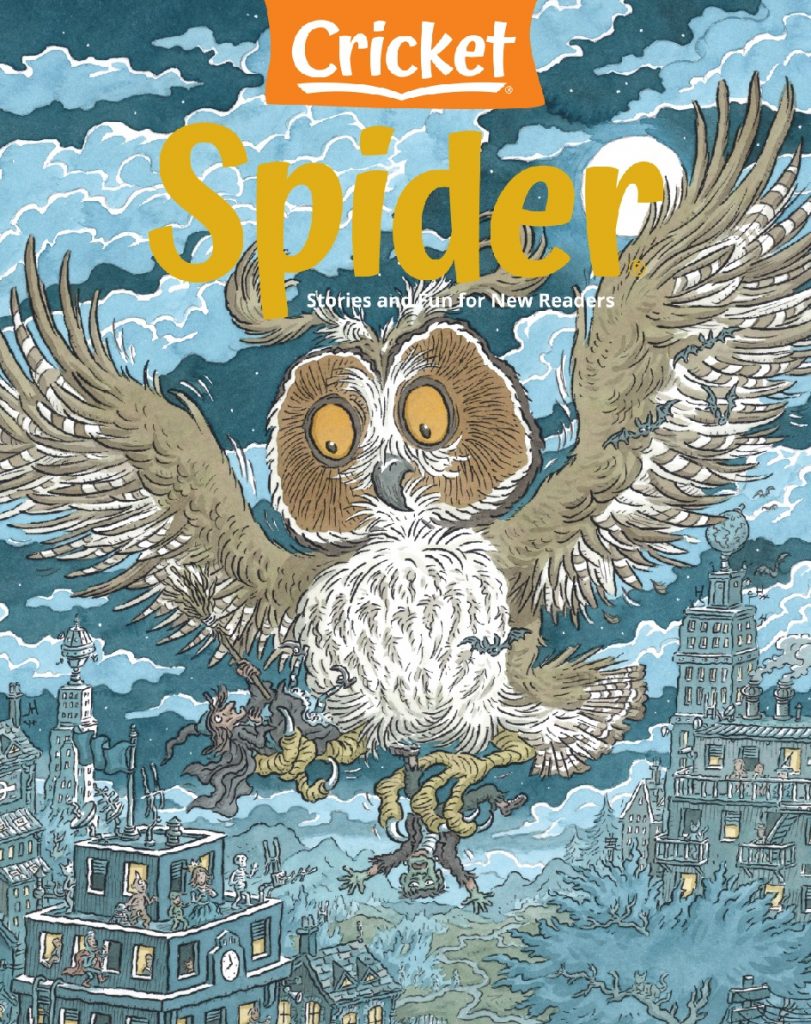 Cover art by Dom Mansell
This whimsical issue of SPIDER is fully of slightly spooky fall fun that's sure to capture readers' imaginations!
Hear a scary story told by Halloween treats about the 'monsters' that eat them, get to know an artist who creates giant troll sculptures out of trash, and solve the mystery of the "goblin" in the synagogue!
Travel back in time to Ancient Greece and hear the legend of Theseus and the Minotaur, then learn an ancient Greek cipher. You can even eat and drink like the Greek gods with recipes for nectar and ambrosia!
In this month's "Doodlebug and Dandelion" story, the kids are in for a shock when their school unveils a hall of past principals! Enjoy special cakes created by readers in Spider's Corner, make your own tiny trash troll in "Ophelia's Last Word," and create a spooky game of dominos! In this issue of SPIDER, even the tricks are more like treats!


"The Science of Reading"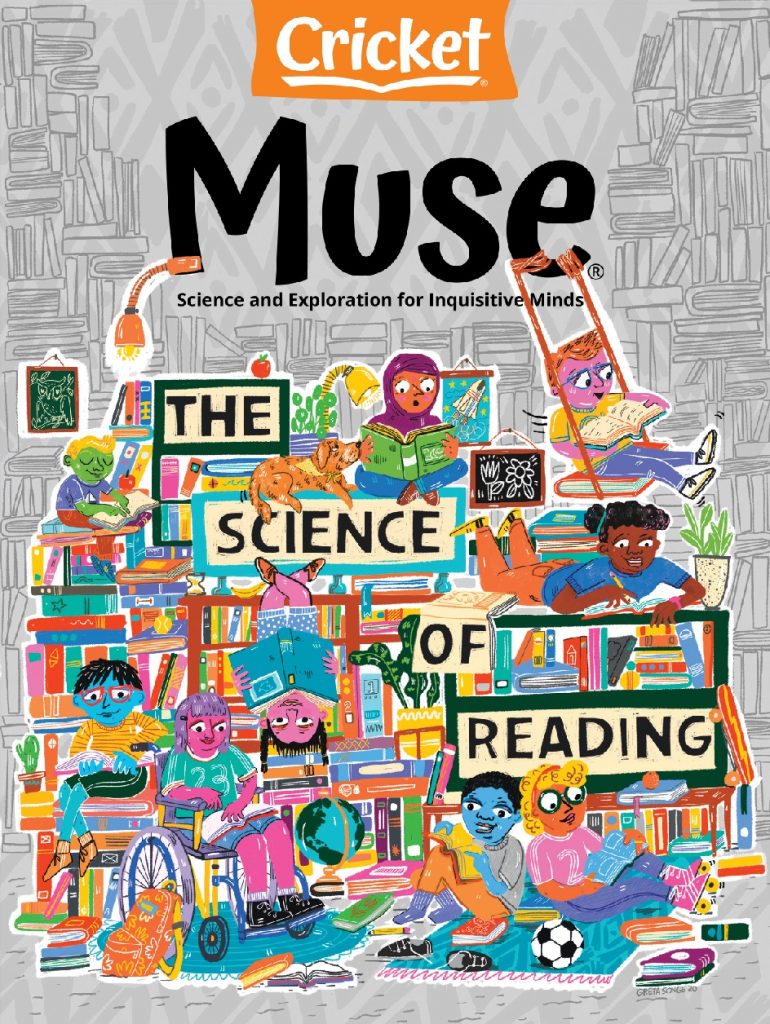 Cover art by Greta Songe
We read every day– we're even reading right now– but what actually happens inside our brains when we read? This issue of MUSE explores the science of reading!
Find out how the earliest readers learn to follow and make sense of stories, and explore how picture books help us learn to understand and recognize feelings. See whether dogs really are a reader's best friend and meet a reading researcher! Make a visit to extraordinary libraries around the world, from a lunar library to libraries on legs… and even a tank carrying hundreds of books! Explore what happens inside the reading mind, demystify dyslexia, and learn what jokes can teach us about how our brains work!
Meanwhile, In "Parallel U," Aarti tries to catch up with all 400 issues of a comic before seeing a movie. Check out hot pink bunny fan art in "Muse Mail," discover a record-setting lizard poo in "Muse News," and crack a code by Edgar Allen Poe in "Mighty Math!" You can even make your very own mini accordion book! What could be better than reading about reading?

"Presidential Elections"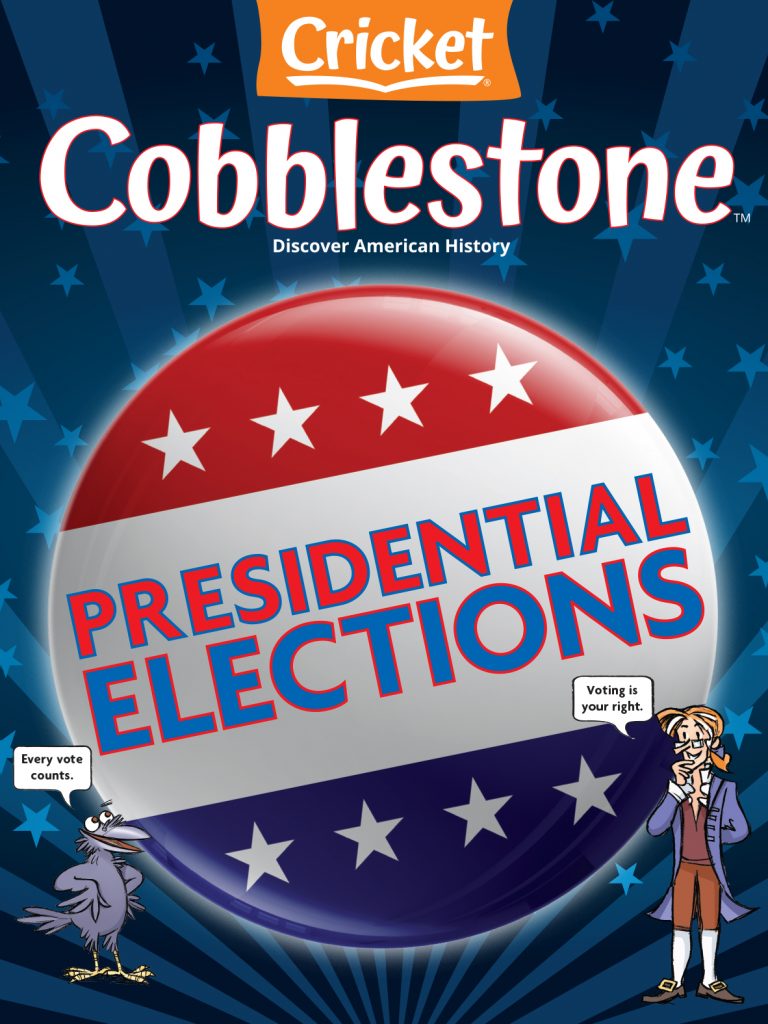 Elections are right around the corner! In fact, many people around the country are already mailing in ballots or voting early! While last month's issue of FACES dealt with elections all around the world, October's COBBLESTONE dives into the past, present, and future of Presidential elections!
Travel down the 'road to the White House' that candidates must go through before becoming President, discover how the Electoral College works, and explore the debate over when elections should be held. Check out the Constitutional Amendments that have affected elections over the years, then learn about some infamous and controversial elections! Some of them have been so close that they had to be decided by Congress! Other Presidents lost the popular vote but won in the Electoral College.
Would you like to be President some day? Learn how Presidential candidates debate and discover the many duties and responsibilities of the office! Or, if running for office isn't your style, maybe you'd be interested in encouraging others to vote? This issue includes a special interview with "Rock the Vote" organizing director Jasmine Jones. Either way, this issue of COBBLESTONE will be sure to get a vote of confidence from future voters around the country!

"Haunted Happenings"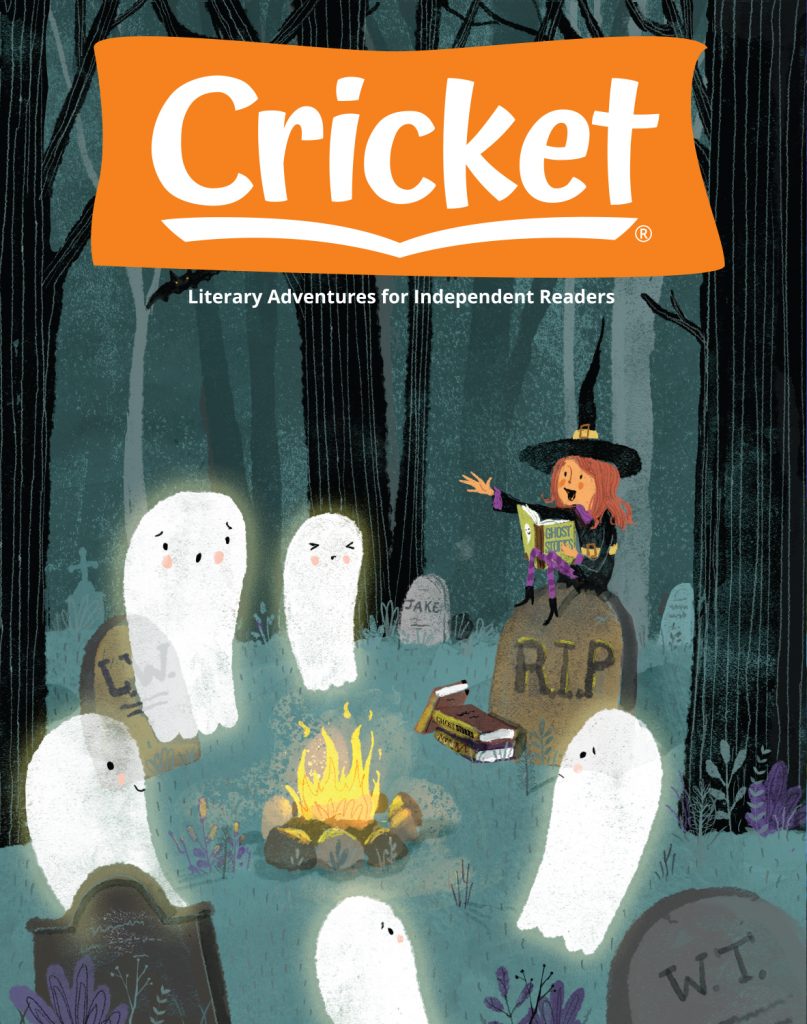 Cover art by Lee White
There's no Halloween party like a CRICKET Halloween party! Over the past 45+ years, our October issues have been among our most beloved– and for good reason! These pleasantly spooky stories will stick with you for years!
Make a chilling visit to a haunted library, have tea with an elderly time traveler, and discover a magic hat said to bring things to life! Make friends with birds, black cats, and witches, and enjoy the eerie sounds of a glass harmonica. Or, on a more serious note, read the true story of how Polish doctors saved villagers from the Nazis by cleverly faking a typhus epidemic.
In this month's regular features, attend a ghost story campfire in Cricket Country, enjoy mail from readers in the Letterbox, and solve a spooky "Crossbird" puzzle! We love the creativity of our CRICKET readers. Check out favorite first sentences submitted by fans and read the winning entries from the May poetry contest! This is a Halloween we won't soon forget!

"Bird is the Word"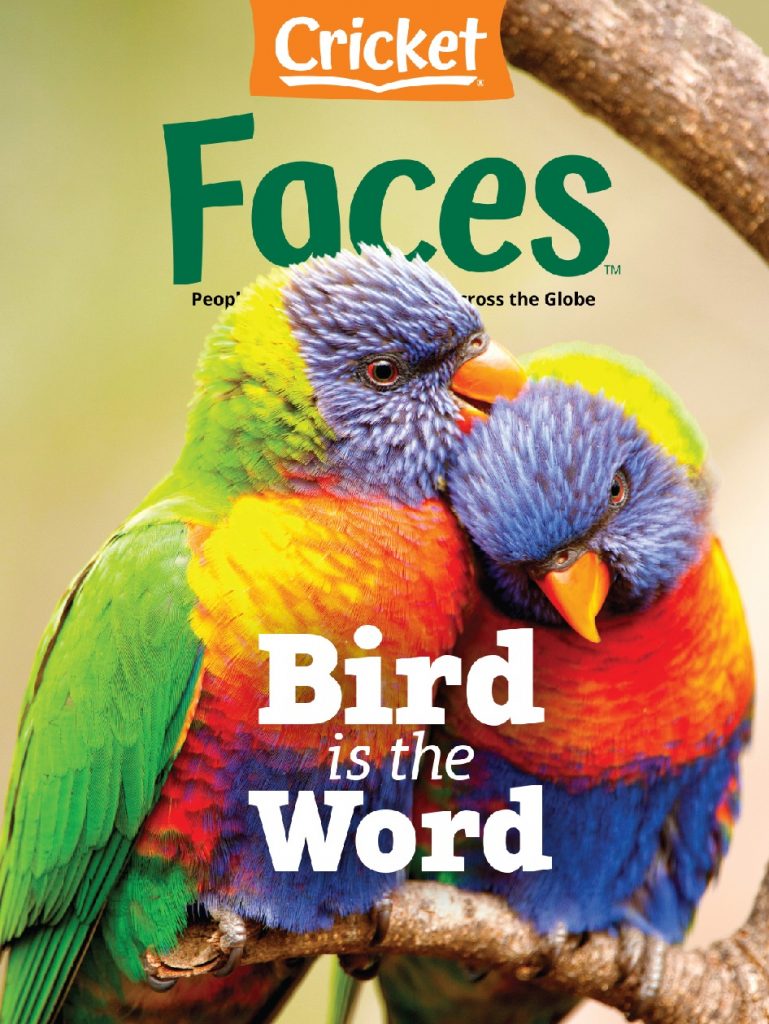 Birds are some of the most diverse creatures on earth with about 10,000 different species. They live all over the planet, they come in a dizzying variety of colors and sizes, and they play important roles in our ecosystem. This issue of FACES is all about these magnificent animals!
Discover how the extinction of dinosaurs led to the birds we know today, meet mythical birds like phoenixes, and follow the majestic migration of black-necked cranes and swifts. Did you know that some birds can use tools? Meet the clever crows and find how they solve problems with hand-crafted (beak-crafted?) tools!
Some birds might seem scary, but they're just adapted to their environments. Find out why vultures are crucial to their ecosystems and read myths and legends about ravens and crows.
Match the birds to their eggs, create your own birdfeeders, fashion bird sculptures and meet a penguin keeper who works at an aquarium! This issue of FACES is sure to bring new appreciation for our feathered friends!