September is here! The air is turning crisper, the occasional yellow leaf drifts to the ground, and a new batch of magazines is shipping off to families around the country! This 'back to school' season may look a different from years past, but this month's magazines are as full of delightful stories, poetry, articles, activities, and art as always! This month, meet a magical unicorn, a gecko, a skateboarding champ, and a talking donut! Get ready for election season, explore a sunflower garden, and join LADYBUG's 30th birthday party!

"Sharing Friends"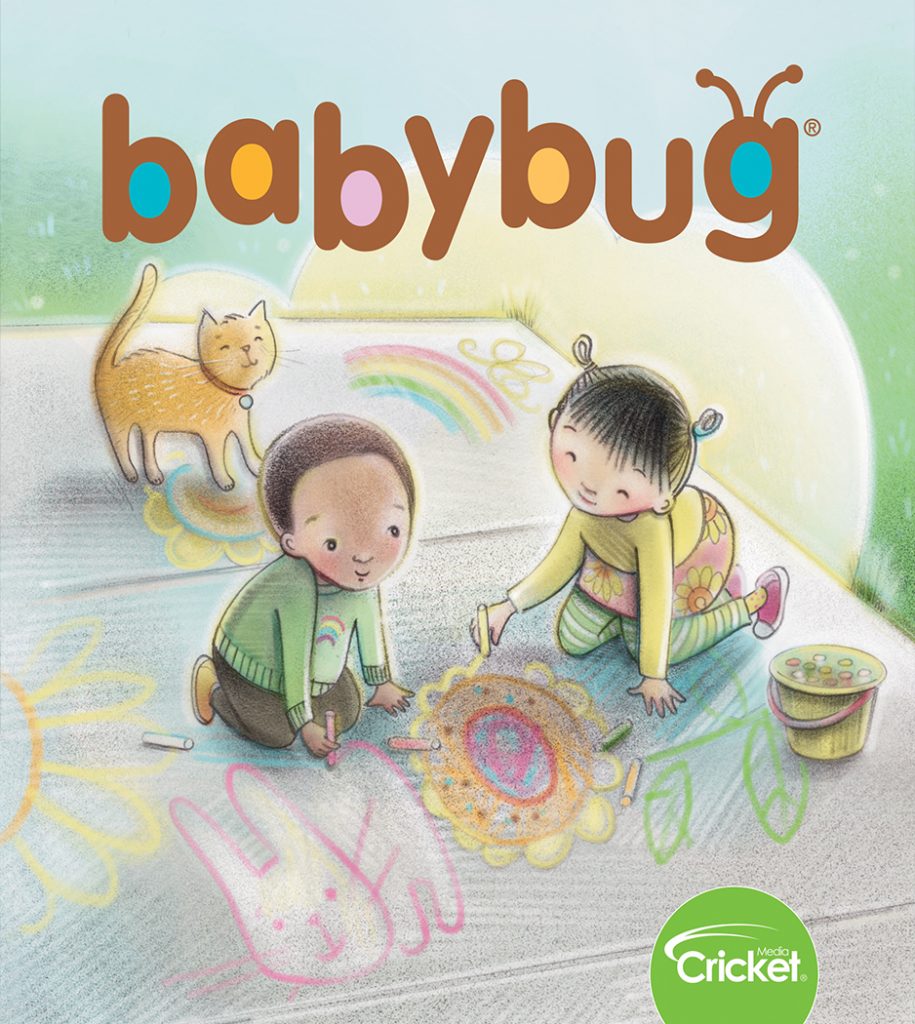 Cover art by Sheryl Murray
This charming issue of BABYBUG is perfect to share with a friend! Play with a puppy or set out breakfast for a kitten in the kitchen! Visit a bakery owned by cats, wander through the sunflowers, and share a breakfast with friends. Don't forget to meet the little bugs and birds that flit through your family's garden!
In this issue's installment of Clara Vulliamy's popular "Kim and Carrots" stories, Kim and Carrots help their neighbor feed Patch the guinea pig!
The Guide for Caregivers at the back of the issue includes suggestions for ways to bring the stories, poems, pictures, and themes of BABYBUG to life for young readers. This month, children can explore playing gently with pets, picking the seeds out of a sunflower, and discovering rhymes! Be sure to share this issue of BABYBUG with the toddlers in your life!

"Hold On!"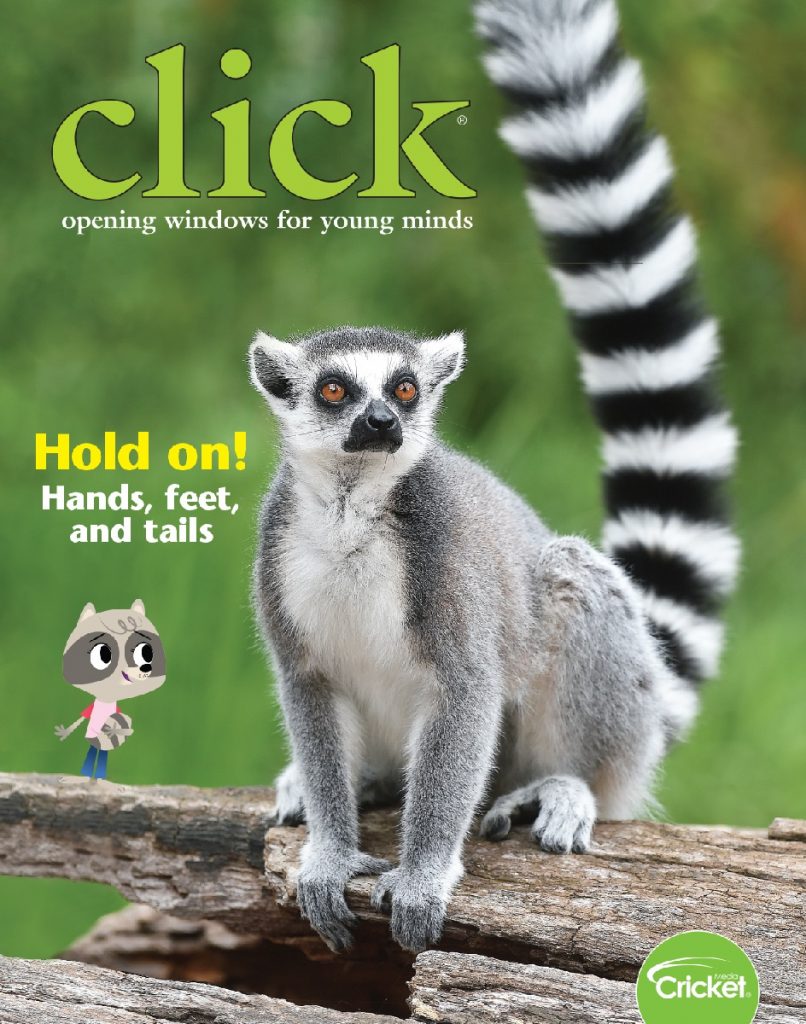 This issue of CLICK Magazine is full of tales about tails– and hands, feet, and other appendages! If you've never thought about how handy your hands are, this issue will change that!
Find out how different animals use their tails to help them shelter in the snow, meet mates, fly, spray, and more! How long is a foot? Humans might say '12 inches'– but animals may disagree! Can you match the animals to their feet? Come face to face with a super-sticky gecko, play a game of 'heads, bodies, and tails,' and find out what life would be like if you didn't have opposable thumbs!
Plus, help Click and Jane follow mysterious animal tracks and Beatrice Black Bear meets a lizard with a tearaway tail! Don't miss the takeout pages, where you can assemble your own special game of 'tail tally,' a variation on tic-tac-toe that uses 'tails or no tails' instead of x's and o's!

"Happy Birthday, Ladybug!"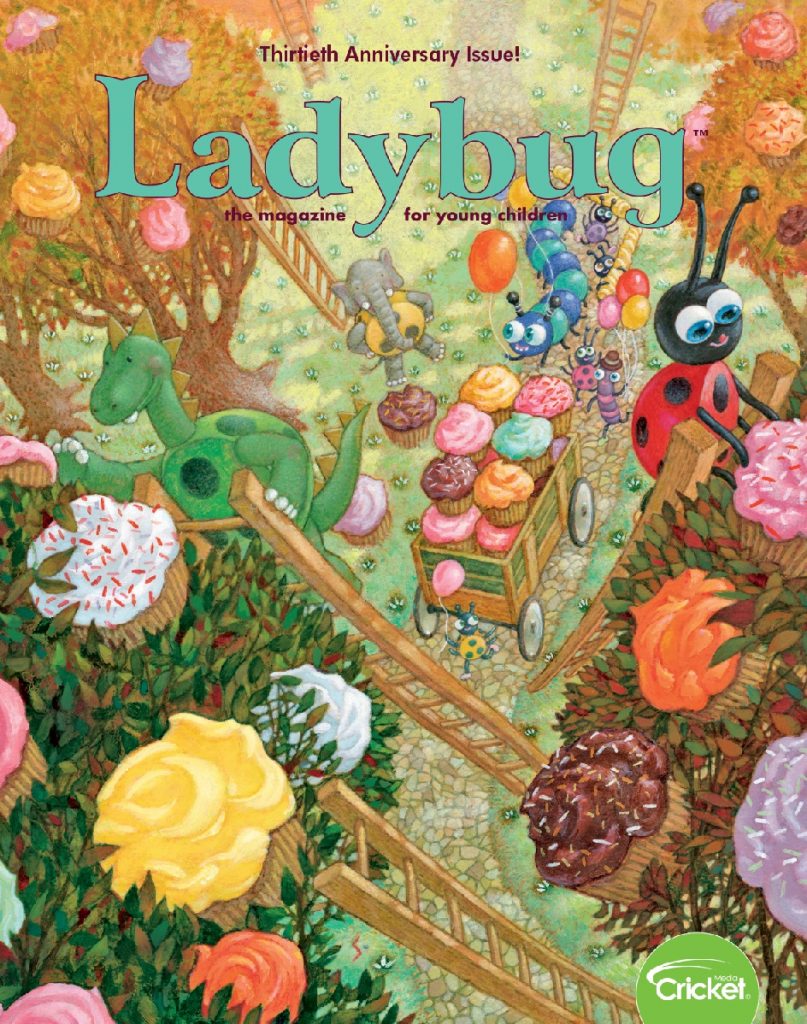 Cover art by John Sandford
LADYBUG readers may be preschoolers and kindergarteners, but can you believe that LADYBUG Magazine is 30 years old already? This month's issue is a special celebration, complete with cupcakes! Help prepare for a fancy fall festival, visit a bakery, plant a garden on the roof, hold a tea party, and take a nap in a bird's nest!
When Leona gets fabulous new shoes for her birthday, she doesn't expect a cow to try and take them! Find out what she does in "Sparkly Blue Bunny Shoes" by Artemis Roerig, with art by Heather Brockman Lee
Readers can visit a cupcake tree with Ladybug, Muddle, and Thud, or pick fresh fruit from an orchard with Max and Kate! Plus, Molly throws an unforgettable surprise party for Emmett in Marylin Hafner's "Molly and Emmett" comic strip! It's a celebration to remember for readers and former LADYBUG readers alike!

"Can Cars Change?"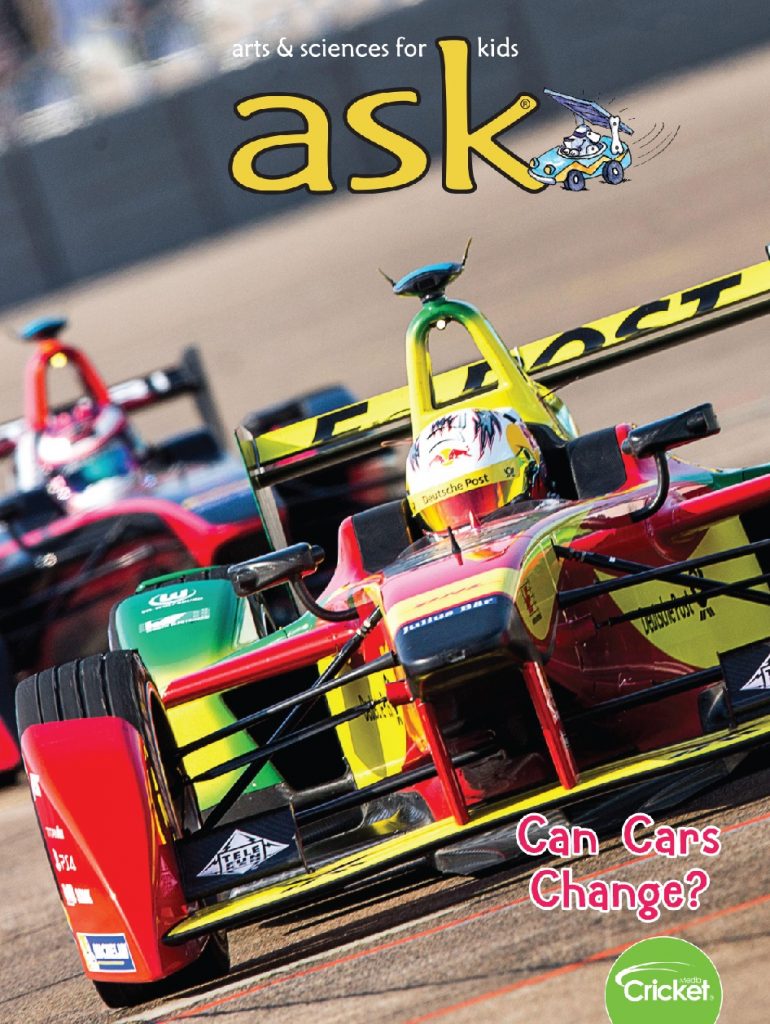 Most of us see cars every day– but how did cars become such a major part of the world? And what will the cars of the future be like?
Follow the road of car history, checking out milestones like the Earliest Sketch of a Car, First Car Crash, First Horseless Carriage, and much more! Take a peek under the hood of a race car to see how they go so fast, then discover the technology behind self-driving cars! We've been zooming around in gas-powered cars for over 100 years. Is it time for a change? Discover some of the alternative forms of energy, from electricity to biofuel to solar power! Then, find out how to tell the difference between different kinds of guard rails!
In this month's special features, Nestor and friends try to create the perfect car in "Nestor's Dock." Create your own 'rubber band racers' using spools of thread, or check out awesome books about cars in "Whatson's Book Corner." See where readers found funny faces in ordinary objects, then submit your own ideas for cars of the future in this month's contest. And join "Marvin and Friends" as they hold a soapbox derby!

"Down at the Pond"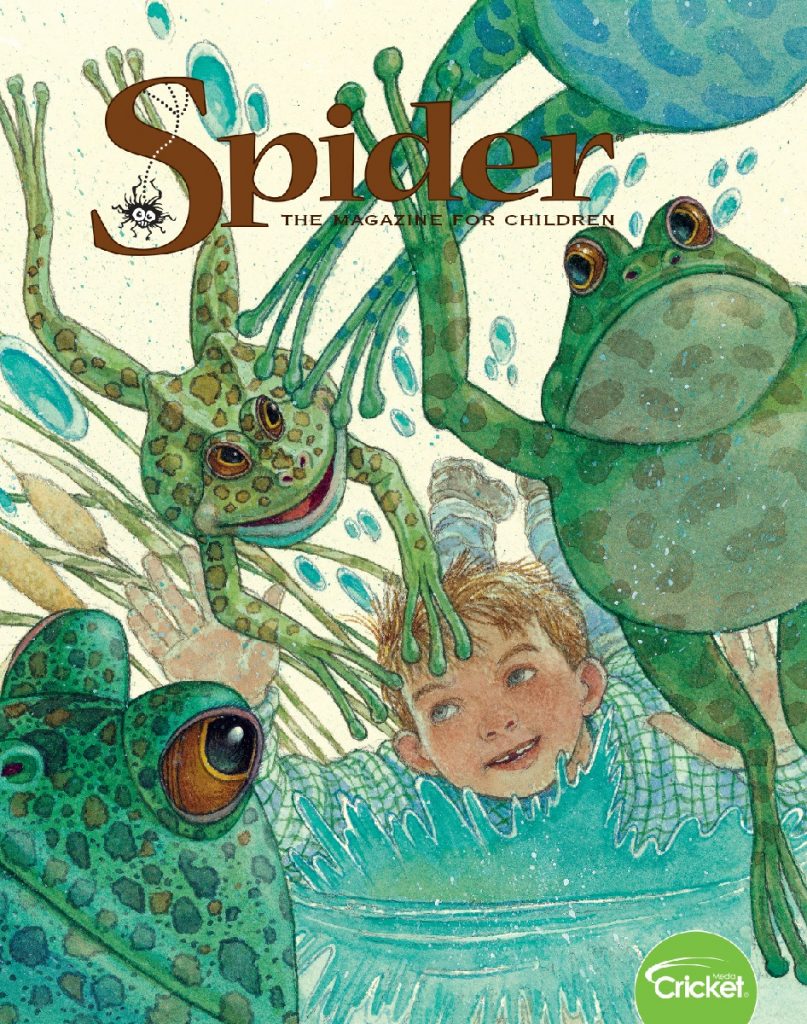 Cover art by John Sandford
The local pond may be teeming with life– and adventure! Jump in to this September issue of SPIDER and find all kinds of new friends, from frogs to moths to turtles, and maybe even a unicorn!
Find out how a young boy protects his local snapping turtles from cars, learn about frogs that live up high in the cloud forest of Brazil, and enjoy the Nigerian folk tale of the flying tortoise! When a poor carpenter named Peter joins a search for a magical unicorn, capable of granting a wish, he knows what he wants– but he soon learns that helping others may be the secret to getting his wishes.
In this month's regular features, join Doodlebug & Dandelion for an obstacle course, or read poems about birds and bugs written by SPIDER readers! Create a cozy campfire craft in "Ophelia's Last Word" and make your very own 'Crazy Croaker' room decoration!

"What Is Perfection?"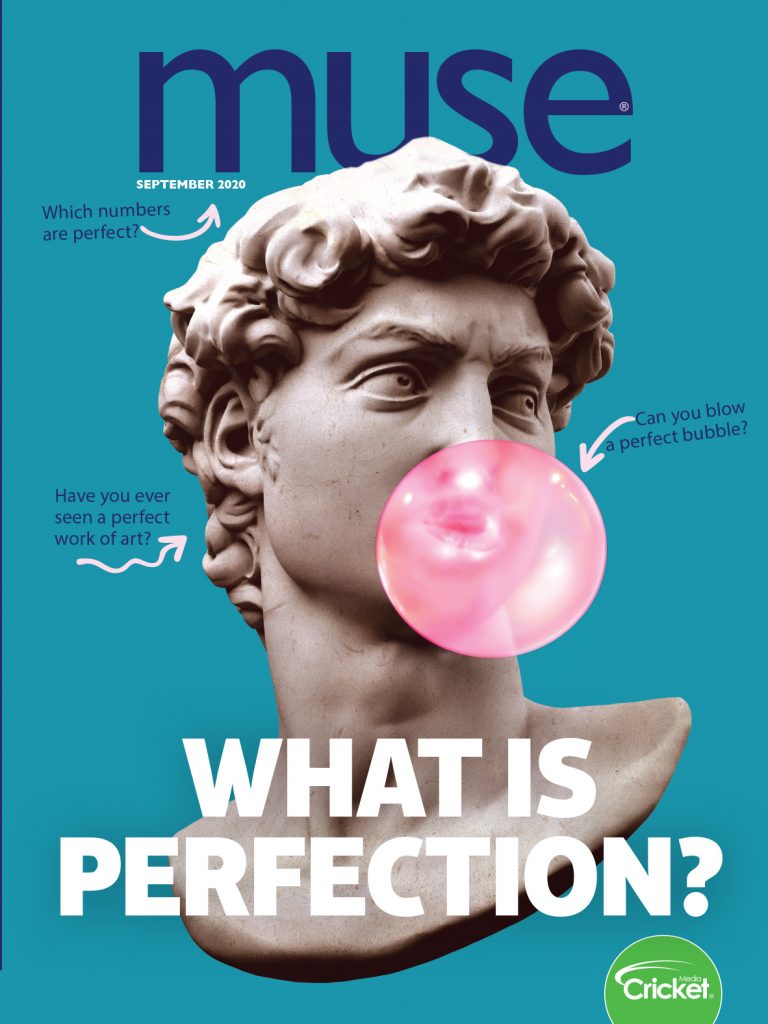 Do you struggle with perfectionism? Then this issue of MUSE may be perfect for you! (Pun entirely intended.) Get a perspective on what the concept of 'perfection' means from a psychologist, a mathematician, an animator, a skateboarder, a video game designer, a medieval architect, and more!
How do you blow the perfect soap bubbles, or build the perfect house of cards? Try some cool tricks with our "Hands On" section and see how you do!
What do Leonardo da Vinci's Mona Lisa and the Disney logo have in common? Both excite fans of the golden ratio. Discover a mathematical proportion that some believe to be the secret to perfection in design– and discover ammonites, fossils with an iconic spiral shape.
In this month's departments, meet Cate's sister from another dimension in "Parallel U," read letters from two creative siblings in "Muse Mail," and try to spot the fake story in "Muse News!" Learn to draw a Parallel U character in ArtSpace and discover why a group of crows is called a "murder" in Q&A! You may not be any closer to perfection after reading this issue, but you'll certainly know a lot more about it!

"Spread Your Wings"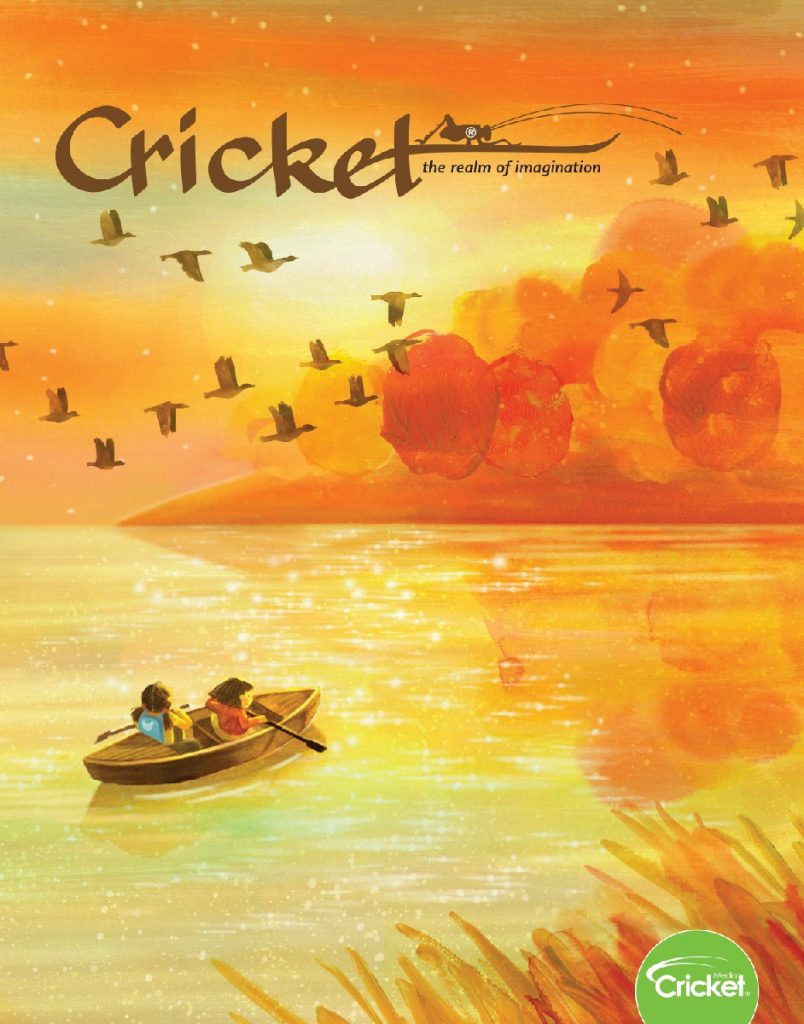 Cover art by Jaime Kim
CRICKET readers are just at that age where they're learning to solve their own problems and make their own mistakes. This issue of CRICKET is full of stories of kids spreading their wings! Cross paths with a mysterious time traveler, look for Mercury's missing sandals, and find out why Cooper's parents won't stop playing video games. Then, read the continuing adventure of "Chief Sunrise, John McGraw, and Me" by Timothy Tocher.
When Elizabeth's donut starts talking to her, she has no idea that it will help her deal with the anxieties of middle school. Find out what happens in "The Kind of Girl Donuts Talk To" by Amy Elizabeth Bokser.
Looking for a new book? Check out some picks from "Cricket Readers Recommend." In other monthly features, enjoy the winning short story contest entries in "Cricket League," join Cricket and friends in "Cricket Country" as they learn about migration, enjoy letters from readers in "Letterbox," and try your hand at a technology-themed "Crossbird Puzzle!"

"For The Birds: John James Audubon"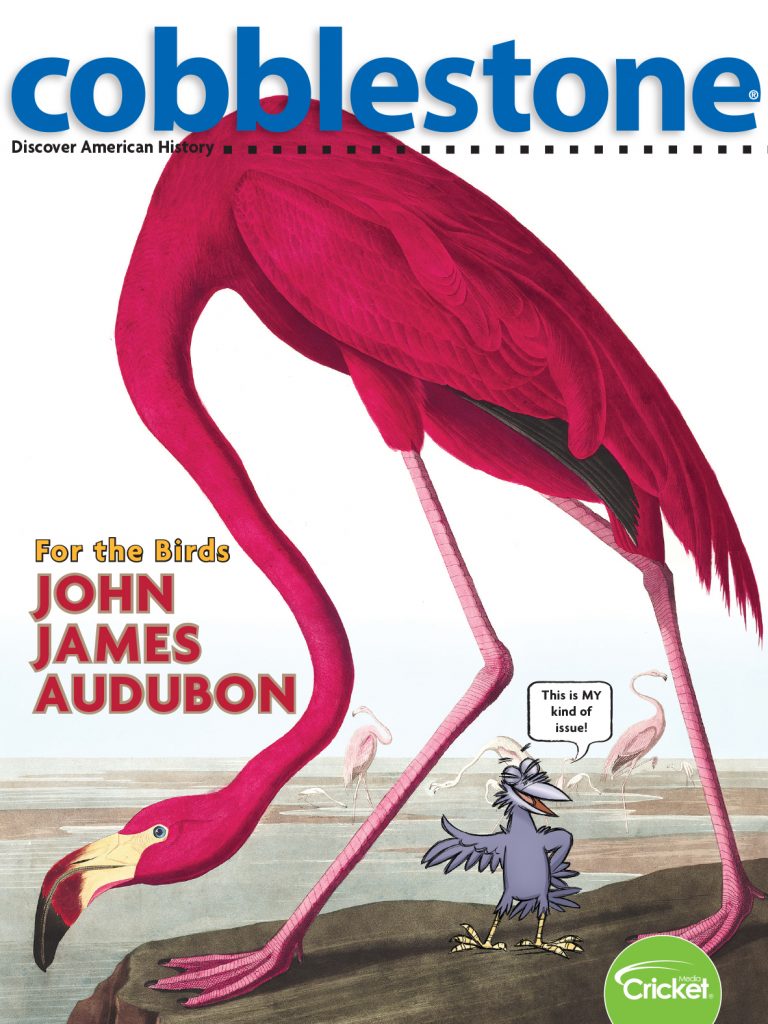 Not enough bird-themed content for you in that issue of CRICKET? This issue of COBBLESTONE should do the trick! You may have heard of the 'Audubon Society' and have some vague idea that it has something to do with birds, but this issue of COBBLESTONE illuminates the life and work of artist and naturalist John James Audubon.
He spent much of his life creating 435 life-size watercolor prints of the birds of North America. Tracking birds across the country on foot or by boat, he traveled alone or with a single assistant, studying birds' habitats and habits to create natural-looking paintings. His work raised awareness about the diverse bird populations in America. Find out why learning about and preserving American birds' populations and habitats is more important than ever as climate change threatens them.

Find out about how he created his paintings, meet modern-day wildlife artists, and discover the work that the Audubon Society does today. Learn more about the birds that you can spot in your own neighborhoods and take part in citizen science! Readers can even create their own bird art to send to COBBLESTONE!

"Elections Around the World"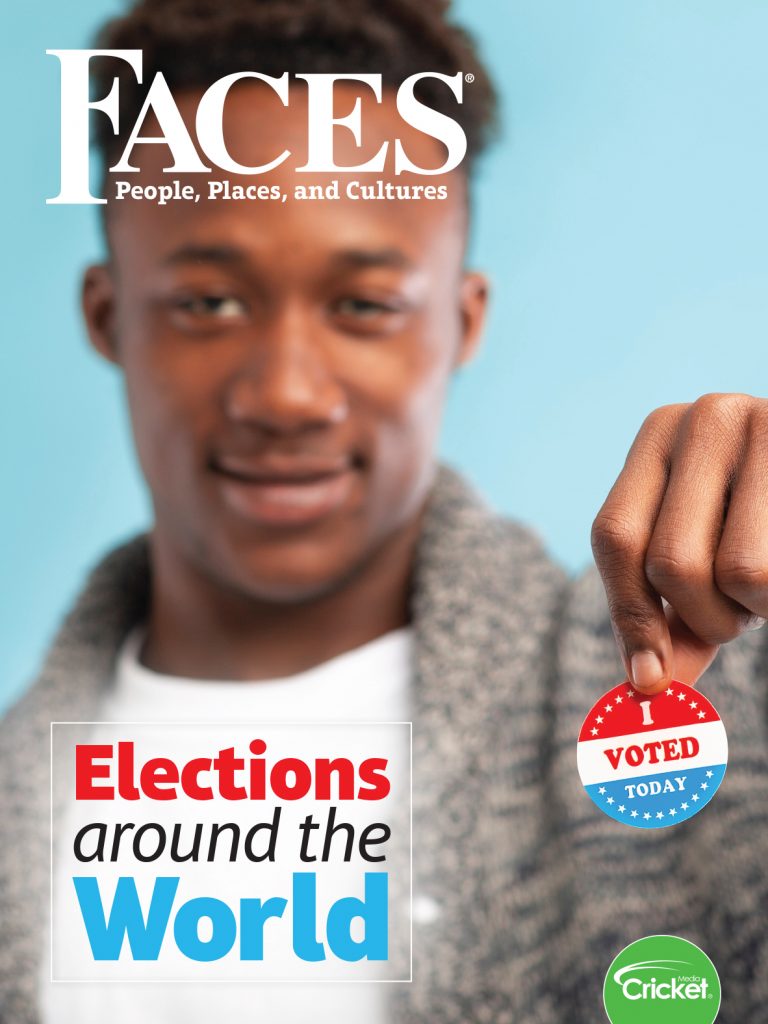 The U.S. Presidential elections are just around the corner, but those aren't the only elections in the world! Take a trip around the globe to explore all kinds of elections, past and present!
How do you cast your vote? It's not just ballots and boxes! The first known elections, held in ancient Greece, placed black-and-white pebbles into pots. Early American colonists used colored beans and kernels of corn! While American elections are held on Tuesdays, many countries, like Australia and Brazil, hold elections on weekends when people are less likely to be at work. Did you know that teens under age 18 can vote in some countries? Some FACES readers may be eligible to vote in local elections if they lived in German!
Follow Indian election workers as they travel over oceans, deserts, jungles, and glaciers to make voting accessible to every eligible citizen. See moving photos of the 1994 South African election, the first after the end of Apartheid, and find out how demonstration plays a role in democracy. Plus, did you know that some animals have been observed voting? From baboons to buffalos to bees, learn about animal elections!