We love how our readers' creativity and imagination can lead to beloved new traditions. Last year, we dove deep into the history of the hot pink bunnies from MUSE Magazine's "Muse Mail." All MUSE readers know about these critters, but few know where they came from. This time, we're taking a similar look at "Spider's Mailbox."
The most recent issue of SPIDER Magazine features a unique event for its cartoon inhabitants: an Adopt-A-Pet Picnic!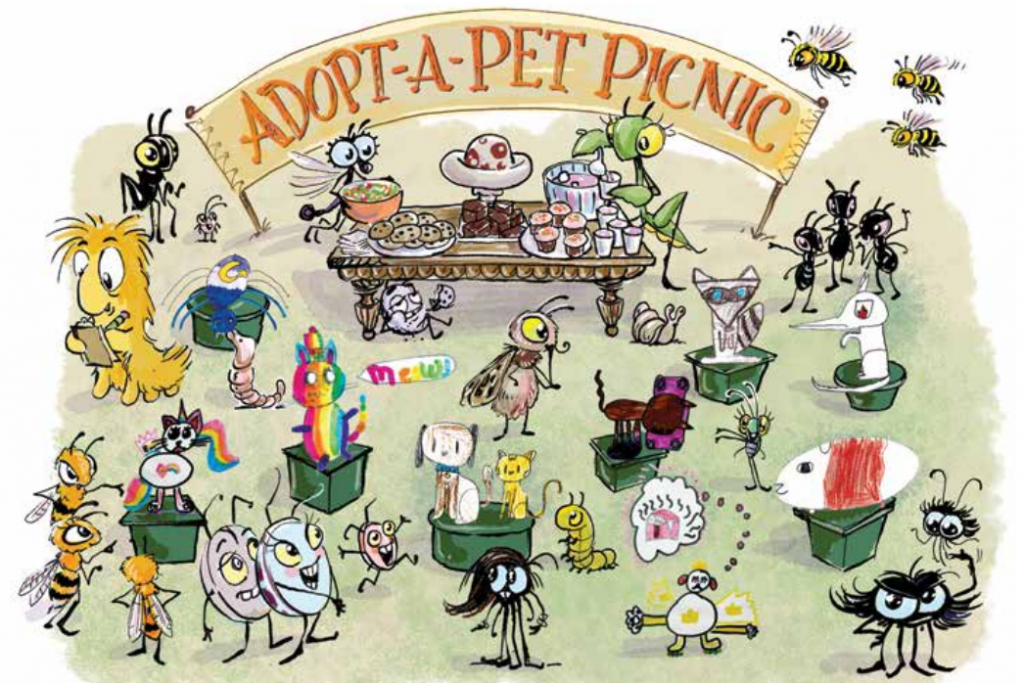 What inspired "Spider and the Gang" cartoonist Michael Chesworth to create this fabulous picnic? A quick glance at the "Spider's Mailbox" feature at the back of the magazine clears up that question right away– or, at least, partly clears it up. For decades, young SPIDER Magazine readers have enjoyed sending their letters and art to "Spider's Mailbox," and if they're lucky, they might even get a response from Spider and the Gang! What's one of the most common topics in "Spider's Mailbox" letters? Pets, of all shapes, sizes, species, and colors. And quite frequently, these 6-10-year-old readers ask Spider and the Gang to adopt their pets.

So, how did this tradition start? When did readers begin sending their drawings to "Spider's Mailbox?" We did a dive into the SPIDER Magazine archives to find out!
A Blast from the Past
SPIDER Magazine was first published in January 1994, so we had our work cut out for us. As we combed through old issues, we enjoyed seeing the different art styles and layouts over the years. Once we'd made our way into 2010 and 2011, we could see that many readers sent their drawings to Spider and the Gang, including pictures of pets– but there were no requests for adoption.
We finally struck gold in the March 2012 issue!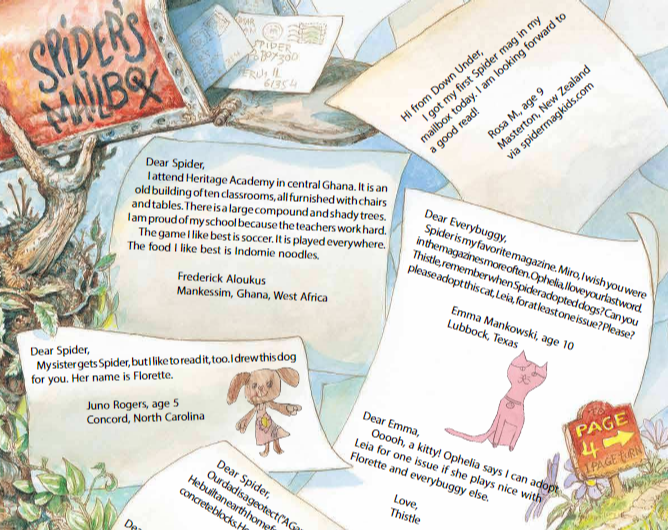 Ten-year-old Emma from Lubbock, Texas unwittingly changed SPIDER Magazine forever with her adorable drawing of a pink kitty. She wrote,
Dear Everybuggy,
SPIDER is my favorite magazine. Miro, I wish you were in the magazines more often. Ophelia, I love your last word. Thistle, remember when Spider adopted dogs? Can you please adopt this cat, Leia, for at least one issue? Please?"

– Emma M.
To which Thistle replied:
Dear Emma,


Ooooh, a kitty! Ophelia says I can adopt Leia for one issue if she plays nice with Florette and everybuggy else.

Love, Thistle

In fact, Leia the cat (as drawn by Emma) appeared several times in the margins of the issue along with Spider and the Gang. We're sure that Emma was thrilled to see her creation in print– and lots of other readers were probably inspired to send their own cool pet creations to their buggy friends! It usually takes a few months for a "Spider's Mailbox" letter to appear in print. This meant that the April and May/June 2012 issues showed no hint of a pet adoption trend… and then it exploded in July/August 2012! Letter after letter was filled with pets in need of a good home!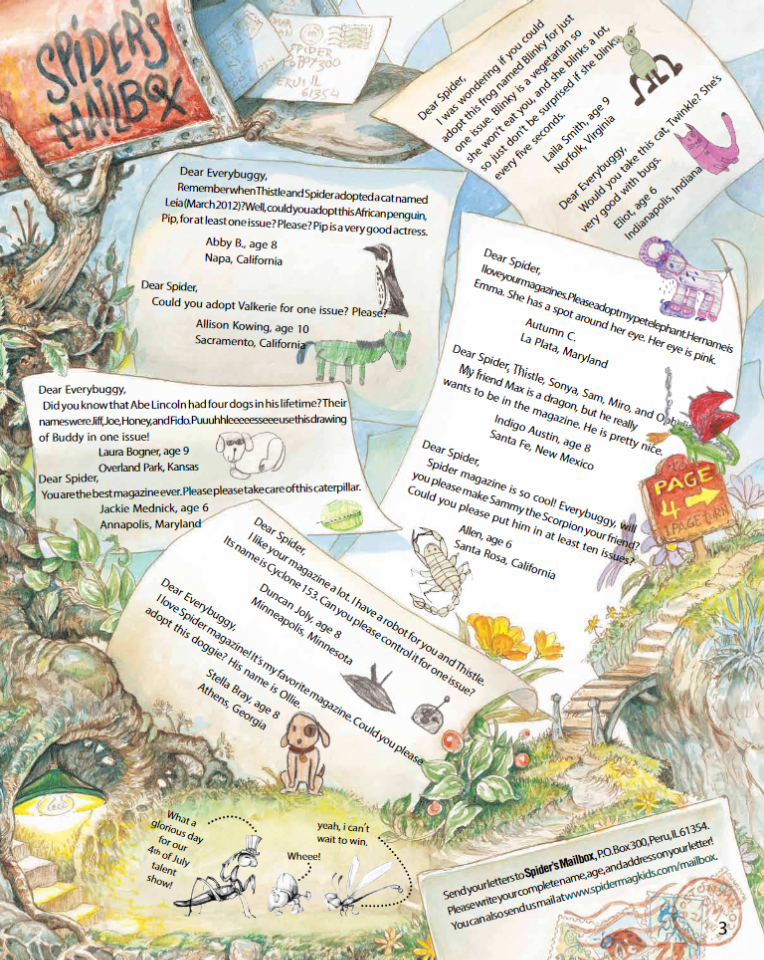 Eight years later, the 'adopt-a-pet' trend in Spider's Mailbox is going stronger than ever– and it's all thanks to Emma and our other creative readers! Now, which pet should we adopt from the picnic? We're leaning toward the rainbow kitten!