If you mention the name 'Trina Schart Hyman' to anyone who read or worked on CRICKET Magazine in the 1970's (and even many who didn't), their eyes are sure to light up. The first art director of CRICKET, Hyman sadly passed away in 2004, but her magical artwork conjures up nostalgic memories in everyone who sees it. We're taking a closer look at her life, work, and some of her wonderful contributions to CRICKET!
Becoming an artist
Trina Schart Hyman was born in Pennsylvania in 1939, but she later moved to Boston and Sweden to study art before settling in Lyme, New Hampshire. She says that as a child,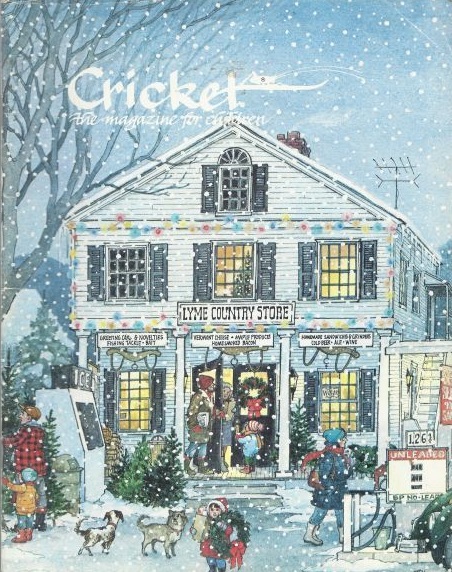 "I was too imaginative and sensitive. I used to burst into tears at the slightest thing and I was terrified, of people especially. I had trouble, I think, separating reality and fantasy. I learned to read early and I loved to read and I just lived in storybooks and in pictures. That was more real to me than the world. And, in a way, it still is."

– Trina Schart Hyman
Her favorite story as a little girl was Little Red Riding Hood, and she even took to wearing a red cape for a whole year!
Although she had little money when she first arrived in Lyme, she survived off of home-grown vegetables and credit at the Lyme Country Store. The same store appears fondly on a wintery CRICKET Magazine cover! A life-long lover of nature, having peace, quiet, and space for a garden was important to her.
An amazing career
She liked to work slowly and deliberately, taking about six months to finish illustrations for each book. She preferred to work on one book at a time so that she could preserve the 'mood' of that story. Still, that never kept her from being an incredibly prolific artist!
Hyman illustrated over 150 books over the course of her career. She also wrote some of her own, including adaptations of Sleeping Beauty and her favorite, Little Red Riding Hood. In addition to many fairy tales, she also illustrated classic stories for older readers like A Christmas Carol, Peter Pan, A Connecticut Yankee in King Arthur's Court, and the Canterbury Tales, as well as young adult novels like Caddie Woodlawn, Among the Dolls, and The Castle In The Attic. While holding the position of art director for CRICKET from 1973-1979, she continued to contribute her own artwork.
She was also one of the earliest white American children's book illustrators to include diverse characters. Her daughter, Katrin Tchana, was married to a man from Cameroon, and Tchana and Hyman collaborated on three books that included stories from Cameroon and other places around the world.
Hyman won the extremely prestigious Caldecott Medal for her work on St. George and the Dragon. She also received three Caldecott Honors (Little Red Riding Hood, Hershel and the Hanukkah Goblins, and A Child's Calendar), making her one of the most recognized children's book creators.
Taking Inspiration
Many authors and illustrators say, "Write what you know!" Trina Schart Hyman loved to draw what she knew! She liked to use people and places she was familiar with in her art. She even used a friend as a model for her Evil Queen in Snow White! Although the friend gave her permission to use her image, she was upset when she actually saw the book because she didn't realize how realistic it would be! Hyman was also inspired by a local farmer for a character in Little Red Riding Hood and her daughter for a member of court in Sleeping Beauty.
She also believed in fairies and trolls (in the Swedish tradition) and often included them in her work.
For children interested in becoming illustrators like her, Hyman's advice was:
" You have to be so motivated that you have to want to draw so badly that it's like taking away your oxygen not to draw. It has to be so much a part of your expression and your personality that you cannot live without it. You can't go for more than two days without drawing. I mean, it is that basic a need for me."

-Trina Schart Hyman
We can't imagine CRICKET without Trina Schart Hyman's magical illustrations setting the tone for decades of amazing kids' literature and art. Do you have a favorite illustration, magazine cover, or memory involving Trina Schart Hyman? We'd love to hear it! Get in touch with us on Facebook or Twitter to share your story!