As the days grow shorter and the weather gets cooler, it's the perfect time to gather together with family! This new batch of November/December issues is just right for snowy and rainy days, or for resting after a long day of celebrations and fun! Discover holidays around the world, go on a winter walk, visit an aquarium, go skiing, learn sneaky art tricks, and so much more!

"Good Friends"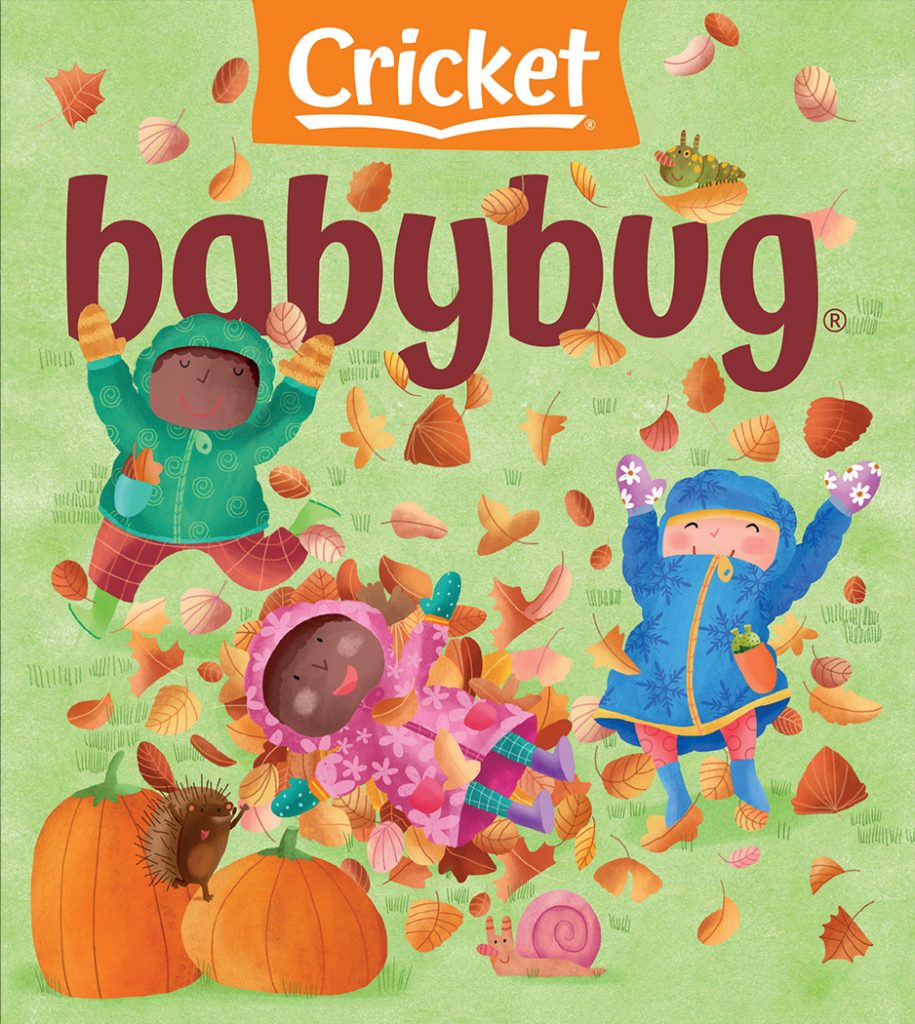 Cover art by Elizabetta Travet
Before we say 'goodbye' to winter, let's enjoy the rest of fall! Bundle up for a chilly walk in the woods and see what you can spot outside!
Make friends of all shapes and sizes, from elephants to mice to penguins to… orangutans on the moon? Raise your voice in a happy song of celebration with friends both new and old!
This festive issues of BABYBUG is filled with short but sweet poems, stories, and songs, accompanied by colorful artwork and vivid photos! Don't miss the adorable feature on how Adélie penguins care for their young, or the latest installment of Clara Vulliamy's "Kim and Carrots" story. In this issue, meet some of Kim's toy friends besides Carrots!
The back of the magazine includes a guide for caregivers with tips for interactive learning opportunities based on magazine content. After reading "Ready for the Woods," why not practice putting on winter clothing? This delightful issue of BABYBUG will fast become a beloved companion for toddlers everywhere!

"Something Fishy"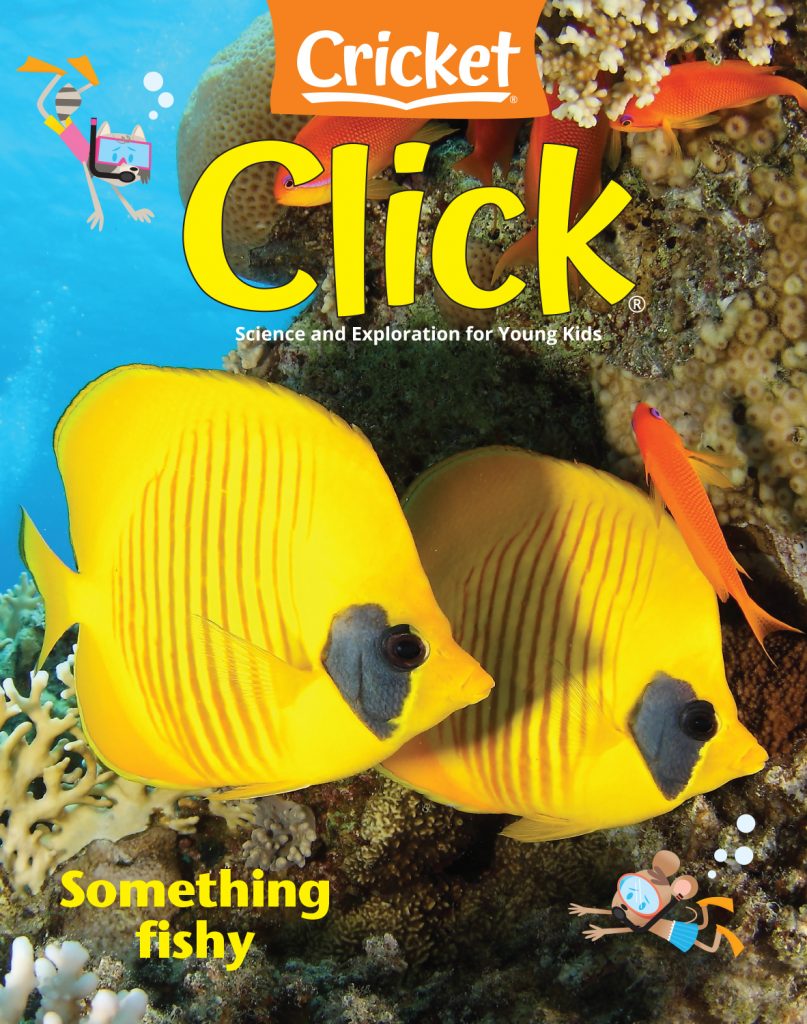 We've all seen fish before– some of us have even eaten them! But how much do we really know about these awesome aquatic creatures, and how many different kinds are there? This issue of CLICK takes readers under the sea (or river, or lake, or pond, or stream) for a closer look!
Meet the surprising swimming creatures in your local river and learn the parts of a fish. What has wings underwater? Get a close look at majestic rays! Have you ever gone fishing with your family? Meet the fish that go fishing for… other fish! Learn how fish protect themselves from predators (including some impressive camouflage), check out fascinating fish eggs, and join Katy as she shops for new pet fish in "Gary's World," written by Lea Daniel and illustrated by Christine Schneider.
Plus, go fishing with Click and friends in this issue's "Click & Jane" comic, and follow "Beatrice Black Bear" as she photographs cleaner fish underwater! Kids can design their very own paper aquariums in this issue's takeout pages! This issue of CLICK certainly makes a splash.

"Wintry Walk"
Cover art by Kristin Scribner
From fall strolls to wintry walks, the changing seasons are full of beauty! Say hello to woodland creatures, meet a dancing bear, build a snowman, and help a lost skier find her way home!
You can still have plenty of fun at home with the family on a rainy day! Find a missing teddy bear, make the greatest cookies ever, and make music in the kitchen!
When Snowshoe Hare's friends all get ready to hibernate or head south for the winter, he wonders how he should spend the season. Find out in "Snowshoe Hare's Winter Home," by Gillian Richardson with art by Giuliano Ferri!
Don't forget to say hello to some of our friends in LADYBUG's regular features! Find Kate's missing pet rabbits in this issue's installment of "Max & Kate" by Brita Granström. Then, go for a sleigh ride in Marylin Hafner's "Molly and Emmett" comics, try skiing with Ladybug, Muddle, and Thud, and create your very own forest friends in the takeout pages of this issue!

"Sneaky Art Tricks"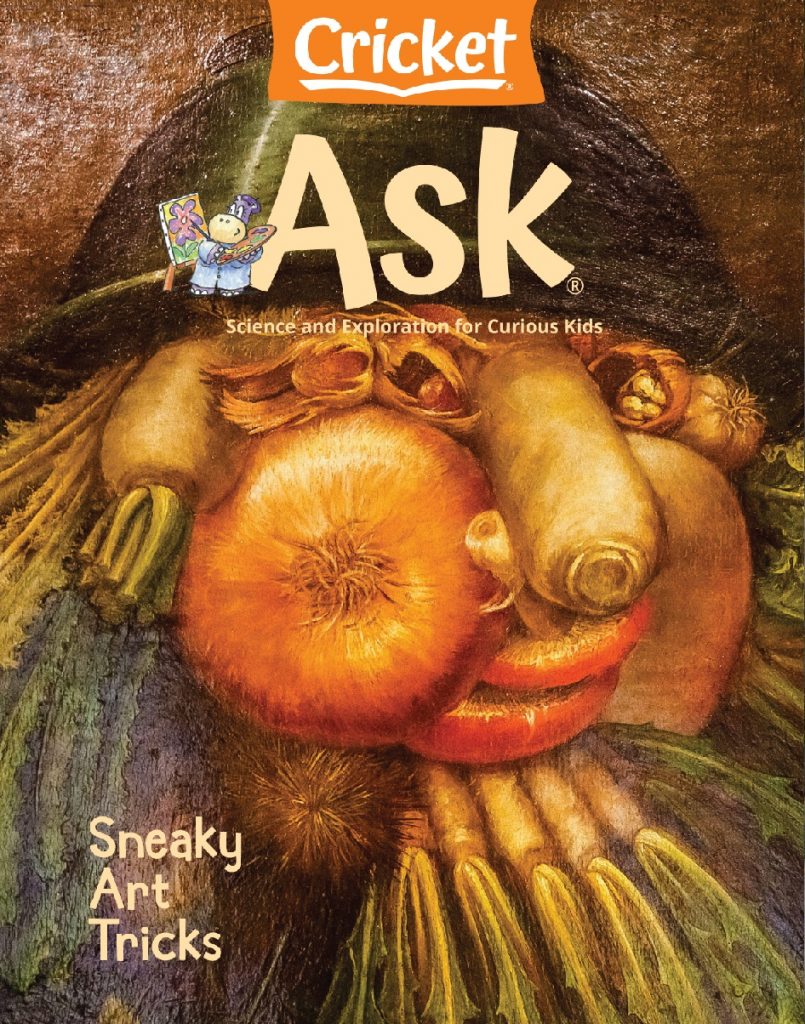 How do artists know how to make your eyes play tricks on themselves? This issue of ASK Magazine is all about sneaky art tricks– and how you can learn to recognize them or use them!
Let real artist Thor Wickstrom instruct you in his favorite art tricks, from making flat things look solid to making people 'escape' from the frame to drawing ASK mascot Marvin the raccoon! Use a grid to unlock art secrets, discover the amazing origami possibilities of one sheet of paper, and find out the secrets of the world of art forgery. Tour art pranks around the world, peek at the blackest black paint ever,
This issue's regular features are full of surprises, too! Learn why pink flamingos are meaner in Nosy News, join Nestor and friends in "Nestor's Dock" as they decide to create a comic, and find out why people itch in "Ask Ask!" Learn to draw a magic circle in "Marvin's Clever Tricks" or join him as he paints a clubhouse in "Marvin and Friends." Want to share your own artistic creation? Send us the coolest thing you've ever made for this issue's contest! We can't wait to see what you create!

"Winter With the Family"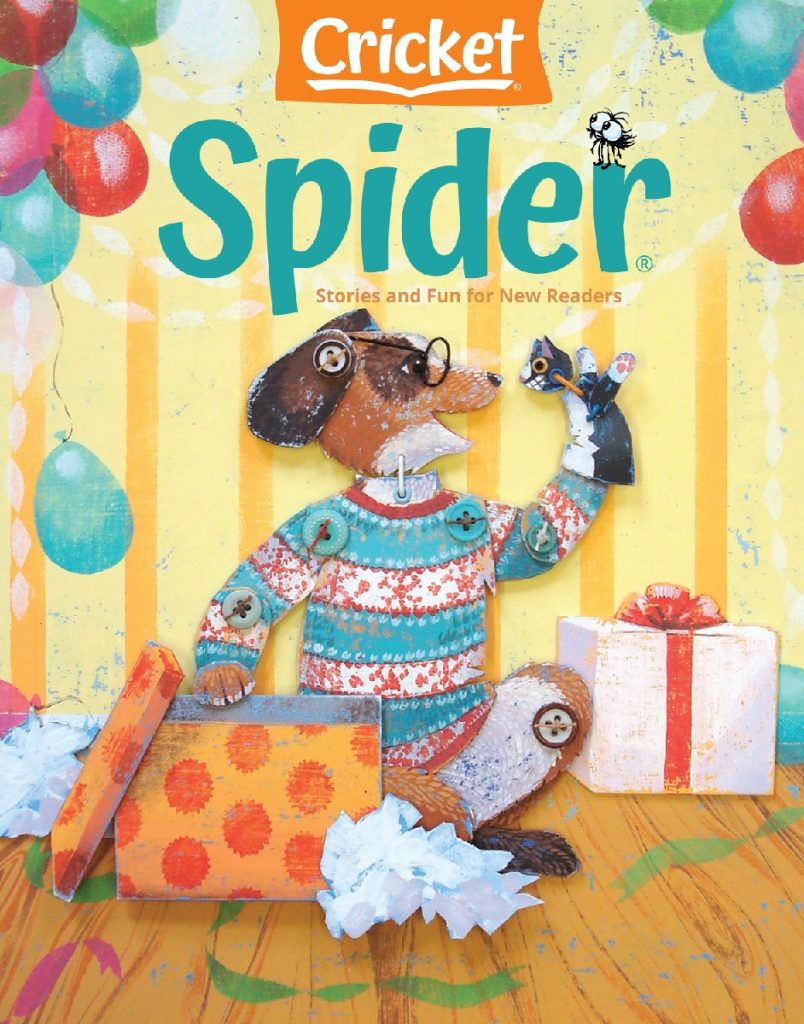 Cover art by Polly Law
Winter is a great time of year to spend close with the family, and this issue of SPIDER is full of stories and poems about just that!
It's a holiday celebration this month! Join Karin and her family as they celebrate the Swedish festival of lights, St. Lucia Day! Learn how the tradition of making gingerbread houses began and bake your own gingerbread cookies. Race with the stars, make your own sparkly snow globes, and marvel at a bright full moon!
Plus, enjoy jokes, letters, poems, and drawings of pets submitted by readers in this issue's departments! In this issue's "Doodlebug and Dandelion" story, the twins take a river cruise through the rainforest! Create a special reminder of your loved ones with a Family and Friends Tree in "Ophelia's Last Word" and make your very own Indian-style Christmas stars called puntis in the takeout pages! There's plenty to celebrate in this festive issue of ASK!

"Kids Rule!"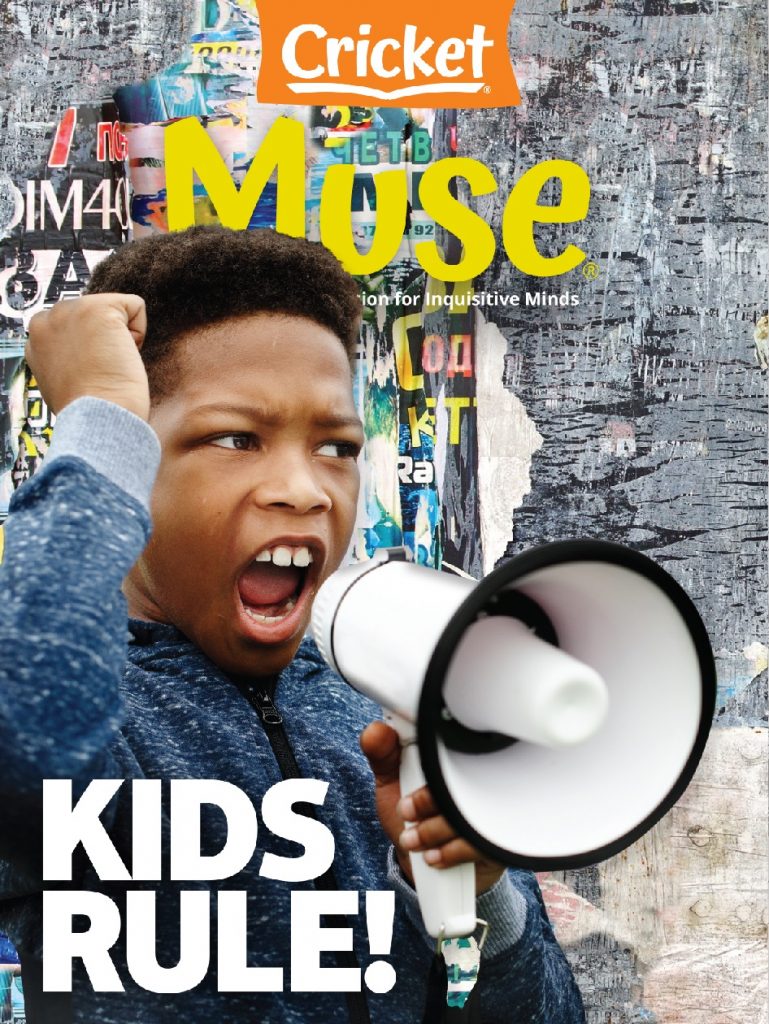 Adults aren't the only ones who can change the world. This issue of MUSE covers extraordinary kids who are changing the world– and some kids in history who shaped the way for them! Do you know a young person who cares deeply about causes or wants to help their community? This issue of MUSE will inspire them!
Meet the brand-new Youth Advisory Board at the Mayo Clinic, see why the children of Birmingham marched, and see how you can get involved in activism in your own community. Meet a MUSE reader who bakes cookies for a cure for a rare disease, a young climate activist, a teenage robotics instructor, and a group of teens on the science communication team! Plus, find out how 'unschoolers' pursue student-led learning instead of a traditional school format.
In this issue's regular features, time-traveler Cate relives a memory in "Parallel U," Q&A tries to determine the smallest thing in the universe, "Your Tech" explores whether video games are good or bad, and "Muse Contest" asks readers to come up with their own contests! Don't miss quirky letters in "Muse Mail" or the chance to spot the fake story in "Muse News!" This issue of MUSE will inspire kids of all ages to make a difference in the world!

"After the Civil War: Reconstruction"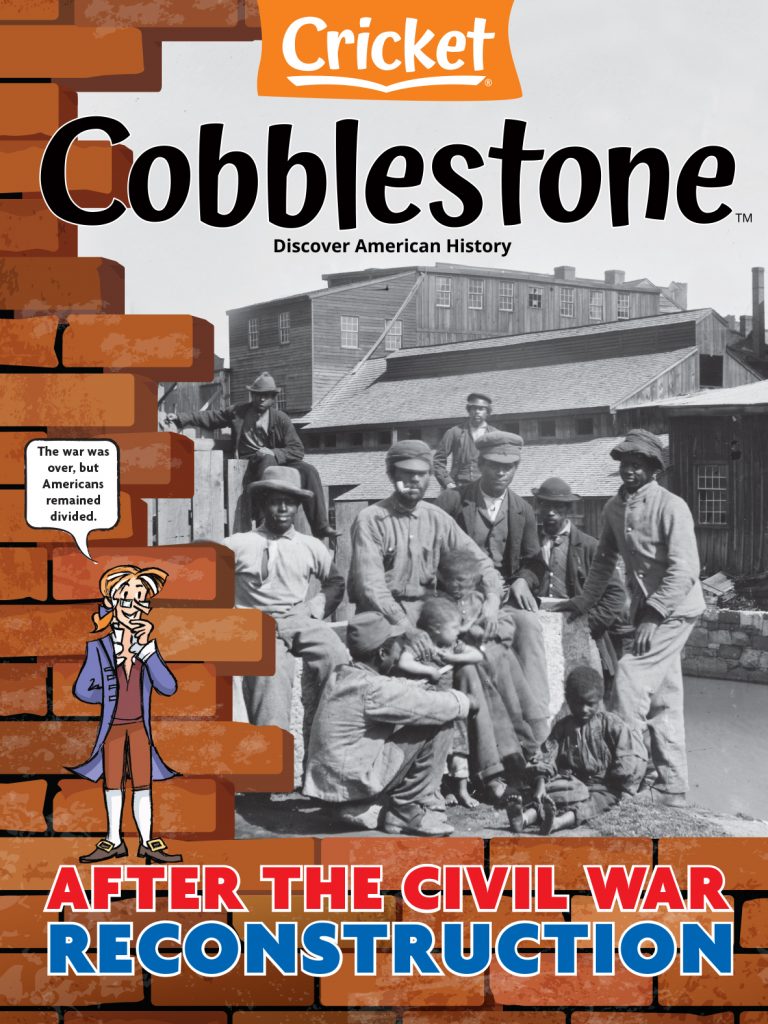 Rebuilding a country that fought against itself is never an easy task. The death and destruction that took place during the American Civil War was staggering. The devastation made people wonder: After four years of war, how could Northerners and Southerners ever live and work together again? And what about the 4 million former enslaved people? How would their freedom change their lives personally and life in the South generally?
Between 1865 and 1877, the nation struggled to find answers to those questions. Those years became known as the Reconstruction era. While the United States government tried to help formerly enslaved people build new lives as citizens, Southern resistance meant that the gains achieved did not last. Discover how Abraham Lincoln's plan for peace, the work of the Freedmen's Bureau, African-American Congressmen, and new laws prohibiting ex-Confederates from holding office gave initial hope… and then faded away.
Meet advocates for civil rights and education like Frederick Douglass, Frances Ellen Watkins Harper, and W.E.B. DuBois, and some trail-blazing 'famous firsts' like the first African-American lieutenant governor (Oscar James), and the first African-American judge (Mifflin Wilstar Gibbs). Then, find how the failure of the Reconstruction Era led to today's fight for equal justice.

"Light the Night"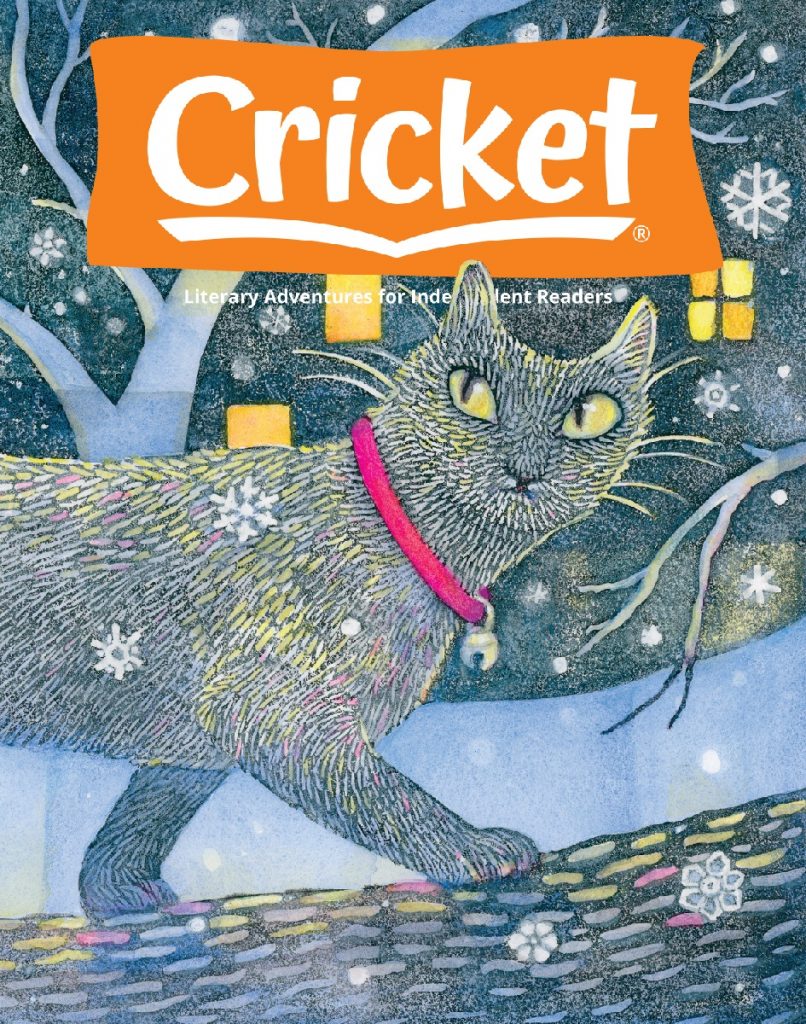 Cover art by Kristina Swarner
The days may be shorter in the winter, but the nights can still be brightened by festive celebrations! This holiday-centered issue of CRICKET is full of delightful stories and poems perfect for winter.
Meet the daughter of a snow spirit and a blue water dragon and visit a magical island of many colors. Read about a Christmas spent during the Great Depression, learn about the Thai festival of Loy Krathong, and enjoy the conclusion to Connie Martin's three-part story, "The Traveler." Celebrate Christmas with Midnight, the mischievous cat, and find out what happened when President Franklin D. Roosevelt moved the date of Thanksgiving. The true tale of the "Year of Two Thanksgivings" is sure to surprise you! Finish off this holiday celebration by baking your own delicious gingerbread pear muffins!
This issue's regular features are bursting with fun, too! Enjoy the first snow of the year in "Cricket Country" and check out letters, paintings, and book recommendations from CRICKET readers! This winter issue of CRICKET is full of plenty to celebrate!

"New Zealand: Land of Enchantment"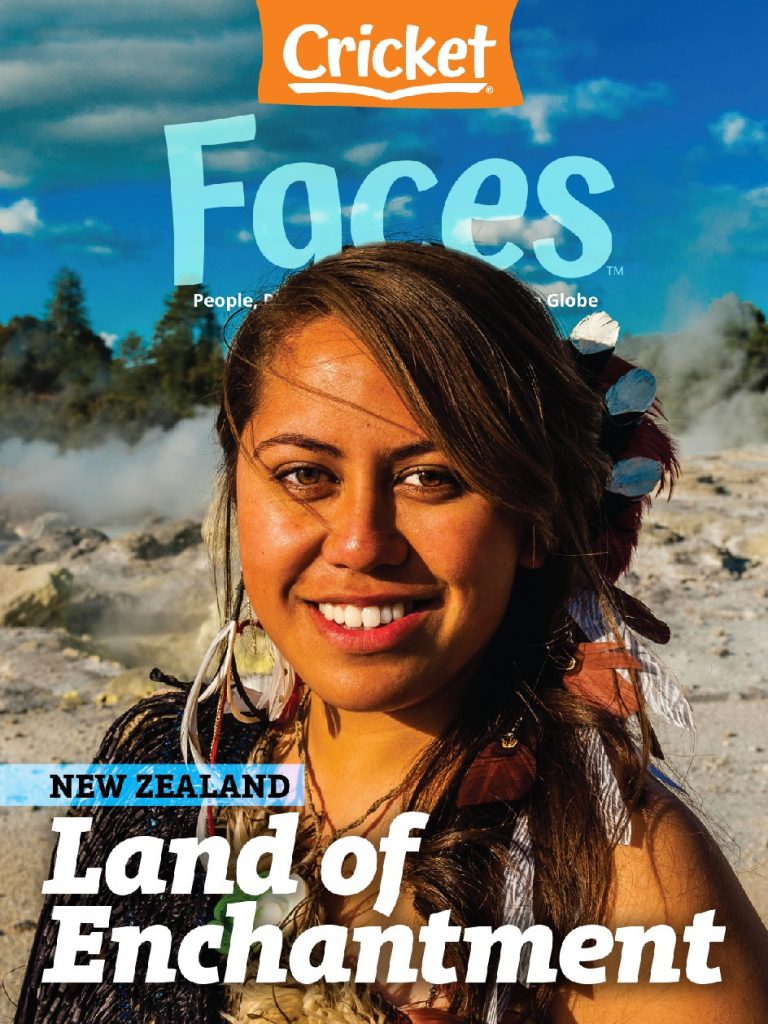 Pay a breathtaking visit to the islands of New Zealand in this issue of FACES Magazine! Located in the southwestern Pacific Ocean, about 1,200 miles South of Australia, New Zealand is so remote that it was the last large area of the world capable of supporting humans to be settled. Meet the Maori, the first people to call New Zealand home (or, more specifically, Aotearoa), and find out what their oral history taught historians about their arrival on the islands.
Are you a fan of The Lord of the Rings and The Hobbit? Filming in New Zealand brought in droves of new tourists. But there's so much more to it than hobbits and elves! Get a close-up view of the many unique birds that call New Zealand home, root for the most successful rugby team in the world, or watch the annual Running of the Sheep in the Shearing Capital of the World!
Find out how the famous fuzzy kiwifruit took root in New Zealand. Then, visit the volcanos and geysers of Rotorua, and enjoy three traditional tales of discovery from New Zealand! Plus, in this issue's "Dear Kylie" column, Kylie gets to know two young New Zealanders, Declan and Moana!