Oh, the places you'll go on the pages of your favorite magazine! Although kids around the world are spending more of their time at home than usual this summer, there's still plenty of indoor and outdoor adventures to be had! The latest issues of our children's magazines are packed with trips to the beach, mischievous pups, berry picking, jazz music, ice cream, and much more! Join us as we explore the July/August issues of all nine award-winning children's magazines!

"Super Sandy"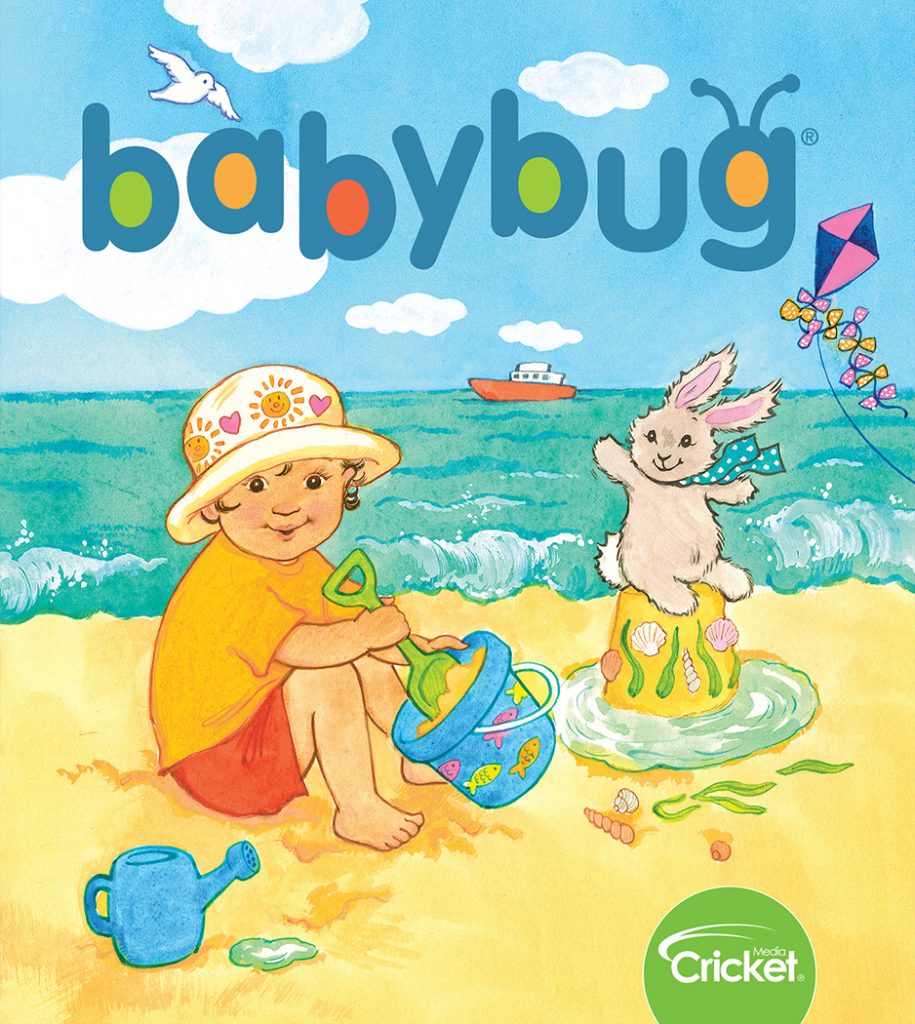 Cover art by Clara Vulliamy
There's no better way to beat the heat than splashing in the waves at the beach! In the latest issue of BABYBUG, the youngest children can enjoy playing in the sandbox, exploring the ocean, having fun in both the shade and sun, and making leaf rubbings in the garden!
There are so many new friends to meet at the seaside! Get an up close and personal look at sea turtles in this issue's "Let's Explore" section and meet a playful whale named Wilbur!
This issue's "Kim and Carrots" story follows Kim and her family on a delightful trip to the beach! The 'Guide for Caregivers' provides some fun ideas for interactive ways for babies and toddlers to explore this issues. This month, it's all about exploring sand!

"Who's Counting?"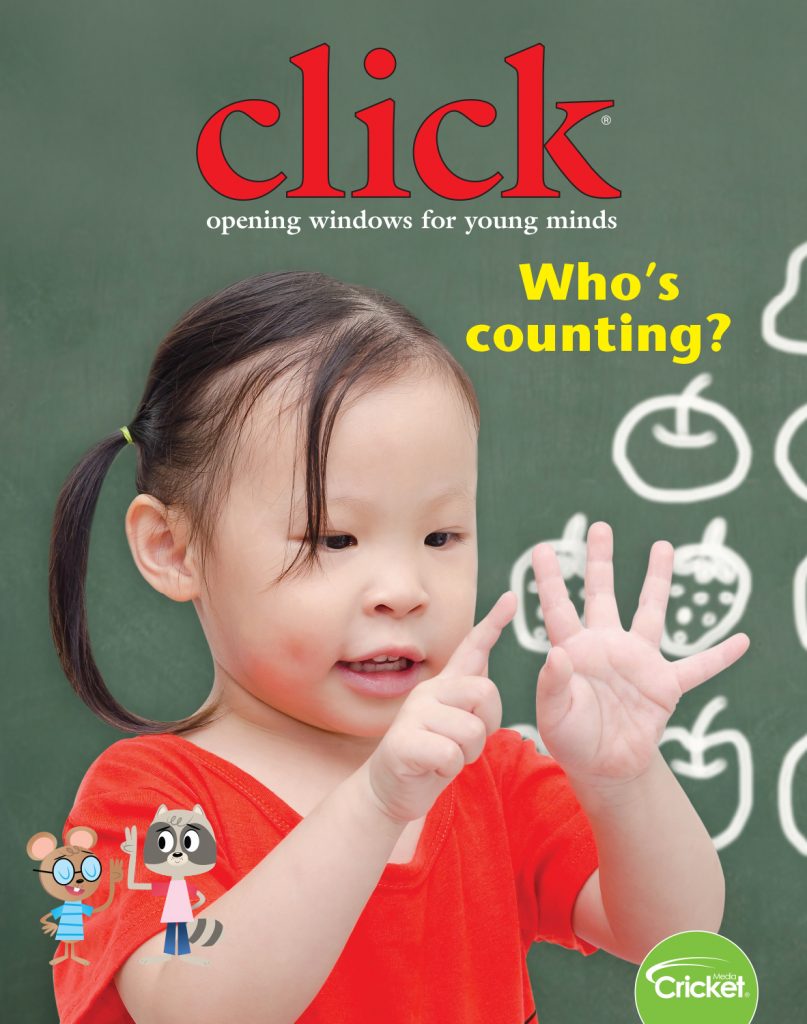 Preschool-age children can have countless hours of fun with this issue of CLICK! Where would we be without numbers? They help us understand how old we are, how tall we are, how far away something is, and even how many cherries we want on top of our ice cream sundaes!
Find out how Jake's grandma uses counting to make "The Best Apple Crisp in the World"– and try your hand at making her recipe! Did you know that humans aren't the only animals that can count? Meet some counting critters from around the world!
Have you ever watched fireflies in your yard on a summer night? You can help real scientists by helping them count the number of fireflies each year!
Plus, create your own board game that's all about measuring– and join Click & Jane as they try to give up using numbers for a full day! You can count on CLICK to help you see numbers in a whole new way!

"Berries and Bright Days"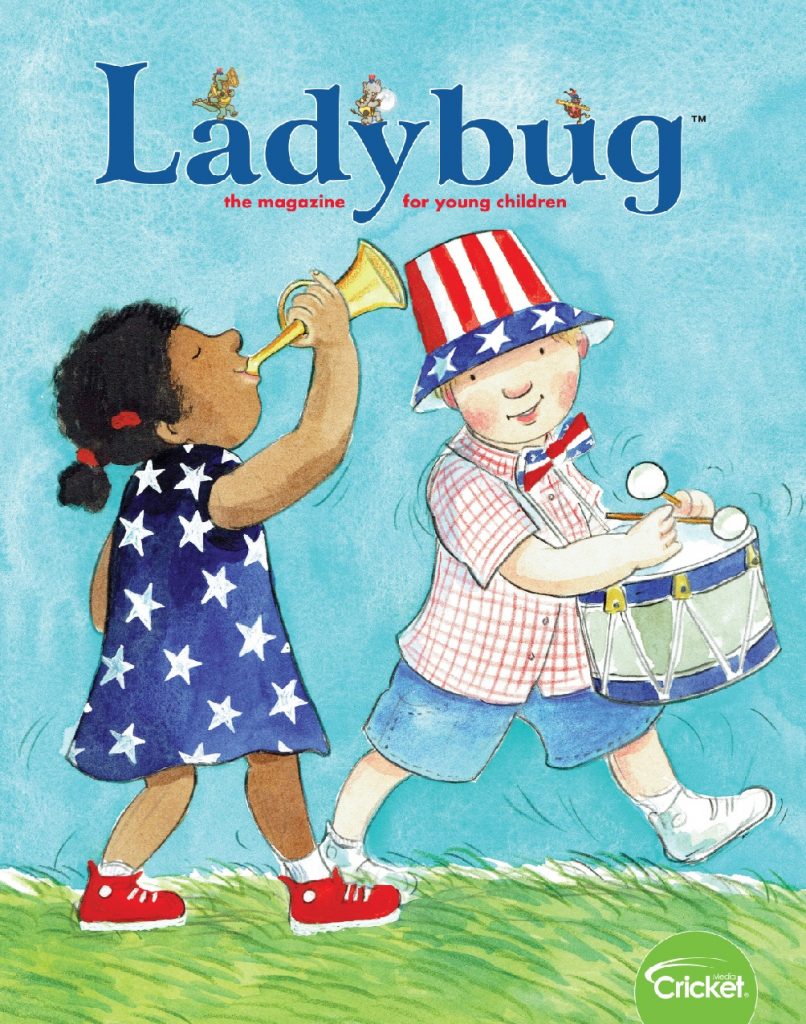 Cover art by Brita Granström
Lazy summer afternoons are the perfect time to share a story or a poem together– and to ask big questions!
Everyone knows that bugs spoil a picnic– but what happens at a family picnic with a big brother who LOVES insects? Imagine life as a bee, or ponder over the wonders of the earth and sea! Young readers can go blueberry-picking, or make their own blueberry yogurt popsicles with Ladybug, Muddle, and Thud.
Moti the bear cub loves playing outer space with his babysitter– but will hiding a secret spoil his fun? How will he admit that he broke his mother's favorite coffee mug? Find out in "A Bath for Moti" by Julienne Guillaume, with art by Phoenix Cha
Plus, join Max and Kate for a Fourth of July celebration, spy the matching pairs of lions, tigers, and bears in this month's "I Spy," and create your own 'Buggy Buddies' matching game in the takeout pages! This issue of LADYBUG is buzzing with excitement!

"The Scoop on Ice Cream"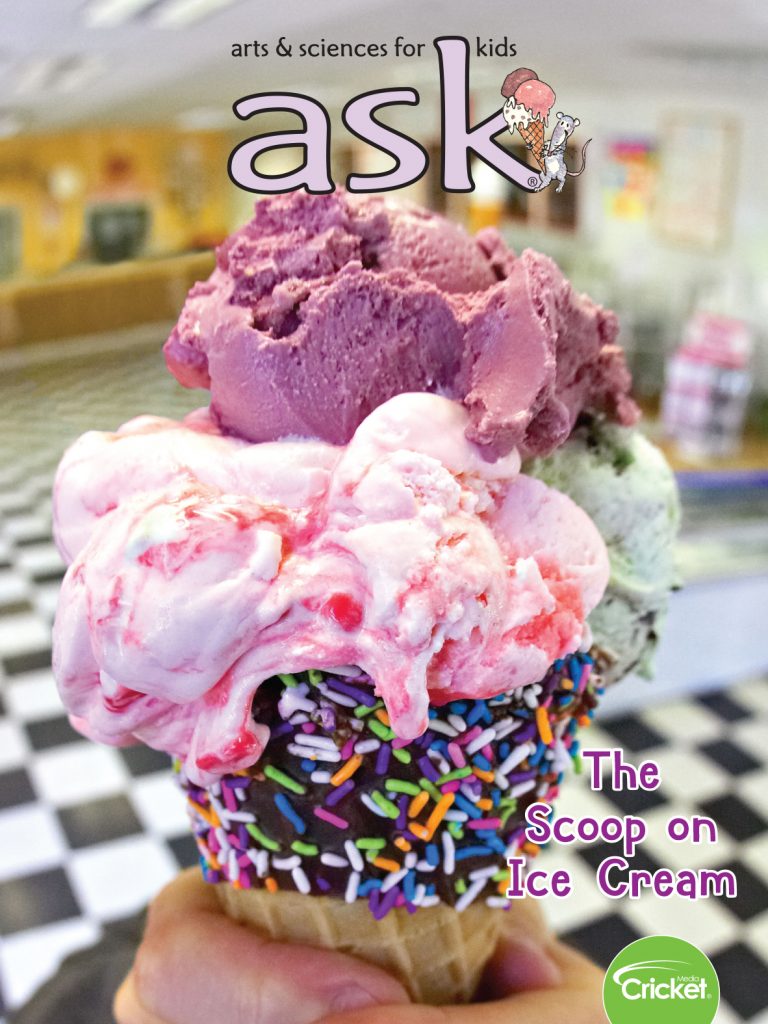 We all scream for ice cream! But how much do you really know about the science behind everyone's favorite summer treat? This sweet issue of ASK explores the past, present, and future of frozen desserts in delicious detail.
Did you know that making frozen treats dates back to 3000-300 BCE, or that the first ice cream may have been made of buffalo milk? Follow a timeline of ice cream history! Meet Dr. Maya Warren, a real 'ice cream scientist' who helps devise new flavors– and learn about the one flavor that she wouldn't want to try again.
Learn how ice cream trucks took to the streets, discover different kinds of ice cream from around the world, explore the chemistry of ice-cream-making, and uncover the truth about "astronaut ice cream." Readers can even make their very own ice cream!
In this issue's regular features, Nestor and friends set up the ultimate ice cream factory in long-running comic "Nestor's Dock." Find out why metal gets so hot in the summer in "Ask Ask" and check out readers' designs for the ultimate hot cocoa mugs. This issue of ASK is a treat for any curious young reader!

"Dog Days of Summer"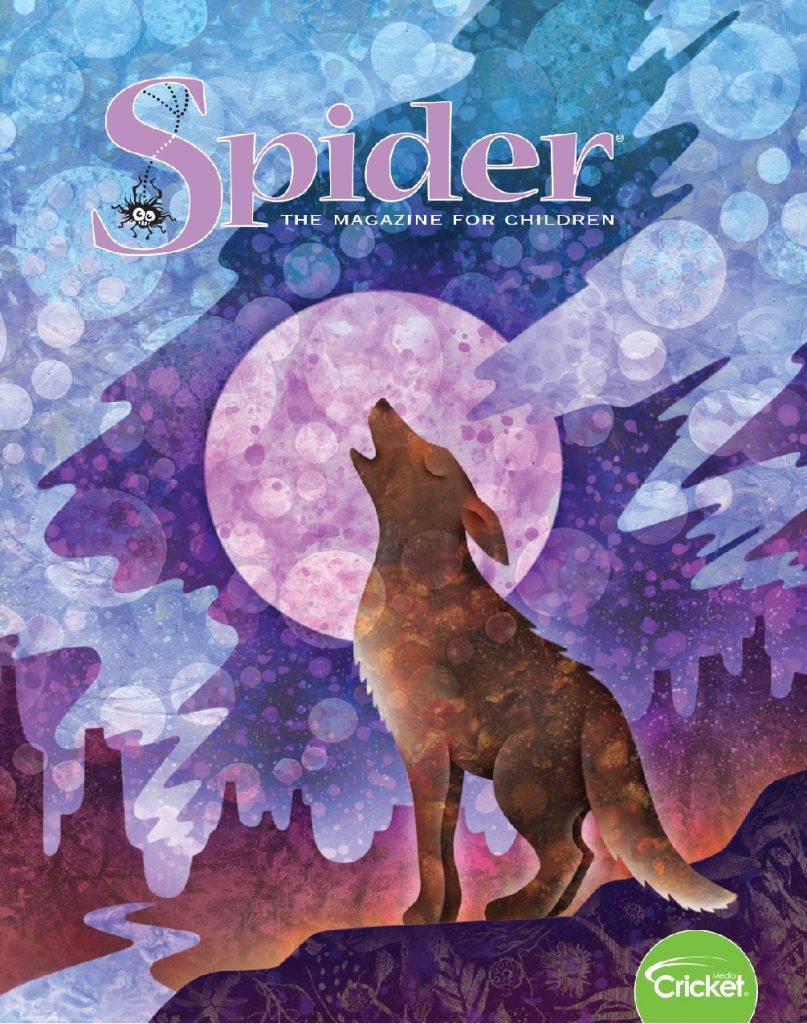 Cover art by Shelly Hehenberger
Welcome to the hottest days of the year! We're celebrating the 'dog days' of summer with a whole pack of furry canine creatures in this issue of SPIDER Magazine.
What happens when dogs and coyotes try to switch places? Find out in "The Day the Dogs Disappeared," by Shelley Walden with art by Bonnie Liu. Then, meet some real-life wild neighbors– the coyotes who've moved in to downtown Chicago!
Have you ever dreamed of having your very own dog? In "A Fish Named Dog" by Christyne Morrell, a little girl learns to love her unique pet.
Make tasty aquarium-themed bagel bites, watch Fourth of July fireworks, build your own solar-powered pizza oven, and much more! Plus, save the bees with Doodlebug and Dandelion, visit the adopt-a-pet picnic with Spider and the Gang, and create your own summer sundae card game in the takeout pages!

"Inspired by Ants"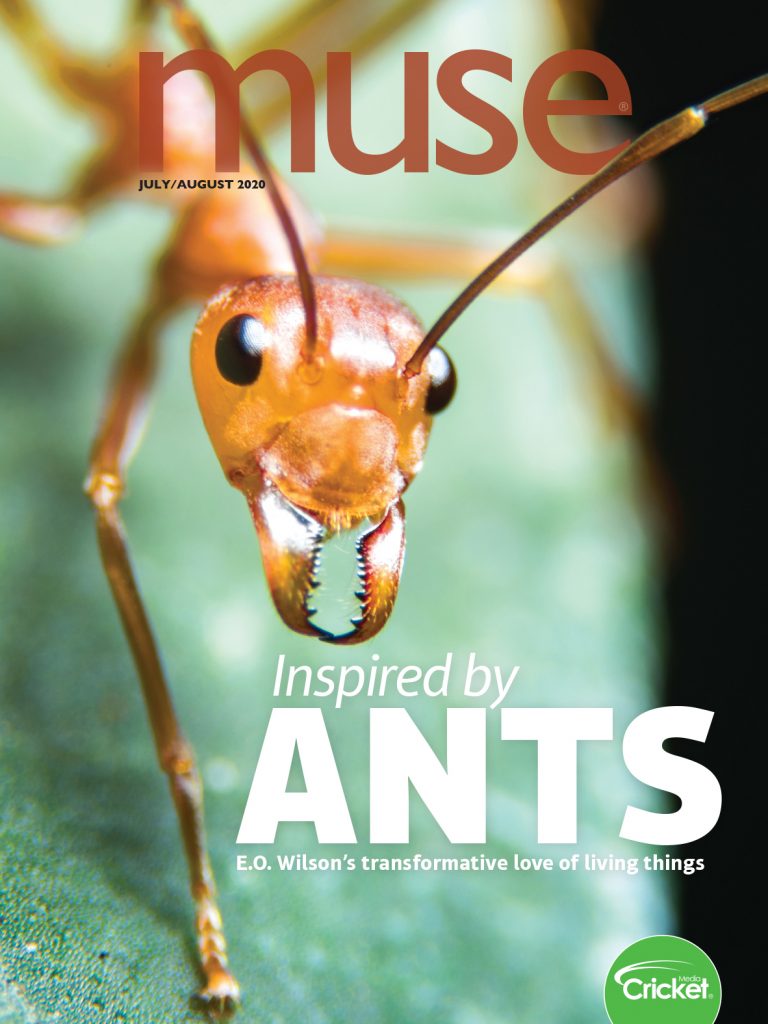 We see them at picnics every summer, but there's much more to ants than meets the eye– and not just because they're so small! This issue of MUSE is all about these incredible insects.
Can studying ants really help prevent a future mass extinction? Legendary biologist Edward O. Wilson thought so. Get to know the 'Ant Man' himself– and find out what made him want to become a biologist at age 7! Readers can even follow his discoveries about ant communication in the style of an Indiana Jones adventure tale!
Explore the amazing island nation of New Zealand, home to plants and animals unlike any others on the earth, and find out why it's so vulnerable to extinction. Then, take an up close and personal look at a colony of leafcutter ants!
Plus, try reader-recommended recipes in "Muse Mail," join the gang at Parallel U as they attempt to re-code human DNA, find the fake story in "Muse News," and solve the puzzle of the ant maze! You'll be looking at creepy-crawly critters with newfound respect after reading this issue of MUSE.

"Underwater Music"
Cover art by Cindy Revell
Never underestimate what kids can do! This issue of CRICKET is full of exciting summer discoveries. Digital communication is flourishing during this era of social distancing, but imagine listening to whales' conversations from miles away! That's exactly what Zara does in Nora Nickum's story "Underwater Music"– and she saves a young whale's life in the process!
Go to horseback riding camp, paddle a canoe through miles of water, discover the history of baseball, watch a fireworks show, or meet the tortoises of Galapagos Island! And don't miss the happy ending of the two-part fairy tale, "The Fool Who Fished For a King."
The Letterbox is full of letters from readers, and the citizens of Cricket Country are holding a friendly baseball game. Try a baseball-themed 'Crossbird' puzzle, make a patriotic fruit smoothie, plan a dream vacation in 'Cricket League,' and so much more. It's sure to be a summer to remember!

"A Look Back at the Roaring 20's"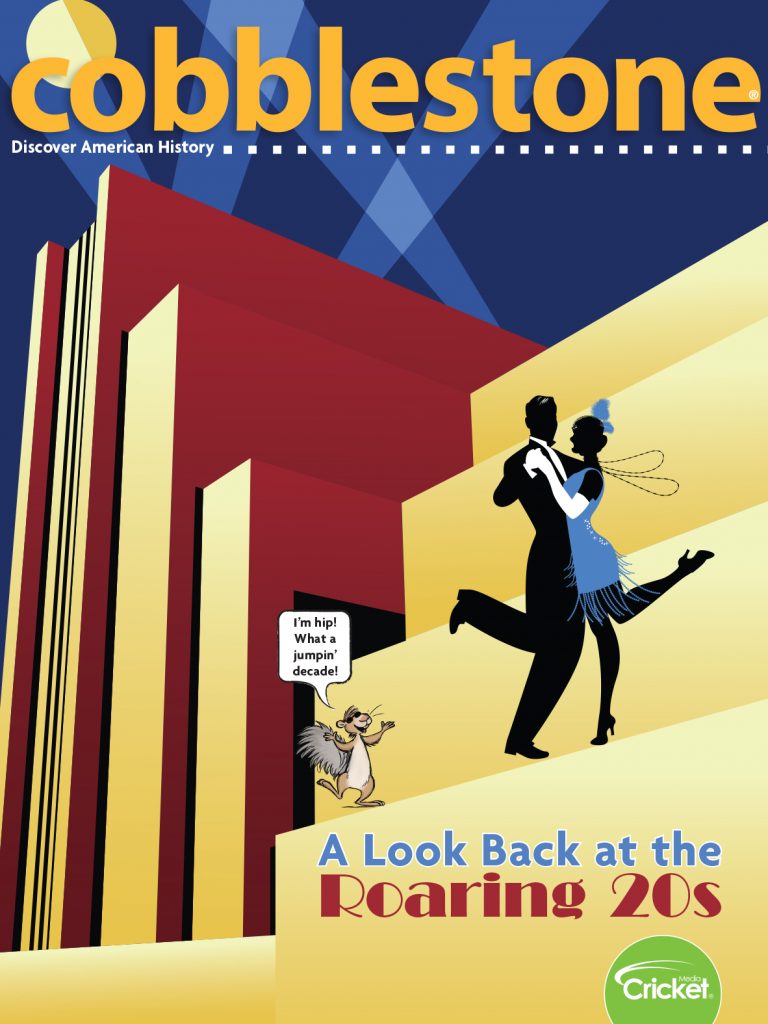 The roaring 20's are back again, and we're celebrating the first summer of a new decade with an exploration of a truly fascinating period in American history! Prepare for jazz music, shocking stunts and scandals, a cultural Renaissance, and so much more!
Follow the rise of the flapper fashion, learn 1920's slang, and discover amusing trends like pole-sitting and dance marathons. Get to know Hollywood's first movie stars, some of the most legendary athletes of all time, death-defying aviators, and the artists and writers of the Harlem Renaissance!
The 1920's was more than just a time of entertainment. The decade also saw major scandals in both the federal government and sports. A controversial trial over teaching evolution in schools divided Americans. For all of the 1920s, the sale and distribution of alcohol was illegal. That situation led to the rise of violent gangsters. And racial discrimination against African-Americans and new immigrants grew stronger. Explore the wild extremes of the 1920's in this fascinating issue of COBBLESTONE! What can we learn from the events of a century ago?


"The Sun and the Moon"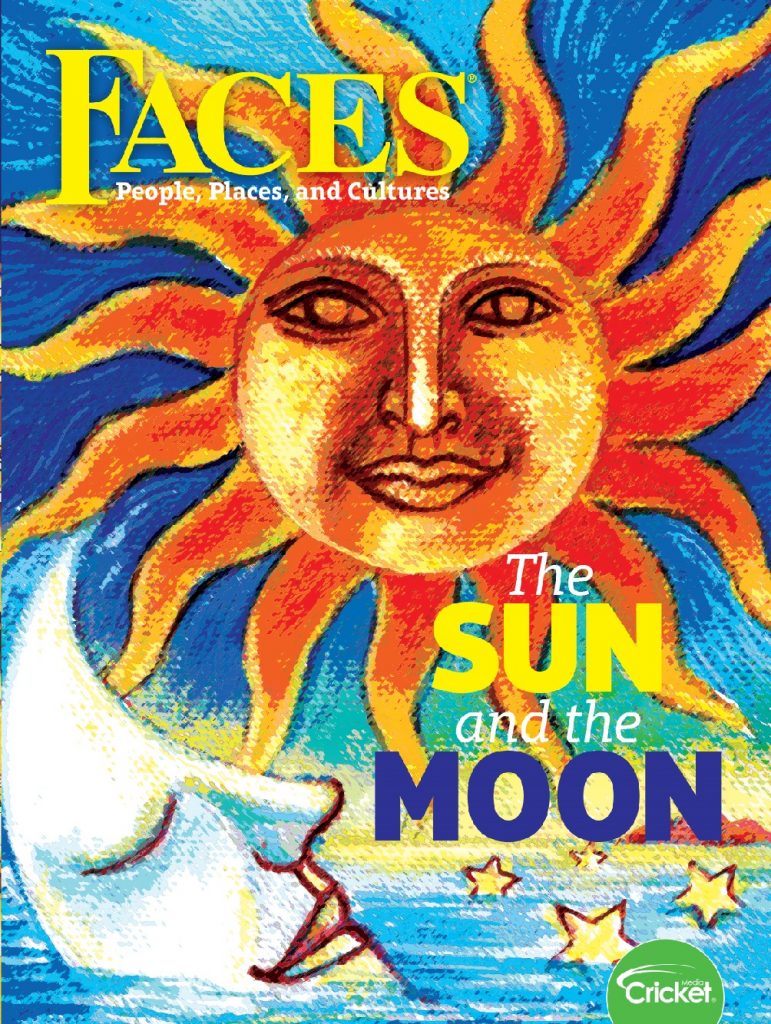 It's the sunniest time of the year! What better season than summer to learn all about the role of the sun and moon in cultures, traditions, legends, and celebrations around the world?
Explore the differences between solar and lunar calendars and learn to identify the phases of the moon. Did you know that the earliest lunar calendars date back to 32,000 B.C.E.?
Visit the ancient ruins of Macchu Picchu, explore the legend of the werewolf, meet the Greek gods of the sun and moon, and read the Japanese tale of the rabbit in the moon. Then, step back to the present day to discover the many uses of solar power!
Summer is a great time to have fun! Celebrate China's Mid-Autumn Festival with delicious moon cakes, or enjoy blini at a Siberian "Pancake Week" celebration! (And yes, readers can make these delicious treats at home!) Don't forget to send your gorgeous 'sun and moon' art creations to FACES for the chance to appear in a future issue! This issue of FACES is packed with fun in the sun– and the moon!